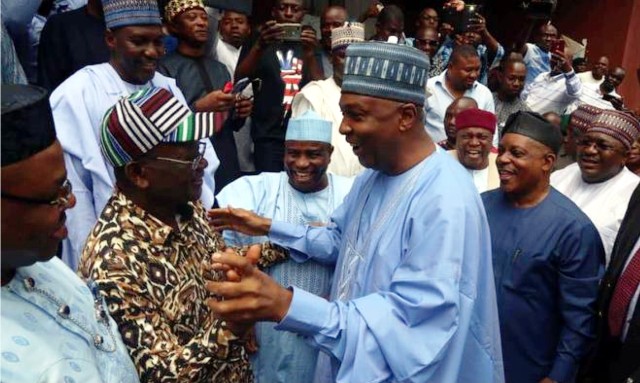 Rivers State Governor, Chief NyesomWike and Speaker House of Representatives, Rt. Hon. YakubuDogara have commended member representing Andoni-Opobo/Nkoro Constituency, Hon. Awaji-Inombek Abiante for the numerous projects he has championed in the constituency.
Speaking through Commissioner for Works, Rt. Hon. Dumrawene Dekor at the weekend at Oyorokoto Fishing settlement in Andoni Local Government Area, Chief Wike said Abiante is one representative that has displayed commitment to touch the lives of his people.
The governor who unveiled a 5,000 gallon water project sited at Oyorokoto Community said, "Hon. Abiante is one of the lawmakers who have represented Rivers State very well" adding that, "those of them from Rivers State are terrorizing the National Assembly to bring so much to their people and the people of the South-South".
The governor praised the legislators in the National Assembly especially Abiante for showing that he has the capacity to bring democracy dividends to the people of Rivers State.
He pledged that the Rivers State Government is ready to support in providing social amenities to local areas, as he promised that soon the fishing port will enjoy government presence to boost business in the area.
Calling the Andoni Local Government authorities to ensure that water scheme is maintained, the state Chief executive assured that soon the Ogoni/Andoni/Opobo Unity Road will be completed.
On his part, Speaker of the House of Representatives, Hon. Dogara lauded the effort of Abiante in providing rural water scheme for his people.
The House of Representative speaker said most of the novel developments in the Niger Delta are as a result of the vibrate representation being witnessed in the House.
Dogara enjoined the people of Andoni-Opobo/Nkoro Constituency to support the governor and all representatives who are doing their beat to attract projects and development, and promised that, "it has never been like this before and I believe that in the future more will come".
Earlier, the House of Representative member for Andoni-Opobo/Nkoro, Hon. Abiante said most of the projects were as a result of continuous agitation.
In the words of the legislator, "today our voice is being heard in the National Assembly and these are the fruits of the several interventions by the Federal government".