NANS Suspends Planned Protest In FCT On NOUN Issue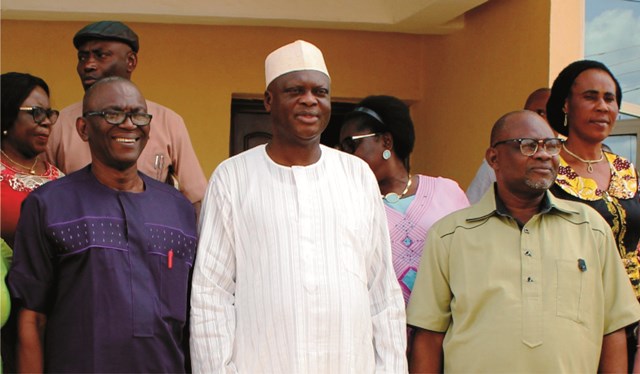 National President,  National Association of Nigerian Students (NANS), Mr Danielson Akpan,has ordered the immediate suspension of the planned mass protest in Abuja and environs by students of National Open University of Nigeria (NOUN).
Akpan, in an interview with newsmen last Saturday in Abuja, said the planned protest which was initiated by one Bamigbade Taiwo, did not follow due process.
He said the mass action, which was conveyed in a letter to President Muhammadu Buhari did not have the backing and support of NANS.
"I want to clearly and categorically inform President Buhari and the general public that neither the letter nor the planned mass action emanated from the association.
"The writer is an impostor of one of the executive offices of NANS, which elections will be slated in the coming emergency senate sitting in September.
"He has been reprimanded and duly apologised for his actions via his facebook page, Bamigbade Taiwo Egalitarian.
"Hence, the planned mass action is suspended forthwith. It will only be considered when every channel and avenue for peaceful resolution and consultation is exhausted,'' The NANS president stressed.
However, Akpan said that NANS felt the pains of the aggrieved students and sympathised with them.
He also affirmed that consultations with the management of NOUN and relevant stakeholders to resolve their various grievances would immediately commence.
"Therefore, students of NOUN should disregard and stay away from the planned mass action of 27th-31st August 27 to August 31, and go about their normal academic activities.
"I want to assure them that the NANS Presidency is ever willing and ready to address their grievances and fully protect their interests.''
The Tide reports that the NOUN Law graduate students were calling on the Federal Government to intervene in the crisis between them and the Law School. The NOUN law students were denied admission into Law School.
Don Advocates Translation Of Things Fall Apart Into Hausa, Others
Prof. Isaiah Bariki of the Department of French, University of Ilorin (UNILORIN), has advocated the translation of Nigerian renowned works and books such as 'Things Fall Apart' into Hausa, Edo and Fulfulde languages.
Bariki made the call in his paper presentation at 201st Inaugural Lecture of the UNILORIN, entitled: "Power Dynamics in Translation and Allied Issues".
He said that institutes of learning could embark on translating or re-translating some important workbooks, adding that this will put an end to pseudo-renarration that was being paraded as the English version.
Bariki, who teaches in the Faculty of Arts of the university, noted that translations by the country's institutions should not be focused on European languages only.
"Charity begins at home, we should look inwards too. It is heartening to note that this famous book of Achebe has been translated into Yoruba language as 'Igbesi Aye Okonkwo' by Wale Ogunyemi.
"What is stopping us from having Hausa and Efik versions of the book 'Igbo, Olodumare'," he said.
The expert in French Studies observed that translation could serve as an instrument of affinity.
Bariki advised that the Ministry of Education should expand its operations on the issue of fraudulent and unprofessional practice bedevilling the translation and evaluation of foreign certificates and transcripts.
According to him, translating or evaluating legal documents like certificate is a very serious business and must be tackled with all the seriousness it demands.
He also advocates the establishment of a body or agency similar to that of South African Qualification Authority (SAQA) in South Africa.
The don explained that the agency would ensure the legitimisation of the foreign public documents with clearly spelled out strategies of authenticating and certifying their legitimacy.
He also advocated the introduction of French into general studies curriculum for more Nigerians to be proficient in it, noting that Francophone countries have proficiency in English.
Lagos, NGO Partner On Special Needs Education
The Lagos State Ministry of Education is collaborating with a non-governmental organisation, MINDS Reform Initiative, toward the development of Special Needs Education.
Both parties are collaborating on an inspiring movie, ÌTÌJÚ, with the rider "hope heals."
The promoter of MINDS Reform Initiative, Mr Oladapo Akande, said this in a statement made available to The Tide source in Lagos, Friday.
He quoted the Lagos State Commissioner for Education, Mrs Sade Adefisayo, as saying that the project highlighted "such an important issue that had largely remained under the radar.
"We look forward to exploring this relationship further — during and beyond this project, as the ministry appreciates the contribution it will certainly make towards the development of Special Needs Education in Lagos State."
The title, ÌTÌJÚ, is a Yoruba word, which means a feeling of shame, and the movie sets out to remove the stigma attached to people living with various challenges.
According to Akande, the brain behind the movie, the suffocating culture discourages people from speaking up about their personal challenges.
"How will one find solutions to issues that one cannot talk about?", he queried.
Akande said ÌTÌJÚ may be a Yoruba word but dealt with a Nigerian problem.
He said Dyslexia, the learning disorder, which made reading and writing herculean tasks, had been described by educationists as "the silent destroyer."
According to him, it is said to be responsible for the high rate of school dropouts and the increasing number of juvenile crimes in the society.
"Interestingly, the disorder does not affect the sufferer's intellect, as dyslexics are famed for their creativity and excellent problem solving abilities.
"Lack of awareness in our society has, however, led to dyslexics being labelled as dull and stupid as they struggle through school.
"Rejection by parents and the resultant low self esteem have been identified as major causes of mental health issues in society," he said.
He explained that these manifest in different ways: from depression, drug and alcohol abuse, bipolar disorder and an alarming increase in suicide rates.
"Estimated to affect 10 per cent 15 per cent of the Nigerian population according to Ben Arikpo of Dyslexia Foundation (Nigeria), dyslexia is a massive problem 'hidden from plain sight,'" he said.
Akande said though 90 per cent of teachers in Nigeria had never heard of dyslexia, not to talk of parents, the list of foreign household names that were known dyslexics was endless.
"Though not dyslexic myself, I was privileged to witness first hand, during my primary and secondary school days in the United Kingdom, how early diagnosis and timely intervention helped salvage the destiny and restored meaning to the lives of some of my dyslexic classmates.
"They, having received the attention at the right time, went on to succeed in their chosen professions.
"It is amazing what knowledge can do," he said.
Akande is a two-time author and writer of the popular weekly newspaper column, Character matters with Daps.
His partner and fellow producer on the project, Roy Osuji of Alvary Studios and Alvary Creatives, is the producer of the early 2020 movie, Handicapped; a story that highlights the scourge of human trafficking.
Osuji said, "ÌTÌJÚ is our gift to the world during these crazy times where mental health is a big deal.
"It is an expression of hope for everyone going through rejection just because they're having a hard time grasping the conventional ways of doing things."
As part of giving back to society, the producers of the movie, MINDS Reform Initiative and Alvary Studios, have undertaken to show an abbreviated version of the movie for free at selected public schools in Lagos.
ÌTÌJÚ is billed to premier at the cinemas early in 2022.
FECT, Omoku Appoints New Heads Of Departments
The Provost of the Federal College of Education (Technical), Omoku, Dr Emmanuel Ikenyiri, has approved the appointment of new heads of departments for all the academic departments of the college.
 A press release made available to The Tide said that only 20 percent of the appointees were new, while 80 percent were reappointed. The release jointly signed by the College Public Relations Officer and Prince Amadike Otoboh, the provost said all the appointments were based on merit.
 Federal College of Education (Technical) Omoku is affiliated to Universities of Nigeria Nsukka (UNN) and Uyo.
 The release gave the names of those appointed as: Dr Victor Ordua, (Educational Psychology), Dr Eke Kingdom C. (Curriculum Studies and Instruction), Johnny F. Ejembi (General Studies in Education), Dr Felix Nwokocha (Educational Foundation), Dr Nwogu Prince Opurum (Degree Programme/Technical), Darlington Onyeige (Automobile Technology Education), Idibia Clinton (Metal Work Technology), Odoi Rogers M.B. (Building Technology), Awah Lawrence (Woodwork Technical) and Masi Prince Ernest (Electrical/Electronics).
 Others are Obi Agburuga (Physical and Health Edcuation), Nwogbidi Kingsley (Biology), Dr O.C. Zudonu (Chemistry), Mrs Oguguo, D,U, (Mathematics), Egba F.A. (Computer Science), Echendu Peter (Integrated Science), Osu A.D. (Physics), Akogu Allen (Political Science), Chief Obu Sunday Adah, MNIM, (Economics), Dr Olaojo Babajide (Social Studies), Mrs Debora George (Music/Theatre Art), Dr Oweisana Akpos (Entrepreneurship) and Uzorma Onita (Marketing).
 The rest are Dr Isirima B.C. (Agricultural Education), Mrs Nwaeyilobu Lilian Nkem (Home Economics), Olikagu Lorreto Adaobi (Fine and Applied Arts), Dr (Mrs) C. Oba Egwe (Degree Programme (Business); Dr Sir Ahiauzu, Levi Uche, MNIM (Accounting Education); Mrs Ogolo Furo (OTME); Mrs Ibiene Amgbadluma (Foregin Language), Mr Godwin Eleberi (Adult and Non-Formal Education); Promise Adiele, Nkechinyere (Primary Education) while the Head of Department (Local Language), will be named later.
 Meanwhile the provost of the College, Dr Emmanuel Ikenyiri, who congratulated the new Heads of Departments on their appointment wished them success in office and thanked the out gone HODs for their invaluable contributions towards the academic growth of the college, during their tenure.
By: John Bibor