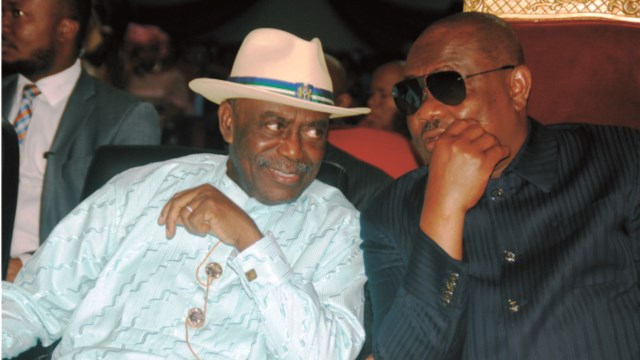 The Kogi State chapter of the People's Democratic Party (PDP) has described its rising popularity as the fear of the opposition political party and mischief makers.
The PDP, in a reaction to what it described as sponsored reports, described allegations of crisis in the state chapter as baseless, false and neither here nor there.
It said that the state governorship primaries is due for next year, and wondered "how some mischief makers would be crying foul over a process that has not begun and has no date."
According to the statement signed by Directors Research and Documentation, Achadu Dickson, the party said: "Having repositioned the PDP to take over the state in 2019; it is now more concerned about the State and National Assembly elections."
It commended the efforts of former Governor of the state, Alhaji Ibrahim Idris, at rebranding the party, adding that it has brought in former bigwigs back into the party.
"The Kogi State PDP makes bold to announce that its membership rank has swollen tremendously in the last few months. On a daily basis, the party keeps receiving mass decampees from the opposition party to its fold, a feat that makes the PDP a bride; the party to beat in the state, with every indication pointing to the fact that it would reclaim Lugard House, the seat of government," it boasted.
Meanwhile, the Peoples Democratic Party (PDP) has urged security agencies to summon former Senate Minority Leader, Godswill Akpabio for questioning.
The Akwa Ibom State chapter of the party noted that Akpabio should be asked to explain his Hitler comment on the 2019 general elections.
The state Publicity Secretary of the party, Ini Emembong said this in a statement in Uyo.
The former governor had stated that the All Progressives Congress (APC) victory over the PDP would be like the invasion of Poland by Adolf Hitler's Germany.
His words: "In 2019, Warsaw shall see war and war shall see Warsaw."
But reacting, Emembong said Akpabio's threat to take over Akwa Ibom in a war-like manner should not be swept under the carpet.
"Security agencies should investigate a statement of such magnitude. They should invite the former governor for questioning and explanation of his comments.
"Also, if the state witnesses any violence between September, 2018, and in the months preceding the elections, Akpabio should be held responsible," he demanded.
"The PDP has ruled the state since 1999 and under Governor Udom Emmanuel, Akwa Ibom does not encourage and will not subscribe to violence under any guise."
The party lamented that APC has been boasting that Akwa Ibom will be captured in 2019 through federal might, saying the people of the state view Akpabio's comments as a confirmation.