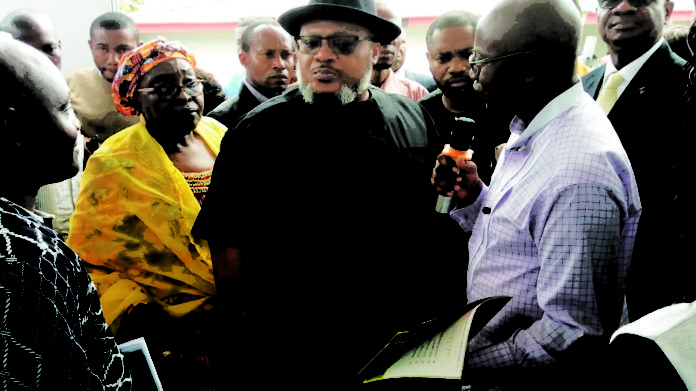 As part of its calling and vision, the General Overseer (G.O) of Omega Power Ministries (OPM), Apostle Chibuzor Chinyere has commissioned the sixth of its Free Schools in Rukpokwu, Obio/Akpor Local Government Area of Rivers State.
Speaking during the official commissioning of the free nursery, primary and adult education centre, Apostle Chinyere stated that his mission on earth would only be completed, the day he no longer sees school children wandering, hawking and roaming the streets of Port Harcourt and society during school hours.
He frowned at the increasingly high rate of children seen on the streets of Port Harcourt instead of been in schools due to the inability of their parents to send them to schools to be hawking just to help their parents.
He stated that beyond the call of spreading the gospel, he was also called into social works as did Jesus Christ in Matthew 14: 13-21, adding that when Jesus Christ came to spread the gospel, the people were hungry, "He fed them as well with physical food", he said.
The man of God hinted that the church after driving through the Harold Wilson Drive in Town axis of Port Harcourt, he saw these less privileged and down-trodden children of school age on the streets during school hours, and as part of its practice, the church swung into action to purchase a bank building on that street for another free school centre that would be commissioned next month.
He stated that this was the only way these children could be given new lease of life thereby turning them to be good ambassadors of Rivers State and the country at large.
Speaking also, the Head Divine Distributor, Chief Matt Offeh praised the pastor for always putting the less privileged first in all his dealings, adding that his works would standout and speak for him if not on earth, but in heaven.
He stressed that at OPM, there was no social stratification on the basis of class or status, adding that church offerings are ploughed into helping the less privileged and translates into gifts, life, free education, shelter, free restaurants and skills training.
Also speaking, the welfare Director of the OPM Free Schools, Mrs Maureen Chukwu appealed to Rivers State government, Obio/Akpor Local Government Council, and the youth leaders to call the Obio/Akpor and Port Harcourt Council's tax collectors to order from demanding the free schools to pay taxes, adding that the church was impacting positively to the lives of these children and society without collecting a dine from these children's parents.
Speaking also, one of the down trodden less privileged graduands, picked and brushed by OPM Free Nursery, Primary School and presently been sponsored by OPM at the Federal Government College (FGC), Port Harcourt recounted his ordeal as a little child growing up, very intelligent and wished to go to school, but his parents couldn't afford the cost of sending him to school.
Susan Serekara-Nwikhana