Support Wike, Odili Tells Rivers People …As Buhari Hails Ex-Gov At 70
Former Rivers State Governor, Dr Peter Odili has called on all Rivers people, irrespective of political affiliation to totally support Rivers State Governor, Chief Nyesom Wike to consolidate on the rapid rise of a New Rivers State.
This is as the Chaplain of Our Lady of Holy Chaplaincy of Catholic Institute of West Africa (CIWA), Rev Monsignor Pius Kii stated that lowest point in the 70 years of former Rivers State Governor, Peter Odili was when his political godson, Chibuike Rotimi Amaechi attempted to destroy his political life through a kangaroo Truth and Reconciliation Commission.
Both leaders spoke at the Special Thanksgiving Mass for the 70th Birthday Celebration of Dr Peter Odili organised by the Rivers State Government at Our Lady of the Holy Rosary Chaplaincy, Catholic Institute of West Africa (CIWA), Port Harcourt, last Wednesday.
The former Rivers State Governor, Dr Peter Odili declared: "Let me use this opportunity to request our people, all Rivers men and women, our chiefs and the entire political class, everybody that is proud to be identified and called a Rivers man or woman, to give your total support to this governor.
"I am not saying it from a political position. I am talking from the position of an elder-statesman. This is because, with his leadership, we can achieve total cohesion and unity of our people. Once that is achieved, the sky is the take off point for the New Rivers State that he is building ".
Odili described Wike as a loyal politician who was outstanding in his commitment to the development of Rivers State.
"I have been governor, I have worked under governors and I have seen governors after me. This man is unique.
"Just to tell you that of all the people we have worked politically with, from way back in the eighties. Nobody in the political terrain can compete with this governor", Odili said.
He thanked Wike for initiating the celebration of his 70th Birthday, noting that the family had planned for a private low-key celebration.
In his homily, the Chaplain of Our Lady of Holy Chaplaincy of Catholic Institute of West Africa (CIWA), Rev Monsignor Pius Kii said despite betrayals by the likes of Chibuike Rotimi Amaechi, Wike stood by Odili.
Kii said: "One of Odili's lowest moments was when he was dragged by one of his erstwhile sons to the Truth and Reconciliation Commission set up by the Rotimi Amaechi administration aimed at damaging his reputation and preventing him from holding political offices.
"Despite these betrayals, we are grateful to God that some remain loyal sons, particularly His Excellency, Nyesom Ezenwo Wike and countless others in the state and in the country.
"Having the love of one like Governor Wike is having the love of many. For one with Wike is majority. For in him, God put 10 men in one man. Your Excellency, Dr Peter Odili, be rest assured that those who are for you and with you are more than those who have abandoned you", Kii said.
The cleric declared that Dr Peter Odili spiritualised political language, noting that he invoked God at all times.
He added that Odili never used his investments and appearances in churches for political opportunities.
Kii said that Wike has taken over from Odili, developing the Christian faith and embarking on massive developmental projects.
Highpoint of the Holy Mass was the cutting of the 70th Birthday Cake provided by Knights of the Catholic Church.
The Holy Mass was attended by former governors, serving National Assembly members, former ministers, traditional rulers, jurists and prominent leaders of Rivers State.
Meanwhile, President Muhammadu Buhari has extended his good wishes to former Governor of Rivers State, Dr. Peter Odili, on the occasion of his 70th birthday anniversary.
A statement by his media office, yesterday, said "President Buhari recognises the important contributions the celebrant and prominent political figure has made to the development of his immediate community, home state, the Niger Delta, the nation and humanity as a physician and third governor of Rivers State.
"As a statesman and Knight Commander of the Order of St Sylvester in the Catholic Church, the President appreciates Sir Odili's role in fostering peaceful and harmonious environment in the wider Niger Delta region through peaceful engagement and meaningful dialogue, in line with this administration's commitment to peace, stability and development in the region.
"As family, friends, colleagues and well-wishers gather to celebrate Dr Odili's milestones and achievements, President Buhari prays God almighty to sustain him with continued good health and fulfillment in the coming years", the statement added.
Youths Suspend Seven-Day Protest Over East-West Road …As FG Releases N7bn For Compensation, Begins Work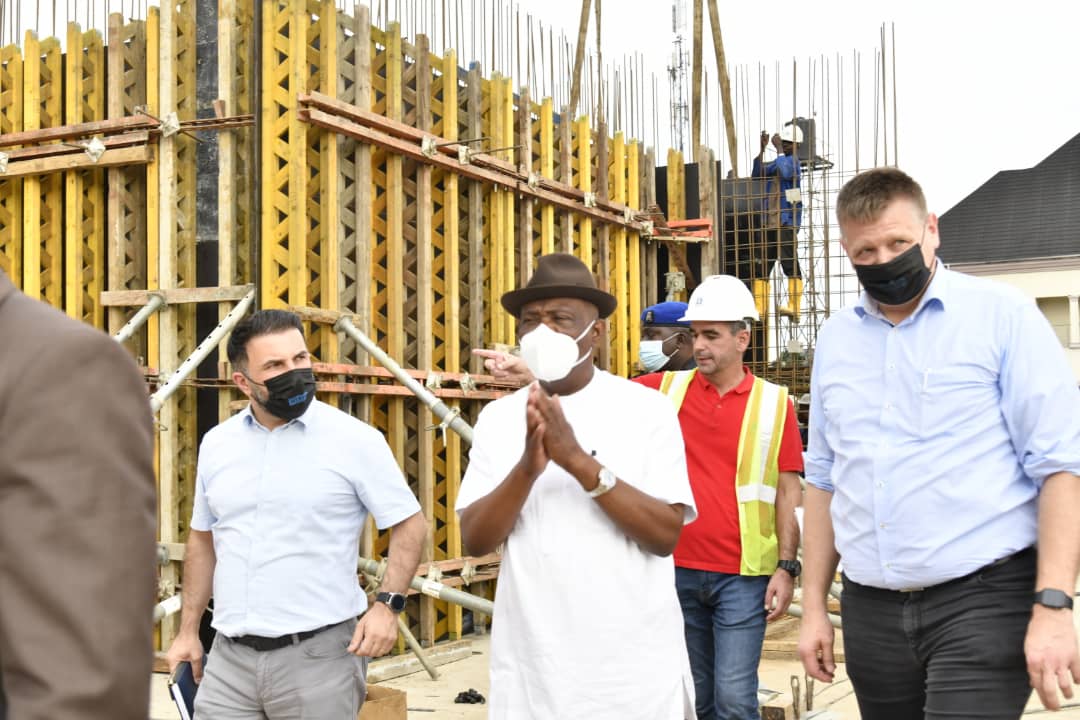 Youths of Eleme Local Government Area of Rivers State protesting the bad section of the East-West Road, yesterday, suspended their protests against the Federal Government's neglect.
The protest which lasted seven days had economic activities in the area grounded by the aggrieved youths.
The youths were demanding a Federal Government's action on the failed portion of the road.
The suspension of the protest followed the arrival of the contractors at the site to commence repair works.
Addressing journalists at the protest ground, the Eleme Local Government Chairman, Obarilomate Ollor, who announced the suspension of the protest, warned that the youths will not hesitate to resume the protest if the Federal Government fails to live up to expectations.
"We had warned that this is supposed to be a warning protest, which has lasted for seven days, we do not intend to come back for this same issue, however, if the processes that have brought us out are not fulfilled within a reasonable time, then we have no option but to come back to this road.
"The Eleme people have suffered so much in the midst of plenty and we cannot rest and watch our people die when there is something we can still do.
"Today we have seen the equipment and the contractors have told me that they have been asked to commence work and payment is ongoing and today being August 1, 2021, I want to say that as the executive chairman of this local government local and the chief security officer, I hereby declare this protest suspended because we want to be sure that the project will be carried out to its completion.
"This is not the time for anybody to play gimmicks with the people of our local government".
Meanwhile, the Federal Government had confirmed released the sum of N2.5billion for compensation to pave way for remedial works to be carried out on the deplorable Eleme-Onne section of the East-West Road.
The Minister of Niger Delta Affairs, Senator Godswill Akpabio, who made this known after a meeting with the management of RCC, the construction firm handling the projects, directed the firm to start work immediately.
By the directive, RCC was expected to have commenced work last Friday.
He, therefore, appealed to protesting Niger Delta youths to vacate section 3 of the East-West Road to enable contractors commence work.
According to him, "The essence of this protest is to draw the attention of the government to the road, now we are here allow us to commence work."
Akpabio acknowledged that the youths were right to stage a protest over the delay.
The minister, who disclosed that the Federal Government has released additional N2.5billion for payment of compensation to property owners along the road corridor, regretted that the initial N4.5billion budgeted for compensation could not meet up with demands.
He disclosed that the Niger Delta Development Commission (NDDC) has also budgeted another N35billion to support the project, adding that the ministry has channelled funds met for over 304 projects into the East-West Road project.
He further disclosed that the ministry has proposed an extra-budgetary intervention for inclusion of the East-West Road Sections I-IV in the 2020 SUKUK Issuance Programme of the Ministry of Finance, Budget and National Planning and the Debt Management Office.
This, according to him, is part of the efforts made by the ministry to access adequate funding for the completion of the East-West Road project.
The minister explained that the initial contracts for dualization of the 338km road linking Warri to Oron through Kaiama, Ahoada, Port Harcourt, Ogoni and Eket Townships (Section I-IV), was initially awarded in four sections to four different contractors in 2006.
"It is well known that Section I (Warri-Kaiama covering Ch. 0+000-Ch. 87+400) and Section III (Onne Port Junction – Eket covering Ch. 15 + 000 – Ch. 99 + 000) have been duly completed by Messrs Setraco Nigeria Limited and Messrs RCC Nigeria Limited, respectively", he added.
He maintained that the Section IIIA (Port Harcourt-Onne Road Junction), covering Ch. 0 + 000 – Ch. 15 + 000 was not part of the contract initially awarded in 2006 because it was in good condition, having been dualized earlier, noting that "over time, the Port Harcourt – Onne Port Junction portion had progressively deteriorated as a result of heavy axle loading, flooding and is no longer serviceable for the current traffic volumes.
"Therefore, the ministry had to award the contract for additional works to Messrs RCC Nigeria Limited to upgrade the Port Harcourt-Onne Port Junction".
He further stated that due to poor annual budgetary provisions, the contract for upgrading of Section IIIA awarded in 2014 could not commence until the ministry paid the contractors the full mobilization advance in 2020.
"The condition of the road deteriorated during the period of delay, and there has been serious encroachment on the right-of-way initially delineated for the road.
"With the review of the initial contract scope of works and contract unit rates imperative, specific measures for addressing the contingent site conditions militating against the progress of work were scheduled by the ministry.
He said these include the initial design for interchange bridges at Onne Junction which is to be substituted with a flyover bridge, but due to space constraints caused by the newly constructed power sub-station which cannot be relocated due to higher cost implication.
"A new flyover bridge has also been designed to replace the interchange bridge initially designed for Refinery Junction amongst others."
The minister further reiterated the commitment of the present administration led by President Muhammadu Buhari to complete the East-West highway dualisation project by 2022.
Reacting to the development, the people of Eleme and Ogoni communities in Rivers State decried the release of N2.5billion for compensation to reconstruct the Eleme section of the dilapidated East-West Road.
The President General, Ogoni Youths Federation, Comrade Legborsi Yamaabana, expressed mixed feelings over the release of the money for the payment of compensation to property owners along the East-West Road.
Yamaabana said, "Releasing the part payment for compensation is not only diversionary but a grand attempt by Senator Godswill Akpabio to hoodwink and deceive the protesting youths to withdraw from the road.
"The aim of the five-day-old mother of all protests remains at the forefront, which is the demand for the reconstruction of the entire stretch of the deplorable Ogoni axis of the East-West Road (Eleme junction to Onne).
"We expect the Federal Government to display good faith and mobilise contractors handing the road project to site to implement our demand and stop playing to the gallery", he said.
The Chief Press Secretary to the Executive Chairman, Eleme LG Council, Ate Chinwi, said the people wanted a complete reconstruction of the road and not remedial work.
Chinwi said the Federal Government's approval was merely a statement without the details provided about the work to be done.
"Right now, we are quite sceptical and are observing. This is just a statement issued by the Minister of Niger Delta Affairs, Senator Godswill Akpabio. But we don't know the scope of work to be done and how realistic this is.
"So, RCC (the contracting firm) will have to come and if the minister can also avail himself, let us sit down and look at what is to be done and how to sustain it. We don't need remedial work anymore.
"You and I know we have had remedial work on that road before and it still goes bad. So, pending a formal engagement, the Eleme local government chairman, who is the chief security officer, the (local government) area will issue a statement.
"For now, the RCC has to come down. The community wants to see them physically and have some kind of engagement with them to ascertain the scope and the level of commitment they have to sustain what they want to start," he added.
PDP Mocks APC Ward Congresses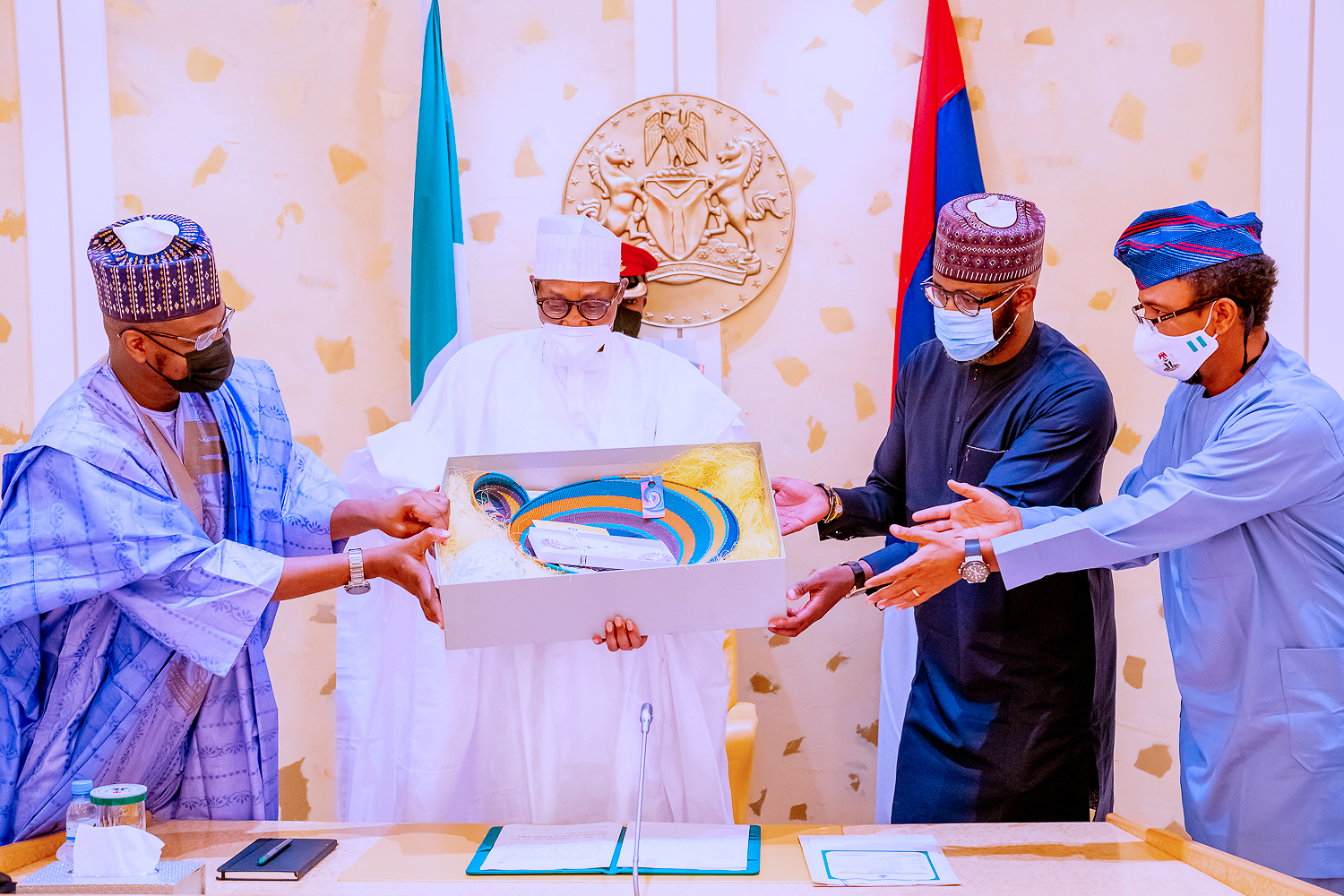 The Peoples Democratic Party (PDP) has described the ward congresses conducted by the ruling All Progressives Congress (APC), as nullity given the split decision of the Supreme Court faulting the Governor Mai Mala Buni-led caretaker national executive.
In a statement issued by its spokesman, Kola Ologbondiyan, yesterday, the PDP chided Buni and other APC leaders "for deceiving innocent Nigerians and cajoling them to participate in the needless exercise, which ended in violent crisis and avoidable deaths, when they know it was all in futility."
The statement read, "It is, indeed, callous that the leaders of the APC, despite knowing that any process conducted by the Buni-led national executive, whose legal status, in the face of section 183 of the 1999 Constitution and Article 17(4) of the APC Constitution, has been queried by the Supreme Court, could extort from their innocent followers and subject them to a fraudulent exercise that is a nullity.
"While Section 183 of the 1999 Constitution (as amended) bars a sitting governor from holding any other office while serving as state governor", Article 17(4) of the APC constitution clearly states that, "no officer in any organ of the party shall hold executive position office in government concurrently.
"The implication is that with Mai Buni as chairman, the APC has no valid national executive and as such any congress or any other statutory process conducted by the APC under this circumstance remains a nullity.
"Our party counsels those who participated in the ridiculous drama called APC ward congress to know that they have been viciously scammed. They should not worsen their situation by allowing the deceptive APC leaders to further set them against one another in bloody clashes for a party that has technically gone defunct.
"The PDP cautions other members of the fizzling APC, who are being cajoled to participate in the local government and state congresses to be circumspect so that they do not suffer needless loss, scam and harm in an exercise that is certainly going to end in futility.
"The situation in the APC is symptomatic of the disgraceful end of a political contraption that was set up and operated on the basis of lies, deceit, falsehood, violence, disrespect for Nigerians and utter disregard to rules.
"That is why the APC, as a party, as well as its government at all levels are plagued by crisis, confusion and endless bloodletting."
"The PDP cautions Nigerians to be wary of their dealings with APC as it has put itself in a situation where it cannot legally stand for election or statutorily participate in our national electoral process."
Ibiyeomie Justifies Church Hqtrs In PH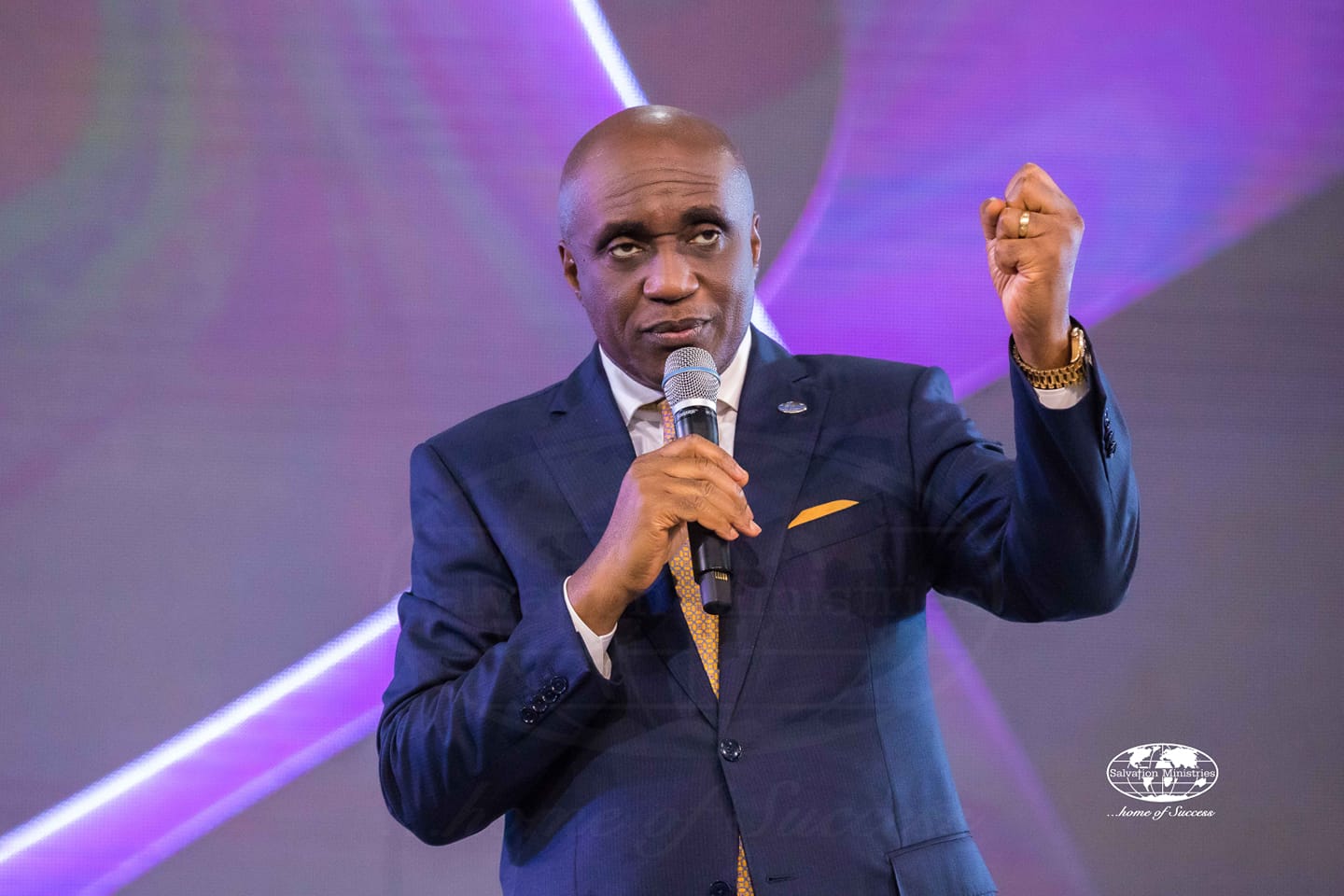 Pastor David Ibiyeomie of the Salvation Ministries in Port Harcourt has revealed the reason he established the headquarters of his church in Port Harcourt, the Rivers State capital.
Ibiyeomie spoke on the theme, "Supernatural Turnaround Through Hosanna Praise Part 1", in the first service, yesterday.
He said he settled for Port Harcourt because he found that his father in the Lord, Bishop David Oyedepo, was already dominating the Lagos area.
"When this ministry started, I said my father is in Lagos dominating but for here, I will dominate. Somebody said but this church has branches. I said mine is not a branch but the Headquarters.
"My father's Headquarters is dominating in Lagos, So, a branch cannot dominate mine which is Headquarters. When you don't take over as a child of God, it is an insult.
"Can you come to Port Harcourt and won't hear of Salvation Ministries? Even those who hate us know this. It is not of our own doings but God's doings.
Ibiyeomie also thanked God and the Hossana Praise for the heights the church has attained since he founded it.
"When this church started, we printed 20,000 copies of handbills and in that seminar, nobody came. 20,000 copies of handbills should at least bring 1,000 people but it was not so, no new member, no first timer.
"This church has been without signpost at a time, yet crowd enters here and you wonder where they are coming from. So, it is not your signpost but His publicity. If God does not advertise you, nobody will patronise you", he said.
'When this church started in Port Harcourt, Nigeria, where we were located was not a highway. People told us that why did we put a church in a hidden place. Before we came, people put churches in highways.
"It is not your location but God's publicity. People will come from Aba in Abia State, Calabar, Abuja, just to worship here.
"A man told me then that he flies in from Abuja every weekend to worship in the church. It is not how close your business is but God's publicity. You can be at the corner and people will still come when God is involved.
"Hosanna Praise compels multitude to follow you. Mathew 21:8-9 Great multitudes went before and after Him.
"People will be waiting for your products to arrive in the name of Jesus. John 12:32. When we lift God up in praise, he will draw men to Himself. If people are not coming to patronise you, is that a business.
"All you need to do is to give God high praise for you to get your high place. Don't ask your neighbour do you like my dance. Your concern is dancing to please God. If you do anything, you need God's help for it to be known".
Ibiyeomie, who was born in October, 1962, attended Bible school training at Bishop David Oyedepo's Word of Faith Bible Institute (WOFBI).
After completing the training, he started a house fellowship with his family in Victoria Island, Lagos.
He later moved to Port Harcourt, Rivers State, where he started Salvation Ministries (Glorious Chapel) on April 13, 1997, with a little over twenty members in attendance.
In July, 1997, the church relocated to a larger plot of land.
As of 2017, Salvation Ministries averages about 50,000 attendees every Sunday at its headquarters.
In February, 2011, Salvation Ministries started 14 satellite churches in one day, with all running five services each.