Cassava, Food Security And Industrial Revolution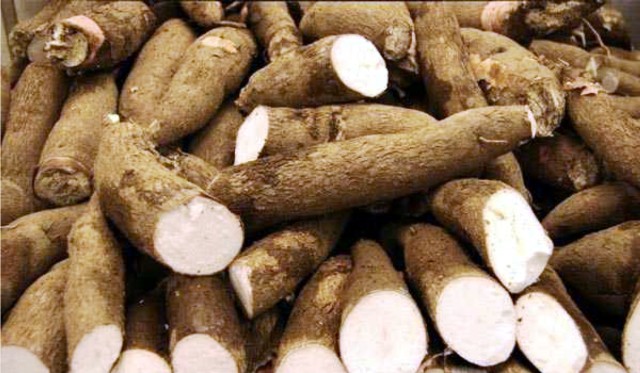 Cassava or manioc (Manihot esculenta) is a perennial woody shrub with an edible root, which grows in tropical and subtropical areas of the world and has much ability to withstand difficult growing conditions.
Cassava is one of the most drought-tolerant crops. It is a starchy root tuber, native to South America and serves as a major source of calories and carbohydrates for people in developing countries.
Analysts believe that the most commonly consumed part of cassava is the root, which can be eaten whole, grated or ground into flour to make bread and crackers. They note that cassava root is the raw material for tapioca and 'garri' a staple food in Nigeria.
A Food Biochemist and Chief Executive of the So Tastee Cakes and Pastries, Mr Emmanuel Osiname, believes that individuals with food allergies can benefit from using cassava root in cooking and baking because it is gluten-free. He, however, advises that the cassava root must be dried, cooked and processed before eaten.
According to the Cassava: Adding Value for Africa (C:AVA), an initiative of the Bill and Melinda Gates Foundation, Nigeria is the largest producer of cassava in the world with current annual output of about 54 million metric tonnes. C:AVA made the observation in its training manual on the use of High Quality Cassava Flour (HQCF) in confectioneries. It is, however, worried that Nigeria does not contribute meaningfully in terms of value added in global trade.
C:AVA, funded by Bill and Melinda Gates and targeted at boosting value addition in cassava and incomes of farmers, notes that over 90 per cent of the annual output is consumed as human food with little quantity targeted for industrial use.
C:AVA programme, currently in its second phase, raises hope that Nigeria will reap more cassava benefits if it finds industrial utilisation for the crop.
The C:AVA Programme Manager in Nigeria, Prof. Sanni Lateef, is also dissatisfied that cassava has received relatively little attention from researchers in comparison to the dominant food crops of the green revolution – wheat, rice and maize.
Lateef, also a lecturer in the Food Science and Technology Department of the Federal University of Agriculture Abeokuta, is of the opinion that the major challenge to cassava utilisation is acceptability as a commercial crop, as it is considered a food security crop because it is produced on a subsistence level. Lateef says farmers began to transit into commercial production of cassava only in the last 10 or 15 years.
"The major challenge of High Quality Cassava Flour (HQCF) is its availability and obtaining the right quality after processing. "There is a need for more processors of the crop," he says, blaming inadequate processors on low profitability from unfavourable market.
The programme manager urges that processors should adopt good manufacturing practices and ensure the flour is supplied to the public. He raises hope that efforts are underway to rectify the issues and find ways to capitalise on cassava's strengths (high productivity, tolerance of poor soils and low rainfall, and resistance to pests and diseases) and improve its major shortcomings (rapid postharvest deterioration) and cyanide content.
At a stakeholders' workshop organised by the Federal Institute of Industrial Research Oshodi (FIIRO) in collaboration with Cassava: Adding Value for Africa II (C:AVA II) in Lagos recently, Prof. Gloria Elemo, Director-General of FIIRO, emphasised that cassava would be the key to Nigeria's food security and industrial revolution.
Elemo, a scientist, believes that Nigeria's inability to utilise the God-given raw material has cost it a lot in terms of development, foreign exchange earnings and industrial growth. The scientist seeks 10 per cent to 20 per cent cassava inclusion in confectioneries, arguing that Nigeria no longer faces quality-related issues in cassava, given the level of research by FIIRO on the crop.
"It is my prayer that the legislation of cassava flour inclusion in wheat flour for bread and confectioneries will become a reality, given the investment and commitment made by all stakeholders," Elemo says.
According to her, researches over the years have confirmed that HQCF inclusion in wheat flour is safe and have foreign exchange, wealth, job and growth potential. The director-general is convinced that HQCF is odourless and free from impurities such as sand and stones.
Mrs Folusho Olaniyan, Programme Director of Agra Innovate Expo and Conferences, is of the view that inclusion of HQCF into confectioneries offers up to N3.5 trillion opportunities for processors, farmers and other players in the value chain.
She argues that the opportunities are up to that amount because daily consumption of wheat-based confectioneries is estimated at N9.506 billion and an attempt to replace it with more healthy cassava flour will yield N3.469 trillion each year for players in the value chain.
"The Nigerian population is 196 million. If 97 per cent of the population is between the ages of 15 years and 64 years, it implies that 190.12 million of the population eats any of bread, chin chin, wrapped sausage or noodles daily. Based on the assumption that a portion size is N50 in the average, the potential market per day in Nigeria is N9.506 billion. It is important we let people know that cassava has more health benefits," Olaniyan urges.
Mr Adebosola Oladeinde-Opeodu, Deputy Director, C:AVA II, reveals that there are other areas cassava can be used.
"In C:AVA II, we also focus on cassava as starch, cassava as ethanol, cassava as animal or livestock or poultry feed. With that, we are telling Nigerians that there are many opportunities and areas where they can use flour. There are other areas where they can get income from cassava outside the traditional use of it for 'fufu' and 'garri'. It is an opportunity for confectioneries to uptake over N9 billion in this country,'' she says.
A scientist with FIIRO, Dr Lekan Ashiru, reveals that the institute and C:AVA have done an extensive work on the use of cassava peels as substrate for growing mushrooms.
Ashiru is satisfied that technologies have been developed by research institutes and universities in Nigeria to ensure that edible mushrooms are cultivated for local consumption and export, from agricultural and industrial wastes such as cassava peels.
The research efforts on cassava is not limited to FIIRO, C:AVA and FUNAAB. The Ibadan-based International Livestock Research Institute (ILRI) is not left out. According to the Country Representative of ILRI, Dr Tunde Amole, the institute is exploring and exploiting utilisation of cassava.
Amole, a scientist, observes that due to high cultivation of cassava in Nigeria, a lot of wastes are generated as peels. Amole says much processed cassava tubers are generated as cassava peels which are mostly wasted on refuse dumps while only an insignificant proportion is fed to livestock. The scientist believes that about 23 per cent of processed cassava constitutes peels which in turn becomes wastes.
He says ILRI is collaborating with the Technologies for African Agricultural Transformation (TAAT), an initiative of the AfDB, to promote the use of High Quality Cassava Peel (HQCP) as a feed ingredient for the livestock industry in Nigeria.
Amole argues that HQCP is a competitive substitute for maize in livestock feed as it is economical to use, even if maize prices fall by 50 per cent and HQCP production cost increase by 20 per cent. He is worried that drying of cassava peels is a big challenge in cassava processing, as peels not dried are heaped at markets, polluting the environment.
"Attempts to eliminate cassava peels through natural decomposition and burning have proved unsuccessful. Cassava peels have long been feed for livestock such as pigs and goats but now instead of having heaps of dried or drying cassava, there is a new technology for processing the peels,'' he discloses.
According to the country representative, apart from the new technology, the same equipment used for processing garri (cassava flakes) can be used to produce the HQCP. He, however, explains that HQCP is an ingredient and not a complete feed. The scientist says cassava peel is still low in protein and fats but research is ongoing to increase the content in the way its hydrocyanide content has been resolved.
Analysts call for more efforts in promoting HQCF in confectioneries and encouraging HQCP as a livestock feed ingredient to open greater opportunities for cassava processors, farmers and all other players in the value chain.
Fadare writes for News Agency of Nigeria.
Oluyinka Fadare

Re: Edo Polls And Threats Of Violence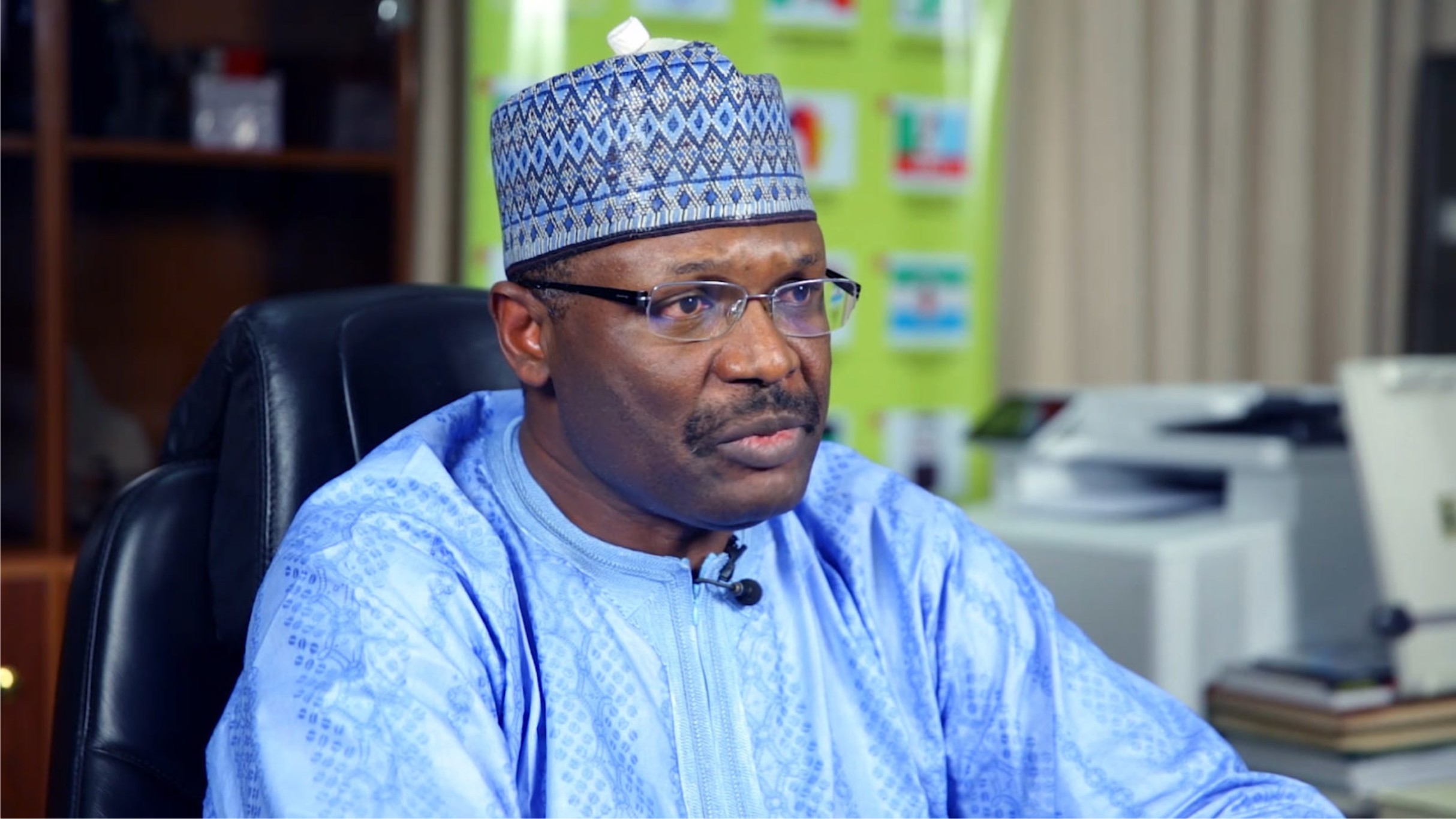 The attention of the Rivers State Government has been drawn to an  article titled: "Edo Polls and Threats of Violence" published in the Politics page (Page 14) of The Nation Newspaper, August 24, 2020.
Unfortunately, the entire write-up leaves a sour taste in the mouth and a disturbing realization of the dubious and sinister intent of how a respected title like The Nation Newspaper may have wittingly breached the ethics of the profession and subjected itself to the objective scrutiny and judgment of the hate speech code.
First of all, the article has no bye-line and this observation, from every objective analysis, puts a question mark on the professionalism of the Newspaper.
Even though the organisation may likely claim that it was an error of ommision, but what is certain is that the views, opinions and allegations contained in the article are wholly and incontrovertibly those of the publication. Its editors  should be prepared to accept vicarious responsibility for any action emanating from the interpretation of the article.
It is important to state here that as an independent publication, The Nation Newspaper is at liberty to align with any ideology its editorial focus desires to embrace and if, in the promotion of such an ideology, it finds itself in tandem with the opinions and informed commentaries expressed in any written contribution or commentary it chooses to publish for public consumption, then the management of the publication should do the needful and either classify such a write-up as either an editorial of the publication, or put the name of the author on the said publication to give it identity and credibility. They did neither in the said article.
We will refrain from joining issues with all the snide innuendos and direct attacks  casting libelous aspersions on the personality of the Governor of Rivers State,  Nyesom Ezenwo Wike. It is quite provocative and disingenuous to invoke situations, circumstances and events over which one has incomplete knowledge about, as illustrations to justify a conclusion, as the write-up has so brazenly concocted as regards the election in Rivers State.
Addressing the viccisitudes and complexities that are already defining the forthcoming September 19, Edo State governorship elections, we wish to place on record that prior to every election he has contested, Governor Nyesom Wike has always been the prime advocate for violence-free polls and has loudly insisted that all elections must be free and fair and the votes of the people must count. Most importantly, he always advocates that people should be vigilant and guard their votes to make sure every vote counts.
This is the stance of a confident politician who believes in the tenets of true democracy and the process of free and fair polls and we want to state categorically here that the popularity, admiration and overwhelming acceptance of Governor Nyesom Wike as a bold, fearless and charismatic politician is not and has never been in doubt, not just in Rivers State, but across the country.
Those who followed the 2019 governorship election in Rivers State, which, fortunately, was comprehensively covered by the media, including The Nation Newspaper, will recall the outstanding and courageous acts of spontaneous bravery across the state and particularly by the heroic resistance of the women of Ogu-Bolo LGA, who stood their ground and revolted against  armed soldiers who invaded their local government polling units to ostensibly hijack electoral materials and truncate the collation of the March 9 elections results in the locality.
Immediately after he was appointed the Chairman of Edo State Peoples Democratic Party (PDP) Governorship Campaign Council, one of the very first initiatives Governor Wike undertook, was an interview on a popular national television network  where he urged the Security Agencies and the Independent National Electoral Commission (INEC) to be impartial in the forthcoming Edo State gubernatorial election. He equally appealed to President Muhammadu Buhari, to prevail on those saddled with the responsibility of conducting the election, to ensure that the polls were free and fair.
Governor Wike has since appeared on several more live television interviews with respected news networks to stress the same point that all efforts must be put in place to prevent violence and ensure free and fair polls in the forthcoming Edo State elections.
These admonitions, coming as they are from the Chairman of the Edo State PDP Campaign Council is a clear indication that the party is solidly advocating for free and fair election in Edo State and is prepared to do everything legally and legitimately possible to protect and defend the votes of Edo people.
Of course, it is only to be expected that Governor  Wike will appear like a nightmare to those who believe that intimidation of voters and the deployment of force and might as was widely reported in the last Governorship election in Kano State as well as the Governorship and National Assembly elections in Kogi State for example, will give them victory.
Interestingly, Governor Abdullahi Ganduje is the Chairman of the Edo State All Progressives Congress (APC) Governorship Campaign Council and quite coincidentally too, Kogi State has featured prominently as has been widely reported in some media, on matters relating to insecurity in the forthcoming Edo State election.
To put this disturbing scenario in proper context, we recall the attack on the PDP Campaign Council during their visit to the revered Oba of Benin, the attack on Governor Obaseki's campaign train in Apana (Ward 10), Etsako Local Government Area and the very instructive video of the APC Governorship candidate holding a meeting with a group which described themselves as 'Lions and Tigers" which went viral a few weeks ago.
The Edo State Deputy Governor, Comrade Philip Shaibu, has gone on national media (both print and electronic) to make far reaching revelations, including providing names and photographs and narrating detailed plots of how certain persons are planning to derail the Edo State Election, breach the peace with widespread violence and even assassinate certain persons in his party. He boldly declared that he has already forwarded these information to the security agencies for expected appropriate action.
It is also quite sickening and a stark revelation of the wicked mindset of those challenging Governor Wike, that a benevolent act commiserating with the families of those who lost relatives and loved ones as a result of election violence, has now been twisted in their warped, devious logic to justify election violence.
We will not dwell much on this tragic turn of events, except to state that Governor Wike has zero tolerance for election violence and note that for the first time in our political history, a proper panel was set up to identify and ascertain the magnitude of loss and it was not just civilians but also military families were commiserated.
The intention of that heart touching gesture was to send a clear message that all Nigerian lives matter and, in recognition of the fact that families have lost breadwinners as a result of needless election violence, there was the need for government to show care and empathy and identify with the families who were grieving and mourning.
It is indeed quite sad and unfortunate that human lives mean nothing to those who wrote the said article as it has already revealed, even before the votes are cast that they are prepared to waste lives because they want to get power at all cost.
We want to state categorically that we take very strong exception to the vile and uncouth attempt to blemish the image and reputation of Governor  Wike by the  faceless authors of the article. We understand the fact that the mere presence of the Rivers State Governor, has sent uncomfortable shivers down the spine of those who may be plotting to disenfranchise the people of Edo State in the September 19 Governorship election. He has become a scourge to their shenanigans and we are not unmindful of the deliberate media campaign to discredit him, for which of course, we are taking appropriate action. This one too will not be an exception.
On a final note, we want to assure those attempting to smear Governor  Wike that their efforts are like pouring  water into a basket because the Rivers State Governor is not at all perturbed and is certainly not going to lose any sleep over their uncharitable comments. This rejoinder is to put The Nation Newspaper and those connected with this article on notice that we have seen and read it.
Let us reiterate, for the purpose of emphasis, that as the Chairman of the Edo State PDP Governorship campaign council, Governor  Wike is once again calling on the security agencies, INEC and  President Muhammadu Buhari to ensure a free, fair, violence-free election in Edo State. We equally call on Edo people to defend their votes in line with the laid down election guidelines and take their own destiny in their hands to decide who becomes their next Governor. Power belongs to the people and the voice of the people is the voice of God. In the end, God will win in Edo State.
Nsirim is the Commissioner for Information and Communications, Rivers State.

Taming The Rape Culture In Nigeria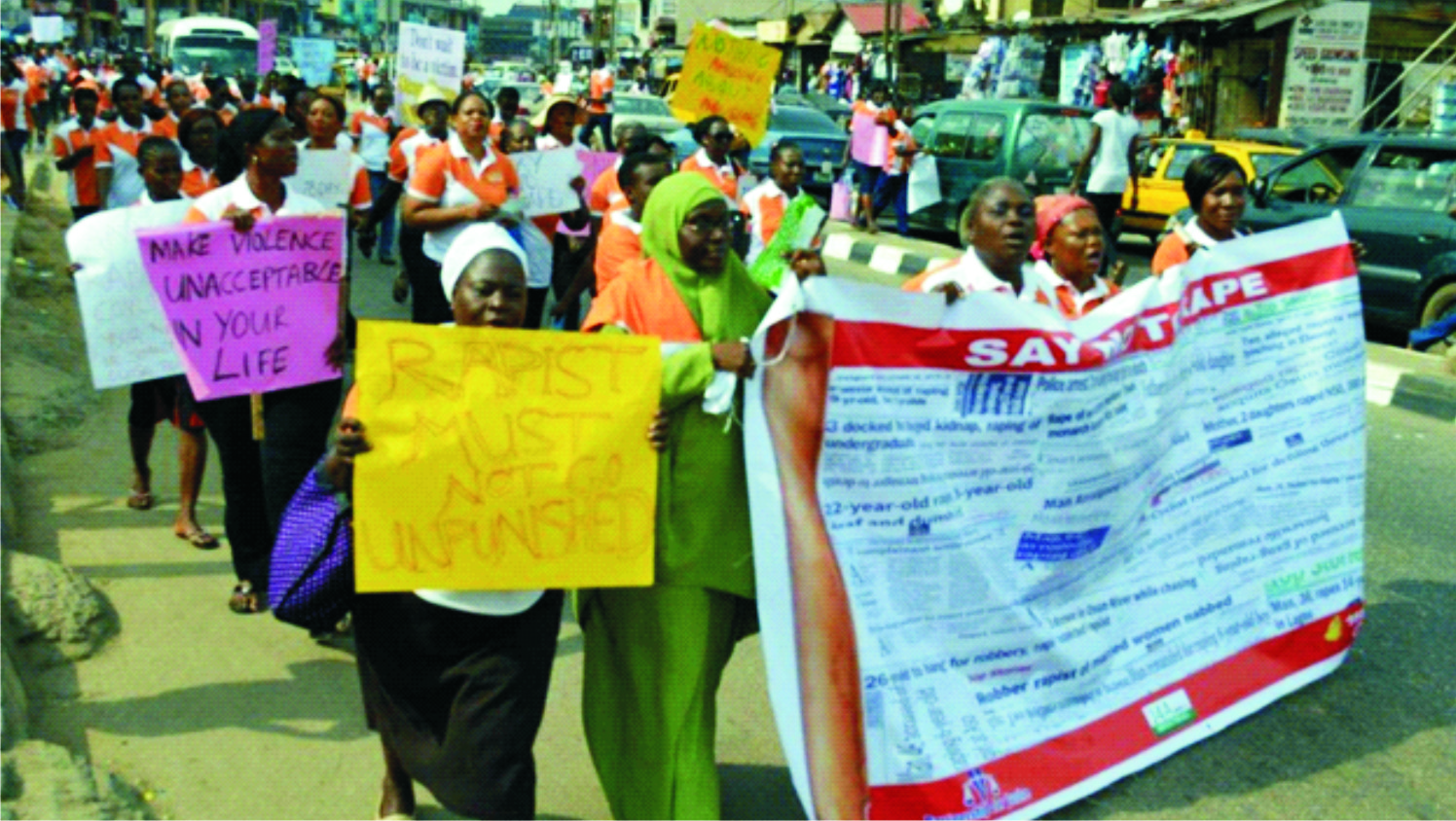 The increasing cases of rape in Nigeria is a great concern to many. Scarcely a day passes without an incident of a woman, girl or infant being raped in one part of the country or another. Some of the victims are not only raped but brutalised and killed. Recall the story of how a 22-year-old 100 level Microbiology student of the University of Benin, Uwaila Omozuwa, was raped and murdered in a church in Benin a few months ago.
When the Senate in June 2015, ratified the Sexual Offences Bill (2015) which prescribes life imprisonment for rapists and those who have sexual interaction with children under 11 years, many thought that would assist in reducing rape cases in the country. Incidentally, that is not the case yet as many women in the country, both young and old, are daily subjected to sexual abuses. Some are reported, while many go unreported.
However, as the cases soar, individuals, human rights organisations, civil society groups and others relentlessly work towards the curtailment of the bestial act. One of such groups, Center for Women Studies and Intervention (CWSI) and its partners, including International Federation of Women Lawyers (FIDA), (Nig),  Civil Society Legislative Advocacy Centre (CISLAC),  Women's Right Advancement and Protection Alternative (WRAPA) and others, recently in Abuja, called for an end to gender-based violence and rape.
Relating several pathetic stories of female sexual abuses in many parts of the country, CWSI Executive Director, Rev Sr Ngozi Frances Uti, said it was high time government and lawmakers demonstrated more commitment and be more passionate about rape and other forms of sexual abuses if the menace must be curbed.
According to her, "when a woman/girl is raped, she loses her self-esteem/worth. She is plunged into depression if she survives the ordeal and forever battles with the trauma. This uncontrollable sexual appetite of the rapist destroys the victim's future and pushes her into a lifelong dark age".
In the viewpoint of Chairperson, FIDA, Abuja Branch, Rachael Adejo-Andrew, the country does not lack laws that criminalise rape and other sexual offences as the Penal Code, the Criminal Code and the Violence Against Persons (Prohibition) Act, (VAPP), all have portions that deal with the abominable acts. What is in short supply, however, is the implementation of these laws?
She called on the police and all those charged with the responsibility of implementing or enforcing these laws to sit up just as states that are yet to adopt the VAPP Act should do so. "The penalty in that law is stiff enough to prohibit people from perpetrating the crime and it also has provisions for psycho-socio, medical, legal and other supports for rape victims," she emphasised.
The legal icon harped on the need for the police, rape victims and their families as well as the entire populace to realise that rape is a crime against the state which should not be mediated but be allowed to be dealt with in accordance with the law.
In her words: "sometimes we hear things like oh! they have begged me; my pastor has intervened; my grandfather has called so l am going to drop the case; I am not going forward with the case and all that. We need to understand that rape is a crime against the state. It is not against the individual. Yes, the individual is the one suffering but it is a crime against the state and you don't mediate a crime. You let it go to court. Let the court take its course".
Also, she admonished that to make a rape case easy and for victims to be victorious, the following must be done: victims must not destroy the evidence, they should immediately report to government recognised hospital; they should ensure the case is reported and documented at a police station; involve CSOs so they can follow up the case; ensure that a lawyer is involved for a thorough investigation; they should be tenacious, committed and determined to see the case through.
It is a known fact that many rape victims who would have heeded Adejo-Andrew's counsel and ensure that the perpetrators do not go scot-free are discouraged by the stigma associated with sexual abuse.  To address the important issue, Media Officer, CISLAC, Onyekachi Eze, called for more sensitisation and education by the media and other stakeholders. "Do you know some parents even tell their abused daughters to keep quiet due to fear of being stigmatised? So, until we get strong sanctions that can stop them, let us keep educating and sensitising," she opined.
Similarly, a member of WRAPA, Dinma Nwanye-Ajanaku, advocated that religious and traditional leaders who have the ability to influence community members should be educated on how to handle rape cases. She grimaced at the practice of always focusing on victims when reporting rape cases in the media. She said attention should rather be paid to the offenders as a way of naming and shaming them.
In the views of a past Executive Director of CWSI, Rev Sr Rosemary Ukata, to win the fight against rape in Nigeria and save our society, law enforcement agents and all those responsible for implementing laws against the menace should rise to their responsibilities. She suggested that gender desks at police stations should be made functional and further advocated that the issue of drug and other substance abuses be given more bite by the relevant bodies.
The need for proper parental upbringing, more attention to the boychild and value reorientation of the entire citizenry were also proposed by some other participants as ways of dealing with the crime.
A country representative, Catholic Agency for Oversea Development (CAFOD) and Catholic Charities Foundation of Nigeria (CCFN), Mr Kelechi Emeh, capped it all by calling for the establishment of a special court for rape cases and for more synergy between the CSOs and other stakeholders in the battle against the scourge. He said: "We are not in a competition. We are working for a common purpose. When we come together and pull our resources together we achieve our aim of making our society better".
Calista Ezeaku

Wike, Expanding Infrastructure For The Future
When Governor Nyesom Ezenwo Wike announced that the State Government would embark on the construction of a fourth flyover to be sited at GRA Junction, Port Harcourt/Aba Expressway in addition to the three ongoing flyovers at Rumuogba, Okoro-nu-Odo, Rebisi and also expand the Rumuola flyover, the wailers and naysayers went to town with their usual perennial criticisms.
Ranging from the now overflogged line that the Governor was using Rivers money to develop only Port Harcourt and Obio/Akpor Local Government Areas at the expense of other areas, to not creating jobs for the youths, some even made snide and sarcastic allusions to the N78.9 billion refund. No doubt, the critics have had a field day in the court of public opinion.
But the pragmatic Governor has taken all in his calm, unperturbed style and continued with stoic commitment and unwavering resolve, to deliver on his promise to Rivers people.
He had already fixed his compass on the future of Rivers State and with Port Harcourt and the capital territory as the  epicenter of any planning.
The need to reconfigure infrastructural facilities to accommodate futuristic calculations, was both urgent and expedient, especially against the backdrop of making the State an Investors' Haven.
Modern urbanization has made flyovers an inevitable infrastructural development component because they are built over man-made structures such as roads and intersections, to prevent congestion and provide a more convenient way to navigate through the traffic. They are also built to provide safe and convenient passage for the pedestrians, help to streamline the traffic control system by reducing traffic gridlock and minimise the risk of off-road crashes, amongst other advantages.
One of the key pledges Governor Wike made to Rivers people when he assumed office in 2015, was to embark on comprehensive urban renewal as well as actualize the age-long yearnings of the indigenes and residents of the local government areas to be able to connect and access the rest of the State by tarred roads and durable bridges.
Five years into his tenure, the urban renewal programme in the capital city and indeed the interconnectivity across the length and breadth of the State is progressing amazingly.
The capital territory of Port Harcourt and Obio/Akpor is undergoing massive construction as restoration works, including underground drains, sidewalks, green areas and street lights on most of the roads in the  Old and new Government Reservation Areas are all at very advanced stages of completion. This is in addition to the three flyovers that are progressing simultaneously and expected to beat the deadline of February 2021.
The construction of the 4th flyover bridge across GRA junction and accompanying dualization of Ezimgbu road and the dualization of Tombia Extension, GRA to link Ikwerre  will all be delivered on schedule.
And for those who accuse Governor Wike of only developing the capital territory of Port Harcourt and Obio/Akpor, complimentary construction work including the dualization of Kira – Sapkenwa – Bori – Kono, straddling three Local Government Areas in Ogoni heartland, has almost been completed and the Construction of Oyigbo (Mbano camp) to Iriebe, linking Oyigbo and Obio/Akpor Local Government Areas of the State, has already been completed and would have been commissioned if not for the outbreak of COVID-19.
Also completed virtually, are Alesa- Agbonchia – Oyigbo road linking Eleme and Oyigbo Local Government Areas of the State; and the Rumuakunde and Isioudu communities' roads in Emohua Local Government Areas of the State.
Similarly, the second phase of Isiokpo community internal roads in Ikwerre Local Government Areas has been completed and the construction works on the 16.85 kilometers Rumuji – Ibaa – Isiokpo road in Emohua and Ikwerre Local Government Areas have passed the 90 percent completion level, while the dualization of the 23 kilometers Omoku – Egbema road in Ogba/Egbema/Ndoni Local Government Area has progressed beyond 50 per cent.
In Etche Local Government Area, the 21.3 kilometers Odufor/Akpoku/Umuoye road has since crossed 70 percent construction level, while the Aker-base road in Obio/Akpor Local Government, the Ula Ehuda-Odioku-Anwunugboko-Ubeta-Ihuechi-Odiereke road; the Odiokwu internal road network in Ahoada West Area as well as the Abonnema ring road in Akuku Toru Local Government Area, and the Umuma road in Omuma Local Government Area, and the Sime – Eteo – Nonwa road connecting Tai and Eleme Local Government Areas, are all virtually ready for commissioning once the Coronavirus threat is successfully mitigated to allow for such activities.
By a combination of unshakable commitment and a visionary drive to ensure the delivery of excellent and legacy infrastructural projects, the Governor Wike administration has vigourosly pursued the accomplishment of its  promise to complete the long-abandoned roads to the coastal communities of Opobo and Andoni in Opobo/Nkoro and Andoni Local Government Areas of the State and the Ogoni – Andoni – Opobo (Unity) road. In fact, citizens of Opobo Ancient Kingdom drove home for the first time in centuries only last year.
The infrastructural development of Rivers State is inclusively holistic and contrary to the notions and misleading opinions of critics, who have not traversed the state to actually see and confirm for themselves, the transformational and aesthetic metamorphosis which is not just taking place all over the state, but opening up and interconnecting the entire state into one cohesive entity.
Lagos State has often served as a reference index in developmental analysis, but many will agree that, despite the impressive strides it has achieved, there is still the excruciating hardship and suffering of endless and frustrating traffic gridlock, because of the absence of well structured roads and bridges network, thus leading to uncontrollable  congestion on the few alternative outlets out of the city.
This is exactly what the Rivers State Government, already conscious of the traffic build-up that overwhelms critical points of the city even now, is taking concrete and proactive measures to address and resolve in future, with the construction of the flyovers.
In addition to easing the traffic tension, the projects are also mainstreaming youth empowerment and skill acquisition for indigenous engineers, apart from generating employment and empowering local contractors.
For instance, 20 indigenous engineers would be trained by Julius Berger Nigeria PLC during the contract period as part of government's policy on youth empowerment and skill acquisition and that is just the initial projection. The prospects had been more expansive and comprehensively favourable, if not for the Coronavirus outbreak that has drastically impeded robust operations and activities.
There is definitely no doubt that Governor  Wike is building for the future. The capital city and territory is expanding rapidly and population explosion with its  attendant challenges in a burgeoning commercial hub, which almost every part of the State is gradually transforming into with the brilliant economic module of strategically concessioning major government-owned assets to willing and capable private investors, is a critical futuristic component that must be addressed today.
Governor Nyesom  Wike is a promise keeper and he has kept his promises, worked hard and achieved so much more with far less resources, provided first-class socio-economic infrastructure and kept the State and businesses safe and secure, despite the unexpected outbreak of Covid-19 and the contrived attempts to frustrate and create diversionary situations, both by internal and external forces. Indeed, the administration has remained firm and focused on this progressive trajectory with a pledge to recommit to work harder and deliver greater development to Rivers people.
Like Governor Wike himself said in his first year, second term address to Rivers people on May 29, 2020: "We know it is not going to be easy given the very poor state of the national economy and the spinoff effects on ours. But, tough times like this call for unity of thought, unity of purpose and unity of actions; believing in ourselves and in our ability to overcome all the challenges that confront us as a State and as a people".
Nsirim is the Commissioner for Information and Communications, Rivers State.
Paulinus Nsirim