Cassava, Food Security And Industrial Revolution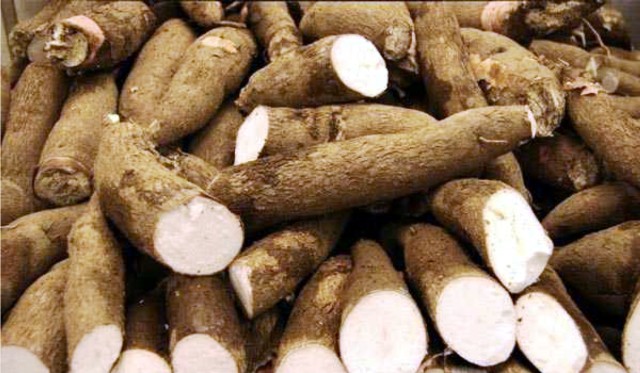 Cassava or manioc (Manihot esculenta) is a perennial woody shrub with an edible root, which grows in tropical and subtropical areas of the world and has much ability to withstand difficult growing conditions.
Cassava is one of the most drought-tolerant crops. It is a starchy root tuber, native to South America and serves as a major source of calories and carbohydrates for people in developing countries.
Analysts believe that the most commonly consumed part of cassava is the root, which can be eaten whole, grated or ground into flour to make bread and crackers. They note that cassava root is the raw material for tapioca and 'garri' a staple food in Nigeria.
A Food Biochemist and Chief Executive of the So Tastee Cakes and Pastries, Mr Emmanuel Osiname, believes that individuals with food allergies can benefit from using cassava root in cooking and baking because it is gluten-free. He, however, advises that the cassava root must be dried, cooked and processed before eaten.
According to the Cassava: Adding Value for Africa (C:AVA), an initiative of the Bill and Melinda Gates Foundation, Nigeria is the largest producer of cassava in the world with current annual output of about 54 million metric tonnes. C:AVA made the observation in its training manual on the use of High Quality Cassava Flour (HQCF) in confectioneries. It is, however, worried that Nigeria does not contribute meaningfully in terms of value added in global trade.
C:AVA, funded by Bill and Melinda Gates and targeted at boosting value addition in cassava and incomes of farmers, notes that over 90 per cent of the annual output is consumed as human food with little quantity targeted for industrial use.
C:AVA programme, currently in its second phase, raises hope that Nigeria will reap more cassava benefits if it finds industrial utilisation for the crop.
The C:AVA Programme Manager in Nigeria, Prof. Sanni Lateef, is also dissatisfied that cassava has received relatively little attention from researchers in comparison to the dominant food crops of the green revolution – wheat, rice and maize.
Lateef, also a lecturer in the Food Science and Technology Department of the Federal University of Agriculture Abeokuta, is of the opinion that the major challenge to cassava utilisation is acceptability as a commercial crop, as it is considered a food security crop because it is produced on a subsistence level. Lateef says farmers began to transit into commercial production of cassava only in the last 10 or 15 years.
"The major challenge of High Quality Cassava Flour (HQCF) is its availability and obtaining the right quality after processing. "There is a need for more processors of the crop," he says, blaming inadequate processors on low profitability from unfavourable market.
The programme manager urges that processors should adopt good manufacturing practices and ensure the flour is supplied to the public. He raises hope that efforts are underway to rectify the issues and find ways to capitalise on cassava's strengths (high productivity, tolerance of poor soils and low rainfall, and resistance to pests and diseases) and improve its major shortcomings (rapid postharvest deterioration) and cyanide content.
At a stakeholders' workshop organised by the Federal Institute of Industrial Research Oshodi (FIIRO) in collaboration with Cassava: Adding Value for Africa II (C:AVA II) in Lagos recently, Prof. Gloria Elemo, Director-General of FIIRO, emphasised that cassava would be the key to Nigeria's food security and industrial revolution.
Elemo, a scientist, believes that Nigeria's inability to utilise the God-given raw material has cost it a lot in terms of development, foreign exchange earnings and industrial growth. The scientist seeks 10 per cent to 20 per cent cassava inclusion in confectioneries, arguing that Nigeria no longer faces quality-related issues in cassava, given the level of research by FIIRO on the crop.
"It is my prayer that the legislation of cassava flour inclusion in wheat flour for bread and confectioneries will become a reality, given the investment and commitment made by all stakeholders," Elemo says.
According to her, researches over the years have confirmed that HQCF inclusion in wheat flour is safe and have foreign exchange, wealth, job and growth potential. The director-general is convinced that HQCF is odourless and free from impurities such as sand and stones.
Mrs Folusho Olaniyan, Programme Director of Agra Innovate Expo and Conferences, is of the view that inclusion of HQCF into confectioneries offers up to N3.5 trillion opportunities for processors, farmers and other players in the value chain.
She argues that the opportunities are up to that amount because daily consumption of wheat-based confectioneries is estimated at N9.506 billion and an attempt to replace it with more healthy cassava flour will yield N3.469 trillion each year for players in the value chain.
"The Nigerian population is 196 million. If 97 per cent of the population is between the ages of 15 years and 64 years, it implies that 190.12 million of the population eats any of bread, chin chin, wrapped sausage or noodles daily. Based on the assumption that a portion size is N50 in the average, the potential market per day in Nigeria is N9.506 billion. It is important we let people know that cassava has more health benefits," Olaniyan urges.
Mr Adebosola Oladeinde-Opeodu, Deputy Director, C:AVA II, reveals that there are other areas cassava can be used.
"In C:AVA II, we also focus on cassava as starch, cassava as ethanol, cassava as animal or livestock or poultry feed. With that, we are telling Nigerians that there are many opportunities and areas where they can use flour. There are other areas where they can get income from cassava outside the traditional use of it for 'fufu' and 'garri'. It is an opportunity for confectioneries to uptake over N9 billion in this country,'' she says.
A scientist with FIIRO, Dr Lekan Ashiru, reveals that the institute and C:AVA have done an extensive work on the use of cassava peels as substrate for growing mushrooms.
Ashiru is satisfied that technologies have been developed by research institutes and universities in Nigeria to ensure that edible mushrooms are cultivated for local consumption and export, from agricultural and industrial wastes such as cassava peels.
The research efforts on cassava is not limited to FIIRO, C:AVA and FUNAAB. The Ibadan-based International Livestock Research Institute (ILRI) is not left out. According to the Country Representative of ILRI, Dr Tunde Amole, the institute is exploring and exploiting utilisation of cassava.
Amole, a scientist, observes that due to high cultivation of cassava in Nigeria, a lot of wastes are generated as peels. Amole says much processed cassava tubers are generated as cassava peels which are mostly wasted on refuse dumps while only an insignificant proportion is fed to livestock. The scientist believes that about 23 per cent of processed cassava constitutes peels which in turn becomes wastes.
He says ILRI is collaborating with the Technologies for African Agricultural Transformation (TAAT), an initiative of the AfDB, to promote the use of High Quality Cassava Peel (HQCP) as a feed ingredient for the livestock industry in Nigeria.
Amole argues that HQCP is a competitive substitute for maize in livestock feed as it is economical to use, even if maize prices fall by 50 per cent and HQCP production cost increase by 20 per cent. He is worried that drying of cassava peels is a big challenge in cassava processing, as peels not dried are heaped at markets, polluting the environment.
"Attempts to eliminate cassava peels through natural decomposition and burning have proved unsuccessful. Cassava peels have long been feed for livestock such as pigs and goats but now instead of having heaps of dried or drying cassava, there is a new technology for processing the peels,'' he discloses.
According to the country representative, apart from the new technology, the same equipment used for processing garri (cassava flakes) can be used to produce the HQCP. He, however, explains that HQCP is an ingredient and not a complete feed. The scientist says cassava peel is still low in protein and fats but research is ongoing to increase the content in the way its hydrocyanide content has been resolved.
Analysts call for more efforts in promoting HQCF in confectioneries and encouraging HQCP as a livestock feed ingredient to open greater opportunities for cassava processors, farmers and all other players in the value chain.
Fadare writes for News Agency of Nigeria.
Oluyinka Fadare
HIV/AIDS, Covid-19: Challenges And Way Forward
Since the declaration of the Coronavirus, also known as Covid-19 as a pandemic in January 2020 by the World Health Organisation (WHO), the ailment has taken the front burner of medical interventions the world over. This has greatly relegated attention to the HIV/AIDS epidemic which had hitherto been a thorn in the flesh of the world, to the background. Subsequently, experts in various fora have categorically stated that Covid-19 has come to stay, just as its compatriot, HIV/AIDS.
The result is that virtually all forms of attention, including resources, have been shifted from HIV/AIDS intervention to Covid-19 since the outbreak of the virus, despite the fact that HIV/AIDS is still claiming lives globally.
Sad still, current evidence suggest that People Living With HIV(PLWHIV) have higher risk of becoming seriously ill from Covid-19, especially those of them who are not on treatment, or virtually suppressed, and may be at an even greater risk, according to the Project Manager, Rivers State Agency for the Control of AIDS (RIVSACA), Dr Naaziga Francis, in an interview.
Covid-19 is having a serious impact on the most vulnerable communities, not just in Nigeria, but globally, especially the hard-to-reach rural communities, and this may threaten the progress of work done on HIV and other health related ailments.
Experts say there is a fall in HIV testing, as well as patients with tuberculosis (TB) suspected to have HIV who are supposed to be referred to the next step of diagnosis and treatment. Malaria diagnosis as well as antenatal care visit has also declined.
Buttressing this, the Director, Cross River State SACA, Isere Obten, said, " in terms of accessing HIV services, it is low, health workers are focusing on Covid-19, especially with the vaccine in place.
 "In terms of resources, it's been zero release (of funds) as most international donors are chanelling their funds to Covid-19″, he said.
Adding his voice, the Executive Director of Global Fund, Peter Sands, said, ''No country is immune to the spiraling economic costs of the (Covid 19) pandemic. Prolonged economic shocks leave deep scares, which have profound effects on people's health in years to come".
There's little doubt that from the foregoing, this calls for concerted efforts from stakeholders within the HIV space to check the current trend of lesser attention to the epidemic. 
Towards this end, the South-South Zonal Coordinator of the National Agency for the Control of AIDS (NACA), Dr. Uduak Daniel, during the just-concluded HIV Media Roundtable in Port- Harcourt, called on the media to be more strategic in reporting HIV issues. 
"It will require them to be involved in the field at both the state and local government levels to propagate the activities of HIV/AIDS-related issues in order to curtail the contact and spread of the disease," she said.
On his part, the Director, Public Enlightenment, Ministry of Information and Communications, Rivers State, Mr. Celestine Ogolo, who represented the State Commissioner for Information and Communications, Pastor Paulinus Nsirim, insisted that the media must continue with its role of agenda-setting in drawing attention to government on critical areas of need and reducing the high prevalence rate of HIV in the South-South zone. 
"The media must not allow Covid-19 take off the shine of the work in HIV/AIDS", he stated.
However, all of these efforts may come to naught if government at all levels does not take it upon itself to identify and support such efforts. This is why the Federal and State Governments, particularly, including donor agencies, as a matter of necessity, should make release of funds for effective HIV/AIDs response in Nigeria a priority.
For people living with HIV/AIDS, the authorities may need to ensure that they have, at least, a 30-day supply of ART in their homes. They could even have necessary drugs for up to six months to avoid exposure to COVID-19 during visits to health facilities.
The onus also lies on the implementing partners to continue with their interventions as part of their corporate social responsibility to society. 
While this is being done for HIV/AIDS, there's also the need to observe the protocols of regular washing of hands, wearing nose mask, and observance of social distancing as preventive measures to Covid-19. 
Society should, indeed, still know and be concerned that HIV/AIDS is still in existence and claiming lives, hence practices capable of spreading the virus should be avoided.
Igbiks is of the Rivers State Ministry of Information and Communications.
By: Martha Igbiks
NUJ: Gleanings Of PH National Confab
Port Harcourt, the Rivers State capital, recently served as the host city for the Third National Conference of the Nigeria Union of Journalists (NUJ).
Declaring the two-day event open at the Obi Wali International Conference Centre, Port Harcourt, Rivers State Governor, Chief Nyesom Wike, said he considered the theme of the Conference "The Media, Insecurity And National Unity" very apt in view of the perilous security challenges that have continued to plague the country unabated which he believed would address the issues of insecurity in Nigeria and positively impact on the nation's unity.
Represented by his Deputy, Dr Ipalibo Harry Banigo, the Governor said that the country was threatened as a result of self-destructive tendencies like ethnic chauvinism, religious intolerance, brazen disregard for the rule of law and nepotism and that it appeared the Federal Government of Nigeria was fanning these embers of disunity through its perceived actions and inactions.
"For instance, how could we explain a situation where almost all the heads of security agencies as well as critical national institutions are headed by people from a particular ethnic nationality and religious faith in a country which prides itself as a secular state and believes in federal character when it comes to the appropriation of positions?" Wike wondered.
He urged journalists, who are said to constitute the Fourth Estate of the Realm, to brainstorm and come up with a workable solution to save the country from imminent collapse.
NUJ President, Chief Chris Isiguzo, while speaking, called on journalists in Nigeria to avoid allowing politicians to dictate news angles for them. He also spoke on the theme: 'The Media, Insecurity And National Unity' at the event which held from June 7th – 8th, 2021.
Isiguzo added that it is unethical for journalists to allow politicians take over their responsibilities and dictate media content at the expense of public interest. He warned journalists to de-escalate news capable of causing fear and panic, especially now that the country is facing the challenge of insecurity.
In one of the other presentations at the conference, the Head of Mass Communication Department, Renaissance University, Enugu, Dr Maxwell Ngene, urged the Federal Government to ensure that the Freedom of Information Act is domesticated and implemented in all states of the federation as a matter of necessity, so as to instill accountability in government.
Speaking on 'Maintaining Peace in Turbulent Times: The Role Of The Media in Security and Unity of Nigeria', Ngene, advocated that codes of conduct in journalism practice should be encouraged as well as development of a regulatory framework that would enhance media's role in national unity and security, while adding that there should also be strict observance of high professional standards of ethics.
Also speaking on Media and National Security, Alhaji Muktar Sirajo stressed that there must be ethical re-orientation in media practice, genuine and inclusive fight against corruption, pervasive unemployment and poverty, and addressing the issues of ethno-religious, political and economic-based violence, with robust improvement in national security architecture to stem the tide of terrorism and insecurity in the country.
Alhaji Muktar urged media on its part to place national interest above any parochial interest in disseminating information to the public. He enjoined the mass media to avoid the temptation of over- escalating negative news, but rather focus more on escalating positive news in other to calm the tension arising from the insecurity challenge being faced in the country.
In another presentation on the same topic, Richard Akinnola, explained that press freedom is about freedom of expression, which in itself is a fundamental right in the world, without which genuine democracy cannot thrive. He encouraged journalists never to disclose their source of information no matter the cost, noting that they must maintain their sources of information in order not to betray the trust and confidentiality of their new source.
Also as part of the event, delegates undertook a tour of the new Flyover bridges to have a feel of some of the new edifices being put in place by His Excellency, Governor Nyesom Wike. The first visited was the Okoro-Nu-Odo Flyover with a length of 880 metre. The second visited was the Rumuogba 1&2 Flyover which we were told is the longest of all with 1.24km length. Others were the Rumuola, GRA Junction, Rebisi, and Oro-Abali flyovers. It was gathered that three of the flyovers were constructed at the same time and delivered less than one year.
It is worthy to note that the NUJ Vice President Zone D, Chief Wilson Bako, led the Team Flyover and the Rivers State Press Officer, Ministry of Works, Paul Bazia, sensitised the delegates on the Wike-led administration's projects recorded thus far.
It was also observed that delegates commended the numerous quality infrastructural projects executed by Governor Wike, while calling on other governors in the country to emulate his leadership prowess.
Meanwhile, everything that has a beginning has an end as the two-day event came up with a 17-Point communique drafted by the Drafting Committee members; namely Amos Dunia, Ifeyinwa Omowole and Emma Couson and signed by the National Secretaries, Shuaibu Usman Leman and Walin Shadalafiya, on June 8th, 2021, in the presence of key media houses and civil society organisations (CSOs).
The confab adopted the following resolutions as panacea to the myriad of security, political and ethno-religious crises currently facing the country.
Taking into cognisance that the primary responsibility of government is to protect lives and property of citizens, against the backdrop of prevailing situations that government is overwhelmed and unable to effectively carry out this onerous responsibility, the conference urges citizens to assist in community mobilisation as a way of addressing insecurity and notes that it will be disastrous to allow citizens to lose confidence in the ability of government to deal with the situation.
The conference also did retrospection on the role of journalists with regard to their core mandate of informing, educating and holding government and leaders accountable. Conference notes that the media has played an active role in their propagation and proliferation by promoting their different names and titles and serving as a vehicle for their messages.
*It also notes that more is required of practitioners as watchdogs of the society, particularly at this trying period in which a balanced reportage is more than ever before desired.
The Nigeria Union of Journalists takes note of the responsibility of the state to guarantee safety of lives and property, to protect the economy and economic resource areas, critical infrastructure, environment, including forest reserves and national assets.
The government should, in enforcing security policies, carry stakeholders at all levels of governance along and ensure good governance.
The Media should mediate with its distinct role of being between the governed and the rulers, particularly in situation of existential threats. The Union urges its members to prioritise mediation in the prevailing tension that pervades all geo-political zones and the threats to Nigeria's unity. 
*The Conference urges media practitioners to exercise caution in their reportage and analysis of unfolding events as well as play the role of a mediator between contending forces and actors. 
*The media should be a partner in de-escalating tension instead of being a party to the conflict.
*As for the controversy generated by the suspension of the micro-blogging platform – Twitter, the Union notes the widespread use of its resourcefulness in promoting dialogue, individual expression and commerce. The Union, therefore, solicits for caution on all sides.
In view of the challenges impacting on press freedom, freedom of expression, the Union will establish a Special Press Freedom Monitoring and Defence Committee.
The Conference, as part of innovation being injected into the NUJ, an 'NUJ HALL OF FAME' was launched. It is in view of this that the Conference resolves that the HALL OF FAME shall be instituted to accord due recognition to deserving public office holders, technocrats, journalists and other deserving members of the society, who have distinguished themselves in their chosen fields. In this wise, His Excellency, the Governor of Rivers State, Chief Nyesom Wike, became the first inductee of the HALL OF FAME.
*The Conference stresses the need for adherence to the rights of the people to freely express themselves and comment on the affairs of state and conduct of government as an intrinsic part of democracy that demands accountability of rulers and public officers to the citizenry.
*Conference notes that a factor we cannot ignore is the fact that Nigeria is a country that fought a civil war. Those who were active players in the war, from children that were born after the war to those who experienced the war, have not gotten a closure.
*Stakeholders call on the NUJ to lead the national voice for healing the actors of the Nigerian Civil War still alive, to engage and dialogue on issues that bind them as well as commit to ensuring that past events are put behind them and all find closure.
Conference also notes that #EndSARS was just a ventilation of bottled-up anger, dissatisfaction and discontent with the elites.
Conference notes that more than 60 years after Independence, it is still battling with 'State of Origin' in our National Data Collection System taking into cognisance that ethnicity and tribe played a negative role in the cause of the RWANDAN war. . Participants commend His Excellency, Governor Nyesom Wike of Rivers State for hosting the Conference and thank the people of the State for the warm reception.
By: Susan Serekara-Nwikhana
Should Daughters Inherit Father's Property?
Recently, a court in one of the southern states nullified the practice of denying female children the right to inherit their father's property. The ruling confirms that the female child can inherit her father's property. It is good but how the message is going to be sent to the villages at the grassroots calls for concern.
This issue of women inheriting directly from their lineage is supposed to be translated to the rural areas. This will give them a sense of belonging.
One thing is for the government or a competent court to make and interpret such law, another is for kinsmen to obey and allow the female children inherit their father's wealth.
There are those who hold tightly to the cultural practice that females should not inherit their father's property because, according to them, women get married out. Some people have vowed not to, feeling that if a daughter partakes in the share of her father's property, she will take the proceeds to her husband's house. Even as educated as some persons are, and having attained certain levels in the society, they still hold to the opinion.They claim that it is African culture. In some rural areas they don't bother whether such laws are in existence and view it as imported.
Another group say there is nothing wrong in that since the woman came from such lineage. For them, such idea is primitive and archaic in this 21st century.
A legal practitioner, Chidi Enyie explained that every female child has a right of inheritance.
Citing Section 42 Sub 1&2 of the Constitution of the Federal Republic of Nigeria as amended, he said that every person has a right to freedom from discrimination.
He said that was invoked in Ukoje Vs Ukoje (2020) where the Supreme Court came to a judgement that no person by reason of sex shall be discriminated against by reason of sex from inheriting the property of the parents.  The same way the males are entitled to inheritance, that's the same females are entitled.
According to Barr. Enyie, the issue of sharing inheritance comes into play when a deceased parent dies intestate, that is dying without a Will, but if it is when there is a Will, it means the deceased person has done the sharing of the property in the Will.
"In most cases, it happens when there is a Will.  In our custom in Nigeria, they tend to favour the male child, but the Supreme Court judgement remains the name unless it is reversed in later decisions", he said.
His words: "As it is, the barrier of discrimination has been nullified. Both male and female can inherit.  Even if she dies, her children are supposed to continue the ownership of the property, they are supposed to inherit their mum.  It can continue to run from generation to generation in that lineage".
He pointed out that it depends largely on the type of marriage as sometimes in a customary marriage, the custom of the people will apply so long as the custom is not repugnant to national justice, equity and God conscience, then the custom will apply.
But in a Statutory marriage, Esien vs Esien (1934), he said that the Supreme Court came out with a decision that if it is the biological father of the child and not the customary father of the child.
"But ignorance on the part of the society tries to hamper the execution of the judgement of the Supreme Court", he insisted.
He maintained that the judgement of Ukeje vs Ukeje is being criticised by the Ibo tribe that it wants to nullify their customs stressing that it should not prescribe what their custom should be.
He advocated that women should remain vibrant and contend for their right until awareness is created about the equality of both sex.
A pharmacist, Mr. Edet Okong, said such issue is prevalent in Nigeria because of poverty and illiteracy while it is not practised in other countries.
He noted that women have a share in his family whenever they are sharing things.  
He asked: "Is it not somebody from that family that gave birth to the woman?"
A legal practitioner, Mr. Ejike Uboh, noted that the issue of inheritance has to be handled by the court.
He said that NGOs need to carry out a lot of campaigns to the rural areas to be able to change the mindset of people who still hold into such cultural practice.
Uboh said that females inheriting their father's property is good and traceable to the Holy scripture and called on FIDA and traditional rulers who are the embodiment of customs to sensitise people, giving reasons why such practice should stop.
A mechanic, Nude Ikegwuru, insisted that it is impossible for a daughter to inherit her father's property and argued that women are exempted from paying levies in some communities and so should not.  
He made reference to the Aba women riot of 1929 which prevents women from paying tax in Nigeria.
A businessman, Gold Ibokwe, said that such laws and decision by the government should be taken seriously as time goes on.
According to a medical laboratory scientist, Ebere Nduidi, "when a woman is not married, she should have right to any property in her father's home but when she gets married, I don't think that is necessary."
He emphasised that when a woman gets married, she changes her name and start answering her husband's name, becomes somebody's wife and so should not as she has been legally married.
Although he argued that the daughter can if it is her biological father's property and not a general family case and insisted that if she gets the property before the death of the father, she should not return it.
"Fathers have the right to Will properties to their daughters if they want. They have equal opportunity as the male children", he opined.
An entrepreneur, Davies Peter, said a woman can inherit her father's property while she is alive and after her lifetime, the property should be released to the family.
According to him, since she bears the name of another family, the children shouldn't continue the inheritance.
He advised that natural justice has to take its course instead of imported law while the laws be properly looked into and maintained that there should be some exception to the interpretation of some of the law as regards Nigeria and Africa generally.
He said although some of the laws are treated based on the fact that women are referred to as the weaker sex and they try to wave certain things.
He cautioned that people should not bring what is impracticable into existence and argued that male and female are not equal.
Mr. Kayode Ojo, an Architect asked: "Don't you think that when you give a woman land in her father's house, another one in her husband's house, it will be too much? 
" A man and a woman is a family, the husband and the children, so she should inherit in her husband's house", he noted.
Although the law supersedes tradition, he said, but that is if he wants to give the land to his daughter, at the end of the day, it is her own and insisted that tradition cannot prove the law wrong.
A pharmacist, Mary Udoh, said that fathers should be sensitised about writing Wills before death, so that if a property is bequeathed to whether a female or male, nobody under the law can take it away from such child.
An engineer, Emeka Obi, said what one may call cultural barriers and taboos is a common problem in Nigeria.
As he puts it: "People's customs and traditions are peculiar to those who practice them. If according to the way of life of a given people, their daughters don't have a place in the family inheritance, so be it, but if out of love or goodluck, a father Wills a property to any of his daughters, I have no problem with that".
A nurse, Mary Uche, in her own view said: " This is a welcome development. We are more of girls in my house than boys. "Could you believe that we lost our Dad, we the girls buried him but the boys took all the properties. And even if a woman dies, all her properties will be given to the sons' wives. The only things given to the girls are clothes, if you demand more, they will tell you to go and inherit your husband's house. If you are single, they will tell you to go and marry".
The consequence of denying the female child the right of inheritance of father's property is that if it comes to a situation where she is expected to contribute to family pressures, definitely she will withdraw. 
I'm not sure that any property can be too much to be owned by a woman.  If she has properties both in her father's house and husband's home, better for the children; after all, they were not stolen but inherited from grandparents. 
Religious leaders should preach more to the populace on improving the lives of people in the society.
Traditional rulers, NGOs should continually have dialogue and pass the messages down to the grassroots and perhaps to those in the urban centers no matter how learned and their level of exposure.
By: Eunice Choko-Kayode