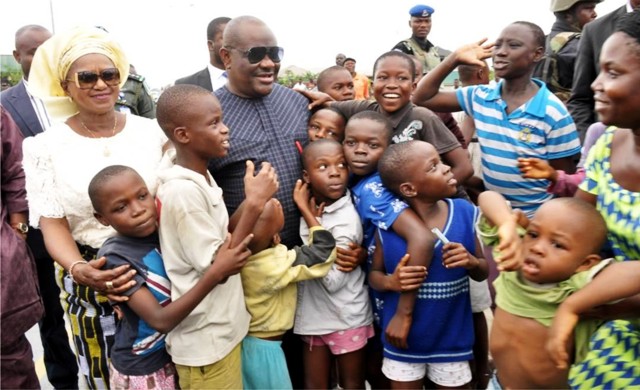 Rivers people should be glad and grateful to God for giving us a man like Chief Barr. Nyesom Wike as Governor of Rivers State in 2015.
Governor Wike has made us proud. He has kept Rivers State and PDP alive, intact and moving. Before his election and inauguration as Governor in 2015, the state was battered and in comatose. Rivers State was looted and dichotomized. Government House was vandalized, our valued and strategic assets sold and some destroyed illegally by the APC government.
Today, Governor Wike has restored the state's past glory and has taken it to greater heights. He also redeemed the PDP from APC's destructive and manipulative hand where it used Senator Ali Modu Sheriff and his cohorts as instrument for its destruction.
Wike opened our court that was under lock and key for over one year and subsequently appointed the Chief Judge of the State in the person of Justice Daisy Okocha, now retired. There was contention and disputation between the National Judicial Council, NJC and Hon Chibuike Amaechi over who became the Chief Judge of Rivers State. Whereas NJC had recommended Justice Okocha as the next Chief Judge of the State, Amaechi had his eyes on Justice Peter Agumagu who was already the President of the Rivers State Customary Court as his choice. The ensuring crisis eventually led to hte closure of count in the state. Lawyers and litigants suffered untold hardship for that period. Criminals walked freely on the streets of Port Harcourt unmolested. It was a horrible year.
Also Wike returned the Rivers State House of Assembly that abnormally operated in the Government House, Port Harcourt, to its building at Moscow Road, Port Harcourt. The seventh State Assembly was under the control of the executive arm; operating right inside Amaechi's abode and doing his biding. It was clear that under Amaechi's administration these two important arms of government; the judiciary and the legislature, were operating haphazardly.
He completed all APC abandoned projects in the city and embarked on massive projects, particularly road construction and maintenance. He filled all potholes on the roads and streets of Port Harcourt, especially those around Diobu axis. He evacuated waste dumps littered on the streets of Port Harcourt and paid its contractors billions of naira. Salaries owed the state civil servants and pensioners for months were cleared.
Wike reinstated some sacked lecturers of the Rivers State University of Science and Technology, now Rivers State University and paid their accumulated salaries and entitlements. He also settled our stranded students abroad as a result of non-payment of their school fees and other entitlements by the past administration.
On March 3rd, 2016, Governor Wike performed the ground breaking ceremony of the foundation-laying stone of Rumuowoji Market, commonly known as "mile one market" Port Harcourt. The market was burnt down over ten years ago, and the APC government ignored it. The market is now undergoing construction and is nearing completion. In fact, the Governor said that the market would be commissioned in December this year. At the moment. construction revolution is going on in all parts of the state, especially in Port Harcourt metropolis. This year alone thirty-one projects were commissioned and seven new projects flagged off to mark his three years in office.
Governor Wike is building new projects and rehabilitating dilapidated buildings in Port Harcourt, such as Produce House, now known as Chief Emmanuel Wonukwuru Aguma House at Moscow Road, Waterline House, now known as Chief P. G. Warmate House at Aba Road and several uncompleted buildings at the Rivers State University, Nkpolu-Oroworukwo, Port Harcourt. The Produce House, for instance, was an eyesore for years. The building was in dilapidation, negligence and dereliction for decades. Today, the building is one of the wonders of Wike's three years in governance.
The past APC administration derived pleasure in destroying our important and strategic assets such as the Dr Obi Wali Integrated Cultural Centre, Olympia Hotel, Government Secondary School, Emohua, among others. So much was paid to the companies that pull them down and cleared the debris. Does the destruction of those assets and waste of state funds make any sense?
Also abandoned was the monorail project which gulped over N40 billion naira, model schools and health centres littered in various communities in Rivers State are sign-post or evidence of APC's failure or poor governance, waste of Rivers State funds and total maladministration. Worse still, APC's account of stewardship for seven years and seven months of leadership of Rivers State was not rendered to Rivers people nor a handover note given to Governor Wike to guide him in the administration of the State. The refusal of that administration to render account of stewardship for the state it ruled for such a number of years was a slight to Rivers people.
In spite of these impediment, Governor Wike is moving on and has performed wonderfully well in his three years in power. He absolutely deserves our support for a second term.
Wike also contributed in no small measure to the revival and sustenance of demoracy in Nigeria by retrieving the soul of the Peoples Democratic Party (PDP), the father of all the political parties in Nigeria, from Modu Sheriff and his cohorts through the judicial process. And by that unique action freed Nigerians from one party system under the All progressives Congress (APC). He played a pivotal role in setting our hard-earned democracy free from APC's strangulation and emasculation in their alliance with Senator Sheriff. In Fact, PDP under Sheriff was an extension of APC.
Barrister Wike also rebuilt the battered PDP in Rivers State and contested on its platform and won the governorship election in 2015. His construction revolution and giant strides in the development of Rivers State and Nigeria as a Minister of State for Education, where he built over 100 schools across Northern Nigeria for the vulnerable children in the North called Almajiri, earned him honours and accolades in Nigeria, including the United Nations.
Indeed, the Rivers State governor is a vanguard for democracy and development in Nigeria. He is also the foremost Nigerian political strategist and tactician. He is a navigator, pilot and a messenger of our democracy. As Nigerian democracy forerunner, Wike has cried out and sent out a number of save our democracy messages across the world on the destructive state of our democracy by the APC administration of President Muhammadu Buhari.
The messages include the manipulation and rigging of the governorship elections in Edo and Ekiti States. The initimidation and harassment of members of the opposition parties, especially the PDP. Persecution of perceived political opponents and enemies, and intolerance of opposing views and expressions.
The lopsided anti-corruption war against PDP members and intimidation of judges. The constitutional breach and disobedience of court orders and rule of law.
Others are the wanton killing of Innocent Nigerians by herdsmen without arrest and prosecution of the murderers. The harassment of Rivers State and its people by security agencies in the recent past. The satanic plan to "push out" and not to vote out the present government of Rivers State in 2019 general elections etc. These were the PDP and Govenror Wike's messages to the world on how the APC is undermining and working to destroy our democracy.
In fact, the recent mass defection of APC members in the National Assembly to PDP is tantamount to passing a vote of no confidence on Buhari's inept administration and the leadership of APC. It is clear indication of a big crack in the ruling party.
The massive defection of APC members to PDP is an acceptance of the party as the biggest political party in Africa and the most organized political party in Nigeria. All these were as a result of Wike's crusade for a better democracy in the country. Governor Wike has been unindicated at last.
Ogbuehi is a public affairs analyst.
Prince Ogbuehi