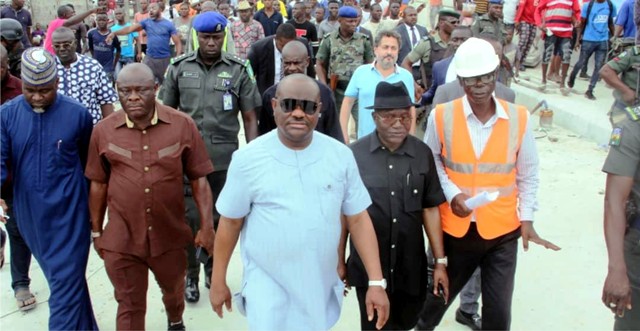 Senator Dino Melaye has been reportedly kidnapped by unknown gunmen on his way to Kogi State from Abuja.
Senator Ben Murray Bruce, said in a tweet that Melaye was abducted by unknown gunmen in the outskirts of Abuja.
Another report said armed men attacked Senator Dino Melaye in Gwagwalada on his way to Lokoja, yesterday morning.
Melaye, who was to appear before the Magistrate Court sitting in Lokoja, yesterday, in a case of alleged arms running was attacked by armed men who were reported to have blocked his way in a Government Hilux and a Sienna bus.
"As we speak, his whereabouts is yet unknown', the senator said.
Last Wednesday, Senator Dino Melaye was arraigned before the Abuja High Court sitting in Apo by the police and was granted bail in the sum of N5million.
The lawmaker was arraigned on a six-count charge of attempted suicide, escape from custody and damage of police property.
The prosecution counsel, Mr. Alex Izinyonu, said Melaye escaped from police custody on April 24, 2018, after he broke the glass on the second window of a bus belonging to the Police, using his left elbow.
The lawmaker was said to have jumped into a waiting vehicle, an action which the police say amounted to an offence punishable under section 327 of the Penal Code Law.
He explained that the defendant while being conveyed in a police vehicle to Lokoja, forced his way out of the bus and escaped.
Melaye, who represents Kogi West senatorial zone, denied committing the offences.
The trial judge, Justice Silvanus Oriji granted him bail in the sum of N5million.
Oriji also ordered Melaye to produce two sureties in like sum, as part of the bail condition.
The judge also ordered that the sureties must be directors in the civil service, who are resident in the FCT, and depose to affidavits of means.
Melaye is among the All Progressives Congress (APC) senators that recently defected to the opposition Peoples Democratic Party (PDP).
But in spite of the alert, the Force Headquarters has maintained sealed lips on yesterday's early morning reported abduction of the senator representing Kogi West Senatorial District, Dino Melaye, by unknown gunmen.
Melaye was reported to have been abducted at gunpoint by some men suspected to be political thugs, at Gwagwalada area of the nation's federal capital city.
The Force was yet to respond to newsmen's inquiry on whether the police have established the abduction of the senator whose whereabouts was yet to be ascertained as at the time of filing this report.
The Force Public Relations Officer, Jimoh Moshood, did not pick several calls made to his known telephone number just as he did not reply to the text message sent to him on the line.
But on its part, the Federal Capital Territory, FCT Police Command, feigned ignorance of the abduction, saying so far such information was not at its disposal.
Its image maker, Assistant Superintendent of Police, Anjuguri Manzah, while responding to an inquiry made on the telephone, insisted that the command was yet to receive any information to that effect.
"The FCT Police Command has not received any information to the effect that Senator Dino Melaye is abducted, "he said.
However, a Senior Magistrate's Court in Kogi has adjourned the trial of Sen. Dino Melaye, representing Kogi West Senatorial District and two others in the case illegal possession of firearms and arms dealing, until August 9.
Senior Magistrate, Sulyman Abdullah adjourned the case at yesterday's adjourned sitting for commencement of trial as the prosecution could not open its case due to absence of its lead counsel, Dr Alex Izinyon.
The Officer in Charge of legal department of Kogi command of the Nigeria Police, Mr Theophilus Oteme, told the court that the lead prosecuting counsel, Izinyon had an emergency call last Wednesday that made it impossible for him to appear in court, yesterday.
Oteme therefore applied for an adjournment until September 23 for the commencement of trial in view of the absence of the lead prosecutor more so that one of the defendants (Melaye) was not in court.
However, the lead counsel to Melaye, Chief Mike Ozekhome, represented by Mr Yemi Mohammed, told the court that he had on good authority that Melaye was attacked in Gwagwalada on his way to Lokoja.
"I learnt that he was attacked yesterday (Wednesday) in Gwagwalada on his way to Lokoja to attend his trial and up till now, I have not been able to reach him, I don't know where he is at the moment,'' he said.
In his ruling, Abdullah turned down the application by the prosecution for a long adjournment to September 23.
He said that the Kogi State Administration of Criminal Justice Law did not allow for an adjournment beyond two weeks in a criminal case.
The Senior Magistrate, therefore, adjourned the case until August 9 and ordered that the bail earlier granted to Melaye continued.
Abdullah, however, ruled that the other two accused persons, Nuhu Salihu, known as "small'' and Kabiru Seidu also known as "Osama'', standing trial on a seven-count charge bordering on illegal possession of firearms and arms dealing, should continue with their remand in police custody.
Meanwhile, reports say that a group of gunmen have killed at least four people during prayer at a Mosque at Kawddi village in Zamfara State.
The attack, which also injured at least eight people, occurred at about 8pm last Tuesday in Zurmi Local Government Area of the state.
The spokesman for Zamfara State Police Command, Mr Muhammad Shehu, confirmed the incident to newsmen, yesterday.
He said the gunmen invaded the village in large numbers and started shooting sporadically and in the process, killed four people while eight others were critically wounded.
Situated in a thick forest and surrounded by rocks, Kwaddi village shares boundary with the Niger Republic, a terrain which the police spokesman said made it difficult for security operatives to respond swiftly to any distress call.
He, however, disclosed that security operatives have been deployed in the village to forestall further attacks and restore calm to the area.
Last week, three people were killed in a similar deadly attack on five villages in Gidan Goga district of Maradun Local Government Area of the state.
Nneka Amaechi-Nnadi, Abuja