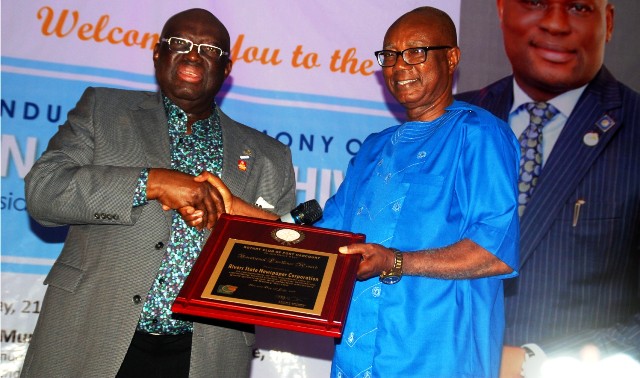 Thousands of Christians in Rivers State under the aegis of Concerned Christians of Rivers State have embarked on peaceful protest over the continued killings of Christians in the Northern part of the country.
The protesters marched from the State Ecumenical Centre, Abonnema Wharf Road to the Government House, with placards with various inscriptions.
Some of the inscriptions read; "Mr President stop the bloodshed" where is Leah Sharibu stop burning our churches; restructure Nigeria now for a stronger Nigeria", among others.
The group who spoke to newsmen in front of Government House Port Harcourt, regretted the inability of the Presidency to order the arrest of Miyetti Allah Cattle Breeders Association leadership.
A address jointly signed by Elder Lawrence F. Jumbo and Dr Okikere N. Iragunima, also condemned the continued retention of the present security architecture, a situation that has created the impression of alleged government complicity in the killing.
"We stand under this sun today to give voice to the thousands that have died at the hands of ethnic militia that the frontline felons and their spokesperson has chosen to describe simply as herders.
"We are uncomfortable with what we perceived as a deliberate attempt to change the narrative and mask the villains by dismissing the on-going pogroms as mere clashes between aggrieved cattle herders and crop famers".
The concerned Christians also decried the polarisation of the country. "Our nation is now more polarised than ever.
"Two cases come to mind; the security outfit in the practice of fairness, that the previous administration had maintained was to appoint an INEC Chairman from a different ethnic and religious affiliation from that of the presidency".
Meanwhile, the Legal Adviser to the Christian Association of Nigeria (CAN), Rivers State, Rev. Dan Obinna has advised the Federal Government to remove its hands from the issue of ranching.
Speaking to newsmen shortly after the protest, Rev. Obinna said that herding is a private business that should not be involved by government.
He also said that the Christian Association of Nigeria (CAN) was worried that Christians were being singled out for slaughter by the herders, while Christian communities were being occupied by suspected Fulani herdsmen.