NITDA Is Regulating IT For Dev – DG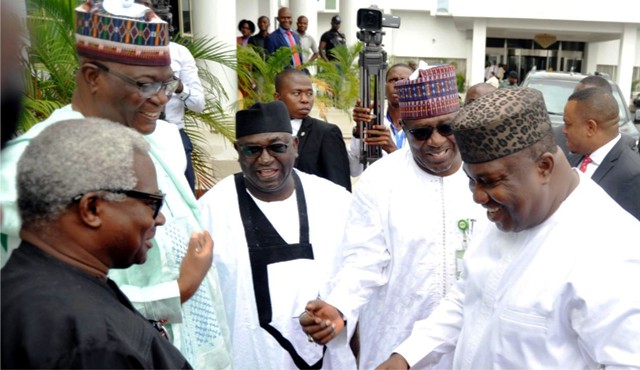 The National Information Technology Development Agency (NITDA) last Wednesday said  Information Technology (IT) regulation was all about regulating for development.
The Director-General of NITDA, Dr Isa Pantami made this known at the 27th National Conference of the Nigeria Computer Society (NCS) in Ibadan.
The conference theme is: "Digital Inclusion: Opportunities, Challenges and Strategies".
According to him, the regulation of IT is not to stifle IT development but to make things easy for stakeholders in the industry.
"NITDA has taken steps to ensure that digital inclusion is adopted in the IT industry and for this to happen, there is need for an enabling environment.
"Regulating the sector and proper enforcement will ensure that all things and persons involved will be digitally included.
"There is need for digital literacy among the people so that people will be able to use skills acquired for their own good," he said.
On capacity building, Pantami said NITDA had introduced laws to ensure that skills were guided toward building people with disabilities, women, unemployed youths among others.
He said that digital inclusion, if not properly guided, would also give rise to cyber crime and called for proper implementation of laws.
"The issue of cybercrime is real and now the statistics on ground are very worrisome.
"Cybercrime is at the speed of light while cyber security is at the speed of law and this shows that the ways laws are enacted is not good.
"We need to move from traditional governance to e-governance and this can be achieved when cybercrime laws are done at the speed of light," he said.
Pantami called for awareness creation for the public to be aware of issues associated with cybercrime in order to take preliminary actions against it.
He urged government on the adoption of e-governance, saying there was need to tackle obstacles limiting ministries and parastatals from doing their jobs online.
Rivers NUJ Gets Kudos Over Peace Training
The Rivers State Council of the Nigeria Union of Journalists (NUJ), has received commendations over plans to partner the Channels Academy on peace training for journalists in the State and Country at large.
The Tide was informed that the two days training exercise at the State Secretariat of the Rivers Council of the NUJ at Earnest Ikoli Press Centre Port Harcourt commenced yesterday and will terminate tomorrow, Thursday June 24, 2021.
Some journalists who spoke with The Tide in  Port Harcourt, yesterday, said it was a well crafted thought of the national leadership of the union vis- a -vis the state executives.
A Senior Correspondent with Independent Monitor Newspaper, Wariso Wariso, said that the initiative was a strong indication of the commitment of the Stanley Job led executive of the NUJ in the State.
Wariso noted that there was no better way to carry journalists along than to ensure that the benefit from such a training opportunity.
He maintained that training and retraining was key in the practice of journalism due to the dynamism associated with the profession.
Another Journalist, Mr Allwell Ene, who described the exercise as a welcomed development, said that its importance could not be over-emphasized.
Ene was of the view that since peace was opposite of crisis, that the best way forward was to give more attention to peace training in order to prevent crisis.
"Governments at all levels must pay attention to peace initiatives. I think, if that is done, the issue of crisis and crimes will be on the decline", he said.
He also pointed out that since peace was opposite of crisis, that the best way forward was to give more attention to peace talks with the target to give a rebirth to the minds of young people.
Others who also spoke in favour of the training, said it was key, in that it will place journalists in the country on better footing given the present situation of the country.
They further explained that such was imperative due to the dynamism associated with the profession and added to it will place Nigerian press on  the same scale with their foreign counterparts.
While applauding the Messrs Stanley Job and Ike Wigodo led  State executive, the called for a total support for the team in order to enable them consolidate on their projects and  as well, cause more of such programmes to happen in the state.
It will be recalled that the Provost of the Channels Academy, Mr Kingsley Uranta,  had made available materials that will provide easy  training process  for journalists during and after the exercise.
By: King Onunwor
I Was Abducted, Raped By Traditional Healer -Teenager
A teenager (name withheld) yesterday narrated before an Ikeja Sexual Offences and Domestic Violence Court, how she was allegedly kidnapped and raped by a traditional healer who was to treat her father.
The Tide reports that the 17-year-old testified as the first prosecution witness at the trial of one Prince Tom for defilement and kidnapping.
The teenager who was led in evidence by the state prosecutor, Mr Peter Owolabani, said that she was a 15-year-old senior secondary student when Tom came to her home on December 10, 2019, with a member of her family's church.
The witness said that the defendant requested for N25,000 as part of a fee to heal her father of stroke.
She said that her mother told her to follow Tom to a Point of Sale (POS) to withdraw the sum.
She said that they went to some POS to make withdrawals but were unsuccessful because the operators had insufficient fund.
The teenager said that in their search for another POS, she and the defendant took a commercial motorcycle from her neighbourhood in Bariga to Ilupeju, both in Lagos State.
"When we got to Ilupeju, my mother called him on the phone and I heard him telling her: 'She is my sister, I cannot do anything to her ma'.
"He approached a commercial tricycle park and informed the drivers that were siblings who just came to Lagos from a village, and asked for a hotel around the area.
"I had exhausted my transport fare, I am always staying at home, my parents do not allow me to go out; so, upon hearing him asking for a hotel, I told him I wanted to go back home.
"He said that he was seeing something in the spiritual realm that if I went back home, my father would die," she said.
The witness said that they went to a hotel (Osmak Hotel Mushin) and the defendant paid for a room but she refused to follow him into the hotel room.
According to her,  the defendant persuaded her to follow him so that they could pray for her father's healing.
"In the room, he was praying in God's name and he brought out a black oil and said:   'In the next five minutes, your father is going to get up from his sick bed and walk'.
"After five minutes, he said it had been done and we should enjoy ourselves but I insisted that we should go home."
He asked if I was stupid and told me to lie on the bed.
"I refused, and the next thing I felt was a gun pointed at my head.
Omerelu Community, Crime-Free-Youth Leader
A youth leader in Ikwerre local Government Area of Rivers State, Comrade Amadi Blessing, says there is no more criminality in Omerelu Community
Amadi admitted that since the arrival of Omerelu Security Planning and Advisory Committee (OSPAC), peace has been the order of the day. 
Comr Amadi who stated this while speaking with newsmen at Omerelu on Monday, explained that the peace Omerelu is enjoying today can be attributable to Eze (Engr) Ben Ugo, Paramount ruler Omerelu Community and Professor Blessing Didia, former Vice-Chancellor, Rivers State University. 
The Ikwerre Youth Leader said emphatically that the two illustrious sons introduced the local Vigilantee called OSPAC in Omerelu which remains the first Community in the whole of Ikwerre Local Government to embrace OSPAC.
He said the peace the duo have brought through the instrumentality of OSPAC had metamorphous unpara-lleled development in the community 
"I' m not a politician, but Governor Nyesom Wike's milestone in Rivers state particularly in Omerelu has made me join politics." 
"I m not only joining politics, I will campaign for his future political aspiration because he has brought light to us".
"The flag off of Omerelu internal roads which I m a living witness after how many years has proved he is a lover of his people", he said. 
In a related development, Maxwell Asor, Omerelu OSPAC Commander has assured the Monier Construction Company MCC, the Construction Company handling Omerelu internal roads of adequate protection. 
Maxwell assured that the local Vigilante under him has obligation to protect their facilities throughout the period the job would be delivered.
He said OSPAC had recorded tremendous success since its arrival in Omerelu 
Omerelu OSPAC Commander narrated how the group fought crime to a standstill before peace could be restored. 
"I remain elated because the peace has brought development in Omerelu." 
"Omerelu Community will remain grateful to Governor Nyesom Wike for bringing dividend of democracy to their door step.
We are also happy the promise he made to us he has come to fulfill it, he said.
Also, the Councilor representing Ward five Omerelu, Mrs Echie Edith Ikwerre women shall continue to give Governor Nyesom Wike maximum support. 
Hon Echie said Governor Wike had made the proud by executing impactful projects across the state which her ward was not an exception 
Hon Echie said the flag off of the road after so many years previous administration had failed would enable women transport agricultural produce to the city.
She said easy access to the state capital and appreciation of land were some of the benefits.