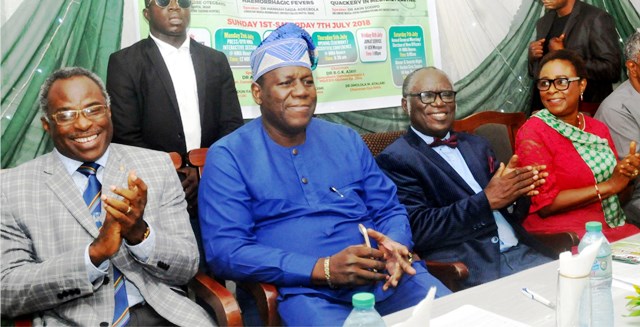 A university teacher of the Department of Medicine, Faculty of Clinical Sciences, College of Health Sciences, University of Port Harcourt, Prof Friday Wokoma has proposed the establishment of a Kidney Disease Detection System for Sub-Sahara Africa to check the trend of the pandemic.
Delivering the 150th inaugural lecture at the university last Thursday, the ace. Nephrologist said the establishment of a kidney disease detection system for Sub-Sahara African countries would go a long way to alleviate the burden of kidney, ensure sustainability and wider population coverage in the countries.
"Effective implementation of the proposal would ease the rising burden of kidney failure which is the 19th leading cause of death in the world today", he said.
The lecture entitled: "Preventive Nephrology, panacea to Ameliorating the Gruesome Burden of Kidney failure in Sub-Saharan African Countries", Prof Wokoma, described the basic functions of the kidney to include excretory, maintenance of metabolic equilibrium, synthetic and endocrine functions, he added that there is absolute need to come up with strategies for preventive Nephrology in countries where the disease is endemic.
Prof Wokoma, who is the former Chairman Medical Advisory Committee of the University of Port Harcourt Teaching Hospital, attributed the rising cases of kidney disease in Sub-Sahara African Countries to hypertension, diabetes mellitus, toxic nephropathies etc.
He explained that over 75 per cent of both kidneys must be damaged in patient for kidney failure to manifest, noting that the situation is increasing on a daily basis.
Prof Wokoma identified routine screening of antennal patients and new-born babies as part of the precautionary measures that would curb the rising burden of kidney diseases in humans.
He listed symptoms and signs of kidney disease to include swelling of the face and other parts of the body, foamy urine, nanses, vomiting, hiccups, general body and bone pains as well as low urine output etc.
Speaking at the end of the lecture, the Vice-Chancellor of UNIPORT, Prof Ndowa Lale, expressed alarm at the rising rate of kidney failure in Nigeria.
Lale, who was represented by the Deputy Vice-Chancellor (Administrator), Prof Regina Ogali urged Nigerians to always check their health status on a regular basis for early detection of disease.
Sogbeba Dokubo