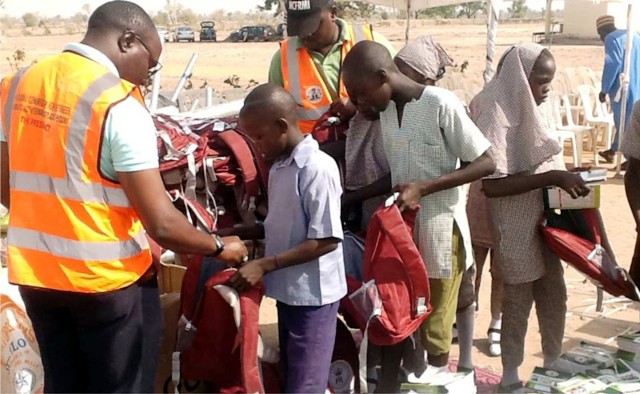 The United Nations (UN) in a recent report to commemorate the 2018 World Refugee Day on June 20 observed that there were 68.5 million displaced persons across the world and more than 25.4 million of them are refugees.
UN Secretary-General Antonio Guterres expressed concern that the current rate of displacement was the highest in the world's history.
He said that a person was displaced every two seconds in 2017, observing further that the situation in 2018 was not any better.
In the light of this, during the observance of the day, the United Nations High Commissioner for Refugees ((UNHCR) and other humanitarian partners focused on seeking new ways for durable solutions to the humanitarian needs in spite of paucity of funds that constitutes huge challenge to meeting such needs in Nigeria.
UNHCR in Nigeria said in its recent report that there are more than 1.8 million Internally Displaced Persons (IDPs), 23,943 refugees and asylum seekers in the country and 206,032 Nigerian refugees in countries of asylum.
The report stated that the agency had requested for 80.3 million dollars for 2018 operations and an additional 18 million dollars for contingency for Cameroon influx, noting that only eight per cent of the amount had been received.
According to the report, the Nigerian refugee situation has worsened since 2017 with the influx of asylum seekers and refugees from Cameroon due to the political unrest in Southern Cameroon.
The refugee influx has compounded the already complex humanitarian situation in Nigeria, particularly as a result of the lack of adequate resources to effectively support those in critical need of assistance.
The refugees reportedly fled Cameroon due to the ongoing standoff between the government and the Anglophone pro-independent movement (North-West and South-West) of the country.
In view of the situation, the UN High Commissioner for Refugees (UNHCR), Filippo Grandi, observed that taking care of refugees must be a global and shared responsibility.
According to him, refugees need all the humanitarian partners to help rebuild their lives, provide education, shelter; job and making them part of a new community to bring a lasting solution to the refugee problem.
"A new model is now being tested, with positive results, based on equity, justice and on humanitarian values and standards.
"Countries and communities need more systematic, long-term support as they take on the job of helping uprooted families.
"Refugees themselves need to be included in new communities, and they should be given the chance to realise their potential.
"Solutions are needed to help refugees return home when the time is right or build new lives elsewhere,'' Grandi said.
Similarly, Mr Jose Antonio-Canhandula, UNHCR Representative in Nigeria, called for urgent need for world leaders to come together and address the root causes of problems that force people to flee their countries and seek refuge in other countries.
Antonio-Canhandula said that the influx of Cameroonian refugees into Nigeria was increasing the burden on the Nigerian government and humanitarian actors.
According to him, refugees are currently being registered across the four border states of Cross River and Akwa Ibom in the South-South, Benue in the North Central and Taraba in the North-East.
"What I will like to say in relation to refugees is that in Nigeria, when I came; there were probably fewer than 2,000 refugees.
"Today, one year later, as we celebrate the World Refugee Day, we are talking of between 22,000 and 23,000 refugees.
"There is a new phenomenon of influx of refugees from Cameroon and I must thank the government, through the Federal Commissioner, on the way they are responding humanely to the needs of these refugees.
"But the refugee situation should not go on forever. At one point, it has to end; people need to get back to their countries, to their families or they need, in any case, a solution that gets them out of this mentality and situation of refugees.
"We have a refugee situation that requires that we reflect on what solutions we need to offer to these human beings like you and I; that is the objective of the celebration of World Refugee Day,'' Antonio-Canhandula said.
Antonio-Canhandula, therefore, urged all humanitarian partners and governments to find durable solutions to put an end to human wants, stressing that human beings should not be eternally dependent on humanitarian assistance.
Corroborating the UN representative's statistics, Hajiya Sadiya Farouq, the Federal Commissioner, National Commission for Refugees, Migrants and Internally Displaced Persons, said that the commission had registered more than 22,000 refugees.
Farouq further said that more than 1.7 million Nigerians were still internally displaced by the insurgency in the north-eastern part of the country while 200,000 Nigerian nationals lived as refugees in neighbouring Chad, Republic of Niger and Cameroon.
She, however, said that the Federal Government would begin the voluntary repatriation of more than 91,000 Nigerian refugees from Cameroon in soon.
She also noted that Nigeria was host to many urban refugees and 809 asylum seekers from Africa, Middle East, Asia and Europe.
She said that the Federal Government, Cameroon and UNHCR had signed an agreement in 2017 with an advanced technical working group to work out the modality for their return.
"The Tripartite Agreement was aimed at the voluntary repatriation of over 91,000 Nigerians refugees from Cameroon.
"Let me state here that the technical working group has concluded concrete operational modalities and support measures, including setting the timetable and procedures to ensure the safe, dignified, voluntary return and sustainable re-integration of Nigerian refugees from Cameroon.
In view of this development, Kelly Johnson, a Cameroonian refugee in Nigeria, urged the UNHCR and the Nigerian government to collaborate in providing durable solutions to the challenges confronting refugees.
Johnson says providing education for refugees' children and empowering men and women would go a long way toward giving them a better future.
She thanked the Nigerian government and the UNHCR for ameliorating their sufferings and giving them hope to live again.
Similarly, Mrs Halima Ahmed, the Economic Community of West Africa States Commission (ECOWAS) Commissioner for Finance, said that the sub-regional body was committed to preventing causes of displacement.
All in all, observers insist that the refugee situation across the world is increasing at an alarming rate as people get displaced by the minute.
They advise that addressing the root causes of displacement should be the focus of the UN, national governments and humanitarian actors and citizens.
Okoji and Elebiyo-Edeni write for News Agency of Nigeria.
Lizzy Okoji And Taiye Elebiyo-Edeni