Senate Investigates Sexual Abuse, Violence At IDP Camps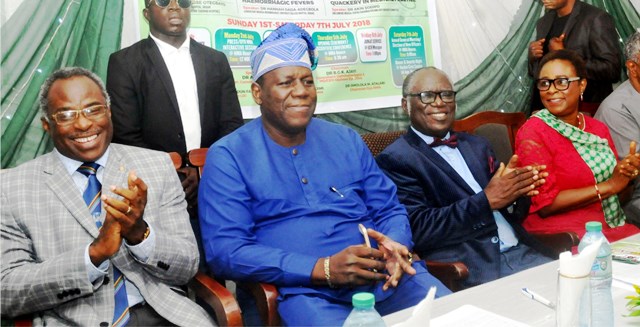 The Senate yesterday decided to investigate alleged sexual abuse and violence against Internally Displaced Persons (IDPs) at camps in the North-East and across the country.
The Senate President, Bukola Saraki disclosed this while receiving the Amnesty International (AI) 2017/18 report on 'The State of the World's Human Rights' and the organisation's report on women who survived Boko Haram onslaught but were later maltreated, from its Country Director, Mrs. Osai Ojigho, in Abuja.
Saraki affirmed that the country being an important part of the comity of nations, must continue to lead by example by doing the right things.
"By getting it right, we must be able to accept where these issues exist and work with partners like yourselves to be able to establish the facts," Saraki said, adding that, "We have already set up a panel on your IDPs report. By doing this, we can establish where sanctions need to be meted out."
The Senate President continued: "You have our assurance that nothing will be covered up. Not just for the purpose of disciplining people, but for the purpose of preventing recurrence. By doing this, we can help to ensure that people will change in their approach.
In her remarks, the Country Director of AI, Mrs. Ojigho said that the visit was meant to commend the Senate for setting up a panel to investigate the allegations contained in the report.
"We think it is a good sign of progress and a willingness to find out the truth regarding the incidents that have been happening and we hope that it will bring recourse to the women victims and their families in their quest to seek justice.
"We also want to commend the work of the National Assembly in passing and reforming our laws, particularly the Anti-Torture Law that was signed by the President in December. We believe that this would go a long way in addressing the issue of torture, particularly by our security forces in Nigeria," the Country Director said.

Bello's Gunmen After My Life, Family -Kogi Dep Gov
Deputy Governor of Kogi State, Elder Simon Achuba yesterday alleged that the governor of the state has sent gunmen after his life.
Acbuba called on the inspector General of Police, the Department of State Services (DSS), the Army and other security personnel to safeguard his life, family members and his aides.
Achuba, who spoke with newsmen at his official residence in Lokoja said, "From all information at my disposal, the governor has mobilised gunmen to attack me.
"I want the police, SSS, IGP to know that if anything should happen to me, my family and aides, the governor should be held responsible."
The deputy governor likewise called on the President to beam his searchlight on the state.

LGAs Responsible For Farmers, Herdsmen Clashes In Nigeria -UN
Zebulon Takwa, Peace and Development Adviser, Office of the UN Resident Coordinator in Nigeria, says poor Local Government administration is largely responsible for farmers-herdsmen clashes in Nigeria
Takwa, who gave the position in an interview with newsmen yesterday in Abuja, expressed concerns over "weak operational structures at the local government level''.
He said that issues that were supposed to be addressed by local administration authority were left unattended to over a long period.
The UN official noted that most of the issues that escalated to crises ought to have been resolved at the local level by the authorities, traditional and religious leaders.
He decried the situation where structures for such prompt amicable settlement were not effective enough to prevent conflicts.
Takwa condemned the situation where most local government officials migrated to urban centres instead of concentrating on their primary responsibilities of settling crises, developing infrastructure and social amenities, among others.

Reprisal Killing: Taraba Police, Tiv, Junkun Differ On Casualities
The Police Command in Taraba State has said that only one individual was killed in what appeared to be a revenge for the alleged murder of a Junkun man yesterday.
While the Tiv claimed that no fewer than nine of their kinsmen were killed in Takum town, Takum Local Government Area of Taraba State on Tuesday, the Police said the figure was not true.
Takum is the hometown of Governor DariusIshaku who turned 65 today.
Multiple sources in Takum said trouble started yesterday morning when a Jukun man was killed on his farm along Takum-Wukari road, and irate Jukun youths in Takum went on the rampage, killing at least eight people in the town.
A resident of Takum, Mr. Nathaniel Jato, in a telephone interview with our Correspondent said the eight people killed in Takum town were all Tiv resident in the town.
"We counted at least eight dead bodies around General Hospital Junction and Zenith Bank around the Wukari roundabout.
"We were told that many people were killed around Rimi Primary school area, but there is tension, so we can't go there.
"The Caretaker Chairman of Takum Local Government Council, ShibanTikari, has assured us that the situation will not escalate, but I am afraid the situation might degenerate if adequate security measures are not put in place," he lamented.
Jato, who said there was threat that their houses would be attacked in the night, called on Governor Darius Ishaku and security authorities to quickly restore peace in the area to pave way for proper investigation of the matter.