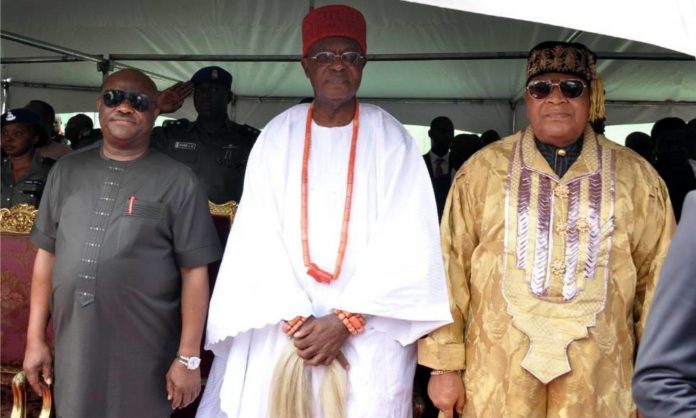 The paramunt Ruler/ Nyerisi Eli Woji, King Leslie Eze has expressed satisfaction with the Rivres State Governor, Chief Nyesom Wike over the high level of project execution in Evo Kingdom under his watch.
Leslie who is the Eze Oha III of Evo Kingdom, and Eze Gbakagbaka bared his mind on the issue recently while speaking with newsmen shortly after the commissioning of the Woji-Elelenwo Road by the Governor.
Eze Eke, said that Governor Wike had shown that the development of Evo Kingdom was in his agenda before his emergence as the state Governor.
The Evo King maintained that there was no better way to demonstrate love for a people than what Governor Wike had done.
According to him, the projects so far executed by Wike have proven to doubting Thomases that the Governor was a selfless leader who was only interested in human resources and infractructural development.
Another reason he advanced as proof for the Governor's love for Evo Kingdom, was the soon to be commissioned Elimgbu-Atali Road, renaming of Woji Road to Eze Dr Frank Adele Eke Road which he effected just in six months of assumption of office among others, and added that he had done much for the people.
The monarch, recalled how Woji was before Wike, was governor and hinting that the area would compete favourablely with most developed towns of the world, judging from the high level of attention given to it by the Governor.
While calling on Rivers people to always give the Governor their support, he also enjoined them to learn how to promote peace and security in their homes so as to compliment Wike's effort to achieve a crime-free state.