'Buhari Plans Obasanjo, IBB, Danjuma, Jonathan's Arrest'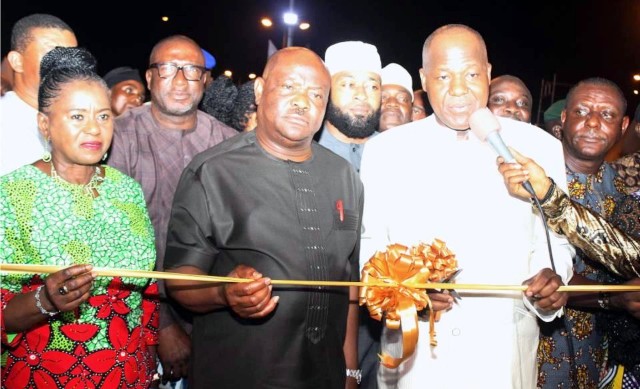 Former Aviation Minister, Femi Fani-Kayode has raised an alarm over alleged plan by the Buhari government to arrest and detain former President Olusegun Obasanjo.
He also said the government has marked vocal critics as well as opposition leaders for similar treatment.
This was contained in a statement he personally signed, yesterday.
It reads: "I have read the disturbing reports about the Buhari administration's plan to frame up, arrest and detain former President Olusegun Obasanjo on trumped up and politically-motivated charges.
It has also been brought to my attention that they have threatened his life.
Though I am not surprised because this is nothing new for this government. That is their stock in trade and they have been doing it for the last three years to anyone and everyone that opposes or criticises them.
What bothers me now is that President Buhari has become so jittery that he is prepared to do anything to stay in power. I have done my research and I have discovered that the plan is real.
The government are also planning to target other key opposition figures and elder statesmem as we get closer to 2019 such as General T.Y. Danjuma, General Ibrahim Babangida, President Goodluck Jonathan and a handful of others.
It appears that Buhari will stop at nothing in order to ensure that all his critics are silenced.
The plan to implicate and silence all these leaders together with key figures in the PDP like Ayo Fayose, Emmanuel Udom, Ibrahim Dankwambo, Nyesom Wike, Darius Ishaku, Godswill Akpabio, David Mark, Ike Ekweremadu, Liyel Imoke, Uche Secondus, Sule Lamido, Ibrahim Shekarau, Abubakar Suleiman, Kabiru Turaki, David Jang, Atiku Abubakar, Dele Belgore, Jumoke Akinjide, Nenadi Usman and others is condemnable.
They also plan to give some of us the Nnamdi Kanu treatment and make us dissapear or give us the Sambo Dasuki and El Zak Zaky treatment and lock us up indefinately but they will fail.
Such is Buhari's desperation that he is even attempting to discredit and destroy key members of his own party like Bukola Saraki, Yakubu Dogara, Dino Melaye, Rabiu Kwankwaso, Abubakar Baraje, Aminu Tambuwal, Abdul Fatah Ahmed, Timi Frank and others.
Nobody is safe anymore, not even legislators, media houses, journalists, bloggers, religious organisations or NGO's that oppose or criticise the Federal Government.
Nigeria is fast becoming a fascist police state where dissent is seen as a crime and where those that oppose the President are perceived as enemies of the state and prisoners of war.
They forget that we have a divine obligation and patriotic duty to oppose evil and tyranny in the land and nothing will make us shirk that responsibility.
Let it be clearly understood that we will not sit by idly and allow Buhari to continue to threaten, harrass and intimdate all those who oppose him. We are not intimidated and we have no fear. Governments come and go and no matter what he does Buhari will not be there forever.
Taking this matter to a level of threatening the lives and liberty of people like Obasanjo, Danjuma, Babangida, Jonathan and other elder statemen and seeking to destroy key opposition figures for no just cause is dangerous and unacceptable and it will have consequences.
We do not want war in Nigeria: we want peace and the Buhari government should desist from provoking a situation and a series of events that may end up spiralling out of control.
It is almost as if they are begging for war and that is tragic. They may have the full machinery and power of the Federal Government but we have the Living God. Nothing can stop us in our divine mission to stop him and rescue Nigeria.
The truth is that any untoward or irrational course of action will be met with a corresponding and appropriate reaction which may have dire implications for the peace and unity of our nation.
This game must be played within the rules of engagement or else all hell will eventually break lose. Buhari must be warned.
Peace, fair play and justice must be allowed to reign in our nation and those that oppose the President must be treated with the respect, decency and decorum that they deserve.
They are not enemies of the state and prisoners of war but law-abiding and patriotic Nigerians that have no faith in him and that wish to rescue Nigeria from his tyranny. There is no crime in that and they do not deserve to be killed or to be locked up for it."
Meanwhile, mixed reactions have contuined to trailed the alarm raised by former President Olusegun Obasanjo over an alleged plot by President Muhammadu Buhari to frame him up and thereafter detain him.
The allegation has split leaders along two lines, with many, who spoke with our correspondent berating President Buhari for his penchant for clamping down on perceived critics, while others tongue-lashed Obasanjo over the allegation.
Founder of the Oodua People's Congress (OPC), Dr Frederick Fasheun, while reacting to the threat, dared anybody to, "on cooked-up allegations," lift a finger against Obasanjo whom he described as a towering figure and be prepared for a backlash from the Yoruba people.
Speaking with newsmen, Fasehun, who warned that "Let anybody try anything funny with Obasanjo and see the consequence," said it would not be possible to jail Obasanjo on unsubstantiated allegation and then jail him on that basis.
"How can you jail somebody like Obasanjo without adequate charges? Obasanjo is like an elephant tied to a narrow string and is being put inside a room. It is not easy.
"What do people think Obasanjo is?," he queried, adding, "If anybody tries to jail Obasanjo, the Yoruba people will make such a noise, the whole world would go deaf. So, I don't think it's possible.
"Well, I would just advise Obasanjo to stay cool and I tell you he is beyond imprisonment: he is far, far beyond imprisonment," Fasehun added.
A former deputy national chariman of the Peoples Democratic Party (PDP), Chief Olabode George, on his part, implored both President Buhari and Obasanjo to sheath their swords and resolve their differences behind the curtain in the interest of the military profession they both belonged, declaring that Nigeria is greater than anybody.
George made the appeal in a statement entitled, Buhari and Obasanjo: Let's Sheath the sword, a copy of which he made available to newsmen, saying he was, however, making the appeal in a "non-partisan arbitration," even though he belongs to an opposition party.
This was just as he said that he remained committed to his party, PDP's insistence on restructuring of the Nigerian union to ensure democratic balance, equity, and the ingredients of fairness.
"I have read Chief Olusegun Obasanjo's statement about the threat to his life with conscionable, natural concern. I have also read the presidency's rejoinder which implied that there is nothing sinister in their motives," the PDP chieftain, who is also a retired military officer, said.
"Chief Obasanjo is a man of towering distinction and excellence who ruled this country both as a military Head of State and as a Civilian President. He is an international figure who is motivated by patriotic fixity".
Ekiti State governor, Chief Ayodele Fayose, however, urged Obasanjo to submit himself for probe by the Buhari administration, saying the former president should also take his current travails in his strides.
The governor said Obasanjo should not make his predicament a Yoruba issue, adding that it was good that Obasanjo was now being served the goodies he saw in Buhari that made him Buhari's promoter during the 2015 general election.
In a statement by the governor's Chief Press Secretary, Mr Idowu Adelusi, the governor also advised Buhari that what goes around, comes around.
"To me, former President Obasanjo should submit himself for probe and trial. He gave us the impression that he is a brave man who is not afraid of anything. He is a former General in the army who has seen a lot and should not be raising the alarm now. Obasanjo said Buhari was the best for Nigeria while promoting him for the 2015 general election.
"Obasanjo even used those bodies to hound and lock up many people including state governors. Why is he now afraid of being probed? Let him tell Nigerians how he made his money. People can recollect the level he was before he became president and how he left office. If Buhari is now telling the whole world that Obasanjo stole money, it is incumbent on Obasanjo to prove his innocence.
The Association of the Middle Belt Ethnic Nationalities (ASOMBEN) warned that any attempt to carry out the plan will not only attract international condemnations but could be an invitation to chaos.
The national chairman of ASOMBEN, Mr SuleKwasau, said the moves by the All Progressives Congress-led government to gag the opposition and critics would further soil the image of the government and expose its anti-democratic tendencies.
"Our advice is that those behind the moves to frame up the former president and other critics of the administration should consider the consequences of their plots and refrain from such before it is too late.
"This is exactly what we experienced during the military era and the present government wants to re-enact the same scenario to gag the opposition and critics of the administration.
Rivers Not Fighting FG Over Tax Collection, Wike Clarifies …Introduce Wealth Tax To Check Poverty, Raji Tells Govt
Rivers State Governor, Chief Nyesom Wike has said that the state was not fighting the Federal Government or any of its agencies over collection of Value Added Tax (VAT) as being insinuated in some quarters.
This is as a Senior Advocate of Nigeria (SAN), Ahmed Raji, called on the Federal Government to immediately introduce Wealth Tax Policy that would make super-rich Nigerians pay deserved tax that would be used to cater for the down-trodden citizens in the country.
Speaking, yesterday, in Abuja at a public lecture entitled: "Taxing Powers in a Federal System" to mark the 60th birthday of Mr Ahmed Raji (SAN), Wike said that the state was only trying to pursue what was right and legitimate within the ambits of the Constitution.
The governor, who represented by the Attorney-General of the state, Prof. Zacchaeus Adangor (SAN), maintained that both Rivers State and the federal governments were co-equal because they both derived their life from the Constitution.
"I have heard a lot of comments being made that we are fighting the Federal Government, there is no desire or any intention of the Rivers State Government to fight the Federal Government.
"The principle of co-equality is fundamental to a federal arrangement, that principle leads to the principle of autonomy; autonomy leads to fiscal autonomy; and fiscal autonomy leads to fiscal federalism; and when you put all the principles together, what it means is that each level of government, whether federal or state is co-equal because none derives its life from the other.
"They both derive their life from the Constitution because they have co-equality.
"That is the fundamental aspect of fiscal federalism, and until we get it, we will continue this journey of talking without result but I think that the court has a role to play, the court can lay this crises and controversy to rest when it makes a pronouncement", Wike said.
Also speaking at the event, Prof. Abiola Sani appealed to the Judiciary to make definite and definitive pronouncement on the impasse surrounding tax collection in Nigeria's federal system.
Sani, a professor of commercial law, who was the guest lecturer at the occasion, called on the National Assembly to use the on-going Constitution amendment to bring out clear taxing powers among the three tiers of government.
In his remarks on the excruciating poverty in the country, a Senior Advocate of Nigeria SAN, Ahmed Raji called on the Federal Government to immediately introduce Wealth Tax Policy to make super-rich Nigerians pay the deserved tax that would be used to cater for the down-trodden citizens in the country.
The Abuja-based senior lawyer said that the suggested tax policy, if introduced and implemented, would make the super-rich Nigerians to contribute meaningfully to government's purse to bridge the gap between the affluent and super poor in the nation.
Raji, who spoke at a public lecture entitled, "Taxing Powers in a Federal System" in Abuja to mark his 60th birthday, remarked that time has come for government to do real balancing between the rich and the poor in Nigeria.
He argued that in the face of harsh economic situation starring poor Nigerians in the face, the poor need to be subsidised and not to be taxed under any guise so as to balance their anger against the rich.
Raji noted that evidence were sufficient that some super-rich class own personal jets worth $50million each at a time when some families could not afford to eat twice a day, adding that the country cannot witness genuine peace under such situation.
"It is a fact that the downturn in Nigeria's economy is having harsh and devastating effects on the poor majority Nigerians. The wide disparity between the rich and the poor should be of grave concern to patriotic Nigerians and the way out must be found.
"The gap between the rich and the poor is so much and so offensive that it can lead to break down of law and order at any moment.
"It is in the interest of justice that the super-rich should shed part of their stupendous wealth to cater for the down-trodden masses before it is too late.
"Majority of Nigerians are in absolute poverty. Over 90 percentage of the Nigerian population is in abject poverty and time has come for us, including myself to address the ugly situation.
"Any attempt to pretend that all is well may spell doom for the nation. We will be sitting on a keg of powder if we refuse to address the challenges of the poor masses now", he warned.
He appealed to the government that the instrumentality of Wealth Tax must be adopted and used to develop the Nigerian nation as done in the United States of America, United Kingdom and France.
The senior lawyer said he opted to use the public lecture to mark his birthday so as to use it to draw attention to some burning issues and challenges that deserve public attention rather than mere merry making.
Buhari Unveils CBN's eNaira, Today
President Muhammadu Buhari will formally unveil the Central Bank of Nigeria (CBN) Digital Currency (CBDC), known as the eNaira, today, at the State House, Abuja.
The Director, Corporate Communications of CBN, Osita Nwanisobi, made the disclosure in a statement at the weekend.
The CBN said that the digital currency would be launched with the theme, "Same Naira, More Possibilities".
According to him, "President Muhammadu Buhari is scheduled to formally unveil the Nigerian Central Bank Digital Currency (CBDC), known as the eNaira, on Monday, October 25, 2021, at the State House, Abuja.
"The launch of the eNaira is a culmination of several years of research work by the Central Bank of Nigeria in advancing the boundaries of payments system in order to make financial transactions easier and seamless for every strata of the society.
"Following series of engagements with relevant stakeholders including the banking community, fin-tech operators, merchants and indeed, a cross section of Nigerians, the CBN designed the digital currency, which shall be activated on Monday, October 25, 2021.
"The eNaira, therefore, marks a major step forward in the evolution of money and the CBN is committed to ensuring that the eNaira, like the physical Naira, is accessible by everyone.
"Given that the eNaira is a journey, the unveiling marks the first step in that journey, which will continue with a series of further modifications, capabilities and enhancements to the platforms.
"The CBN will continue to work with relevant partners to ensure a seamless process that will benefit every user, particularly those in the rural areas and the unbanked population.
"Since the eNaira is a new product, and amongst the first CBDCs in the world, we have put a structure to promptly address any issue that might arise from the pilot implementation of the eNaira.
"Accordingly, following Monday's formal launch by the President, the Bank will further engage various stakeholders as we enter a new age consistent with global financial advancement. The theme of the eNaira is: "Same Naira, More Possibilities."
Rivers Plans Criminal Proceeding Against Saipem …Accuses Italian IOC Of Breach Of Trust
Rivers State Government is to initiate criminal proceeding against Saipem Contracting Nigeria Limited for breach of trust, which led to abandonment of the state's gas turbine generator unit and accessories in The Netherlands since 2012.
The decision to file criminal proceeding against Saipem Contracting Nigeria Limited was taken at the 15th Executive Council meeting presided over by Governor Nyesom Wike at the Government House, Port Harcourt, yesterday.
Briefing journalists after the meeting, the Commissioner for Power, Damiete Herbert-Millier explained that due to the abandonment of the gas turbine generator unit and accessories by Saipem, the Rivers State Government had incurred huge lost in terms of demurrage charges and others.
"Consequently, the council unanimously directed the Attorney General of Rivers State to file criminal proceeding against Saipem Contracting Nigeria Limited for her role in this ugly incident."
The State Executive Council also approved the reconstruction of two roads, Oyigbo-Okoloma and Chokocho-Igbodo totaling 46.5km.
The Commissioner for Works, Elloka Tasie-Amadi said the Oyigbo-Okoloma project scope is 19.4km long at the cost of N11.483billion.
He further stated that the reconstruction of Chokocho-Igbodo Road is 27.1km, awarded at a cost of N13.523billion.
According to him, the two projects are expected to be completed within 12 months.
Also speaking, the Commissioner for Finance, Isaac Kamalu, said the council gave approval for the Rivers State medium term expenditure framework 2022-2024.
Kamalu said council also approved the state participation in the Federal Government and Nigerian Governors' Forum supported bridging finance support facility for subnational economies designed to cushion the impact of the repayment of the bailout.
The Special Adviser to the Governor on Special Projects, Alabo George-Kelly said the council approved the award of contract for the construction of the Rivers State Magistrate Court Complex at the cost of N8.1billion.
He said the scope of the project include, the construction of 24 Magistrate courts, which will be housed in four two storey structure, three floors each.