NUPENG Commends Buhari For Honouring MKO, Others …It Is Hypocritical, Says PDP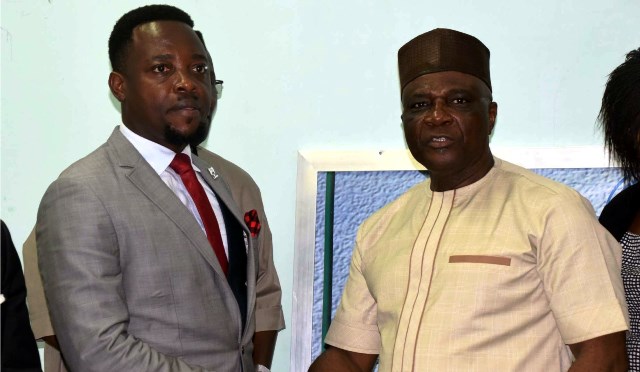 The Nigeria Union of Petroleum and Natural Gas Workers has commended President Muhammadu Buhari for officially announcing June 12 as the new Democracy Day in the country.
Mr Williams Akporeha, NUPENG President, gave the commendation while speaking with newsmen at the 107th session of the International Labour Conference (ILC) in Geneva on Thursday.
It could be recalled that President Muhammadu Buhari had directed that the nation's Democracy Day would henceforth, hold on June 12 thereby replacing the traditional ''May 29″.
Akporeha said the announcement was a welcome development as it was long overdue.
He also commended President Buhari for conferring a posthumous GCFR award on the presumed winner of June 12, 1993, presidential election, Chief Moshood Kashimawo Olawale Abiola (of blessed memory).
He applauded the President for conferring GCON titles on his running mate, Amb. Baba Gana Kingibe and human rights activist, Chief Gani Fawehinmi (SAN) for their roles in the struggle to actualise June 12 presidential election.
Akporeha, however, said names like Frank Ovie Kokori, (NUPENG former General Secretary), Late Wariebi Kojo Agamene (former President of NUPENG), former General Secretary of PENGASSAN, (Chief) Milton Gilchrist Dabibi and others should have featured prominently on the list.
According to him, the union is stunned that such high profile national recognition and honour was offered by the Presidency.
"But no credit, whatsoever, was given to NUPENG and PENGASSAN despite the painstaking roles played by the leaders,'' he said.
He added that without any fear of contradiction, the democracy Nigeria has been enjoying since May 29, 1993 did not come on a silver platter.
He noted that the leadership of these unions as well as their members fought for it, in some instances with blood, tears, freedom, career, adding that regrettably some people paid the supreme price.
He said these fearless and irrepressible Nigerians gave their all to earn the nation's democratic liberty.
"For pecuniary gains and other reasons, some other Nigerians pitched their tent with the tyrannical military regimes.
"However, our leaders were resolute and blatantly refused to compromise or to receive any form of gratification despite intimidation, victimisation, harassment and incarceration by the military despot,'' Akporeha added.
He, therefore, appealed to Mr. President to set a think-tank to look inwards and make necessary amends by reviewing the list in order to accommodate the names of the veterans mentioned above.
The Peoples Democratic Party (PDP) has dscribed the Presidential action on Chief MKO Abiola and the recognition of June 12 as Democracy Day as smacking of hypocrisy and political desperation.
It said President Buhari's action merely sought to use the name and person of Abiola to gain a political capital and not out of genuine reverence and recognition for him.

Bello's Gunmen After My Life, Family -Kogi Dep Gov
Deputy Governor of Kogi State, Elder Simon Achuba yesterday alleged that the governor of the state has sent gunmen after his life.
Acbuba called on the inspector General of Police, the Department of State Services (DSS), the Army and other security personnel to safeguard his life, family members and his aides.
Achuba, who spoke with newsmen at his official residence in Lokoja said, "From all information at my disposal, the governor has mobilised gunmen to attack me.
"I want the police, SSS, IGP to know that if anything should happen to me, my family and aides, the governor should be held responsible."
The deputy governor likewise called on the President to beam his searchlight on the state.

LGAs Responsible For Farmers, Herdsmen Clashes In Nigeria -UN
Zebulon Takwa, Peace and Development Adviser, Office of the UN Resident Coordinator in Nigeria, says poor Local Government administration is largely responsible for farmers-herdsmen clashes in Nigeria
Takwa, who gave the position in an interview with newsmen yesterday in Abuja, expressed concerns over "weak operational structures at the local government level''.
He said that issues that were supposed to be addressed by local administration authority were left unattended to over a long period.
The UN official noted that most of the issues that escalated to crises ought to have been resolved at the local level by the authorities, traditional and religious leaders.
He decried the situation where structures for such prompt amicable settlement were not effective enough to prevent conflicts.
Takwa condemned the situation where most local government officials migrated to urban centres instead of concentrating on their primary responsibilities of settling crises, developing infrastructure and social amenities, among others.

Reprisal Killing: Taraba Police, Tiv, Junkun Differ On Casualities
The Police Command in Taraba State has said that only one individual was killed in what appeared to be a revenge for the alleged murder of a Junkun man yesterday.
While the Tiv claimed that no fewer than nine of their kinsmen were killed in Takum town, Takum Local Government Area of Taraba State on Tuesday, the Police said the figure was not true.
Takum is the hometown of Governor DariusIshaku who turned 65 today.
Multiple sources in Takum said trouble started yesterday morning when a Jukun man was killed on his farm along Takum-Wukari road, and irate Jukun youths in Takum went on the rampage, killing at least eight people in the town.
A resident of Takum, Mr. Nathaniel Jato, in a telephone interview with our Correspondent said the eight people killed in Takum town were all Tiv resident in the town.
"We counted at least eight dead bodies around General Hospital Junction and Zenith Bank around the Wukari roundabout.
"We were told that many people were killed around Rimi Primary school area, but there is tension, so we can't go there.
"The Caretaker Chairman of Takum Local Government Council, ShibanTikari, has assured us that the situation will not escalate, but I am afraid the situation might degenerate if adequate security measures are not put in place," he lamented.
Jato, who said there was threat that their houses would be attacked in the night, called on Governor Darius Ishaku and security authorities to quickly restore peace in the area to pave way for proper investigation of the matter.