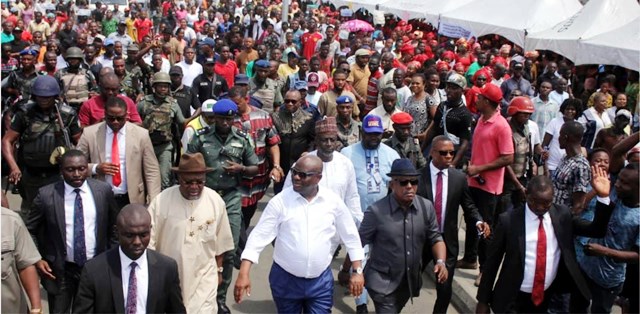 The Academic Staff Union of Universities (ASUU), yesterday, described as a sign of irresponsibility, the failure of the Federal Government to tame the spate of killings across the country.
The union maintained that "a government that allows her people to be murdered daily is totally irresponsible" and has failed to fulfil the social contract of protecting lives and properties.
In an interview with journalists after the union's congress, yesterday, ASUU Chairman, University of Ibadan chapter, Dr. Deji Omole demanded adequate security of lives and property of Nigerians from the government of President Muhammadu Buhari.
Omole also called for the de-politicisation of security by heads of security agencies, saying loyalty must be to Nigeria and not to Aso Rock residents.
He noted that Nigerians, who were already battling with poor economic conditions, were now afraid that their lives could be terminated anyhow, adding that the Buhari-led Federal Government had been issuing ineffective condemnation speeches.
According to him, "it is a sign of irresponsibility for the government to fold its arms, while people are being killed daily, only to approve N10billion for rebuilding affected communities. Serious government would have prevented destruction from happening but the government allowed the carnage to happen".
Omole noted that while land transportation was hellish for Nigerians, it was now more deadly to travel since criminals had positioned themselves on major roads kidnapping, raping, dispossessing and killing people at will.
He said food production was now threatened because communities affected were farming communities, while those displayed were farmers.
"If Nigerians are already denied quality health facilities, quality education, quality social services, they must not be denied right to life.
"This is the worst form of treating the governed by a government which promised hope to the masses but which the rich have continued to benefit from.
"It is sad that one state claimed to have lost about 500 persons to herdsmen terrorism and nobody has been prosecuted for this."
Meanwhile, the Peoples' Democratic Party (PDP) has charged President Muhammadu Buhari to end his blame game and use of hate language against past leaders as cover for his poor performance, the economic hardship and the escalated insecurity his administration has caused Nigerians despite ample resources at their disposal.
In a statement, yesterday by its National Publicity Secretary, Kola Ologbondiyan, the opposition party said: "It is sad that President Buhari does not have a single development project initiated and implemented by his administration in any part of the country in the last three years.
"He has also failed to fulfil the littlest of his 2015 campaign promises through which Nigerians were deceived to vote him into office.
"Now that he has failed, one wonders what other false promises the Buhari-led All Progressives Congress (APC) will anchor their 2019 campaign and elections.
"It is tragic that instead of being remorseful, the Buhari Presidency finds it convenient to engage in endless blame game, shameful attempts to appropriate PDP projects and programmes, as well as dishing out of false performance indices ahead of its three years anniversary on May 29.
"Worst still, President Buhari finds solace in commissioning projects executed by other leaders, like his humiliating commissioning of a regular bus station constructed by the Lagos State Government and a borehole in Jigawa State, which show crass failure of governance.
"It is embarrassing that whenever our President visits other world leaders, he would have nothing to present but mere rhetoric from a prepared speech, while other leaders proudly reel out their achievements.
"Nigerians recalled that last March, our nation was embarrassed when the President of Ghana, Nana Akufo-Addo, cheerfully reeled out his achievements under one year in office, including his farming for job initiative, the senior high school free education, the one district-one factory projects, one village-one dam project among others, only for President Buhari to present an empty score card when it was his turn to speak.
"Last month, Nigerians witnessed another international embarrassment when President Buhari could not present any development project before United States President Donald Trump, who made his nation proud by showcasing his achievements and the potentials of his country.
"Nigerians can recall President Buhari's poor showing at the 2018 Commonwealth Heads of Government Meeting (CHOGM) in London, where his only achievement was to further de-market our nation by declaring our youths as lazy and lovers of freebies.
"President Buhari and his handlers must know that Nigerians are tired of their ineptitude and blame game. The beauty of democracy is that it affords the citizens the inalienable right to remove any government that does not effectively govern and this is the inevitable end of the APC, come 2019."
Also, a chieftain of the apex Yoruba social-political group, Afenifere, Chief Ayo Adebanjo, has attacked President Muhammadu Buhari for speaking good of the late military dictator, Gen Sani Abacha.
Adebanjo said Buhari spoke well of Abacha because he was his appointee and benefited from the deceased's dictatorial regime.
The President had, last Tuesday said, "I don't care the opinion you have about Abacha, but I agreed to work with him, and we constructed roads from Abuja to Port Harcourt, Benin to Onitsha, and so on."
But Adebanjo, who spoke with newsmen, said the President had lost his credibility and should not be taken seriously.
He said, "Buhari worked under Abacha, and why are you surprised about his support for Abacha?
"Here is a President who has lost his credibility and some Nigerians are still taking him seriously.
"I have always spoken about the anti-democratic ideals of Buhari but his supporters at that time told me that Buhari had changed to a democrat?