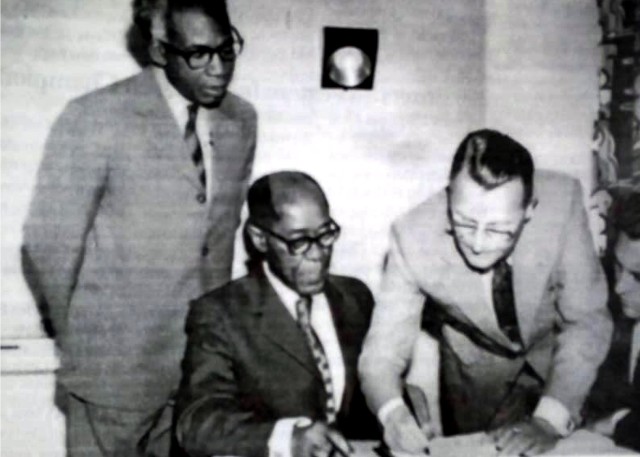 Presenting a lecture at the University of Bristol in 1948, the former Director General of British Broadcasting Corporation (BBC), Sir William Haley, said, "The power of broadcasting if skillfully used can move masses of people in a way the printed word cannot and if used consistently, it can affect the outlook of individuals and nations."
The power of broadcasting is visible in nations of the world including Africa's Big Brother, Nigeria. Rivers State is no exception. This is where Radio Rivers 99.1 FM comes to mind.
In fact, Radio Rivers 99.1 FM was 37 years old on Wednesday, 2nd May 2018. Ace broadcaster, Dafini Gogo-Abbey, signed on the FM station on 2nd May, 1981 during the reign of late Albert Alale as General Manager while late Senator Melford Okilo was the Governor of old Rivers State.
The Radio Rivers 99.1 FM was the second radio frequency on the staple of Rivers State Broadcasting Corporation, RSBC, established according to Edict No 8 of 1973.
It is common knowledge that when the Rivers State Broadcasting Corporation was established in 1973, it was to serve as an umbrella body for both radio and television arm known as RSBC – TV which began operation ahead of the radio arm.
Gabriel Gbaingbain Okara was the pioneer General Manager, supported by Pastor Shyngole Wigwe, Elder Idah Wilcox and much later Comish Ekiye and Adiela Onyedibia and Fidelis Agbiki.
It is also on record that during the restructuring of television service in Nigeria in 1976 that was completed in 1977, RSBC – TV was taken over by the Federal Government to form what is today known as NTA.
Similarly, radio broadcasting was restructured in Nigeria in 1978 for which Lagos, Ibadan and Enugu stations of Nigerian Broadcasting Corporation of Nigeria NBC were fused with Broadcasting Corporation of Northern Nigeria to become Federal Radio Corporation of Nigeria – FRCN.
Interestingly, NBC radio stations were handed over to state governments while members of staff of NBC were given options to remain with the state radio stations or to stay with FRCN.
Consequent upon the understanding and decisions reached from the fusion, Rivers State Government, like every other Nigerian state, automatically inherited the NBC/FRCN stations at William Jumbo, Forces Avenue, Old GRA, Port Harcourt and the Ozuoba AM Station.
The Rivers State Government had in 1977 appointed Chief Olu Benibo Fubara as the General Manager and he was at the helm of affairs when the State Government inherited NBC personnel and property including the AM station at Ozuoba in Obio/Akpor Local Government Area and the uncompleted building of NBC at Degema Street serving as the broadcast house of RSBC today.
Evidence shows that the Rivers State Broadcasting Corporation (RSBC) as Radio Rivers under Chief Olu Benibo Fubara as General Manager made its maiden broadcast using its station identity and call-signal on June 1, 1978 with mostly inherited NBC/FRCN facilities.
Miss Mambo Tumbowei signed on the station using Radio Rivers AM as the call signal at the time.
It is worthy of note that late Sunny Joe, Ms. Gloria Fiofori, Elder Goddy Williams, Brother Watson Asako, Mike Oku, Eric Uzoma and Elder Udor of Engineering Department were some NBC staff inherited.
Thus, frequency modulating, FM, was 37 years old, Wednesday, May 2, 2018, but the AM which started on June 1, 1978, makes radio broadcasting in Rivers State 40 years.
However, in the eyes of the law, particularly Edict No 8 of 1973, Rivers State Broadcasting Service is 45 years old.
Regrettably, while Radio Rivers 99.1 FM is still waxing stronger at 37 years, the mother station, Radio Rivers AM died from poor state policy.
The administration of Governor Peter Odili, during his first tenure, directed the General Manager of Rivers State Broadcasting Corporation, Radio Rivers at the time, Sir Mike Oku, to handover the premises and equipment of AM at Ozuoba to Daar Communication, owners of AIT and Raypower FM.
The AM station largely noted for community broadcasting in Rivers using indigenous languages became extinct and members of staff were forced out of Ozuoba station.
An attempt to combine FM and AM programmes on FM resulted in seemingly aimless programming.
It is on record that on July 28, 2015, officials of Daar Communication paid a courtesy visit on Governor Nyesom Wike for which the Managing Director of Daar Communication, Raymond Paul Dokpesi Junior, requested for Certificate of Occupancy (C. of. O) of the Ozuoba property.
Governor Nyesom Wike, on his part thanked Daar Communications for supporting his electioneering campaign and promised to ensure that they obtained the said document.
No doubt, under a democratic dispensation, Rivers people would like to know how the Radio Rivers AM premises were transferred to Daar Communications. What were the benefits of such transfer of Rivers property to a private enterprise?
However, as Radio Rivers, 99.1 FM clocks 37, there is the need to keep alive the vision of our founding fathers to create favourable identity for Rivers people for which the Nigerian Tide Newspaper now called The Tide; Rivers State Broadcasting Corporation, (RSBC), Rivers State Television (RSTV) and Rivers State Council for Arts and Culture were established. These three media organisations were established to project the rich cultural heritage of Rivers people. Already, Governor Nyesom Wike has shown flashes of sustaining the legacy of our fathers.
For instance, the government of Navy Commander Alfred Diete-Spiff now King, established the Rivers State College of Science and Technology, the government of Chief Melford Okilo upgraded it to University of Science and Technology while the leadership of Chief Nyesom Wike has made it Rivers State University in 2017, so that it can offer every other course of study.
Wike's government has also renovated the Alfred Diete Spiff Sports Complex commonly called Civic Centre, among others.
This is why it is pertinent to appeal to the governor to resuscitate ailing facilities not only in Radio Rivers FM, but also in The Tide Newspaper, RSTV, Garden City Radio and the Cultural Centre as part of effort to sustain the legacy of the founding fathers. The founding fathers had emphasized that Rivers Culture was different from that of the Igbos.
Above all, Rivers State as a heterogeneous society, deserves more than two radio stations to handle various classes of public broadcasting, particularly community broadcasting in indigenous languages. It is irrational to task one radio station to undertake both public and commercial services at the same time.
The Rivers State Government can also restructure its radio broadcasting services by giving Garden City Radio and Radio Rivers specific functions to reflect the complex nature of the state.
Radio Rivers 99.1 FM, so far, so good.
Sika is a staff of Radio Rivers.
Baridorn Sika