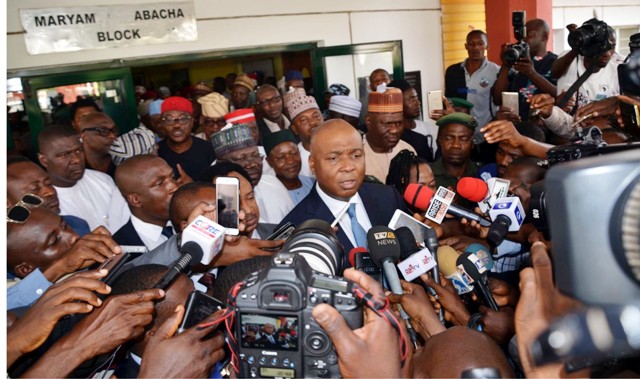 A group under the auspices of One Million Youth for New Rivers, last Friday staged a solidarity march across major streets of Port Harcourt and Obio/Akpor Local Government Area to mobilise support for Governor Nyesom Wike's re-election bid in 2019.
  The group, comprising mostly of youths thronged the streets in their numbers with pro-Wike banners, registering their total support for Governor come 2019.
State coordinator of the body, Edison Eline Edison, who spoke with newsmen during the solidarity rally, described the exercise as a "political evangelism organised to sensitise the  people of Rivers State on the good works  of Governor Wike".
Eke, a state lawmaker, who assured the total support of the body for Wike, called on Rivers youths to obtain their permanent voters card and vote massively for the Governor and the Peoples Democratic Paty in 2019.
He stated that Wike has restored Rivers State to its pride of place among other Nigerian states, and urged him to continue to dispense the dividends of democracy in the state.
Also speaking, the state secretary of the organisation, Major Jack, said Wike's developmental strides have endeared him to Rivers youths.
"We the youth in Rivers State are in total support of Governor Wike. He has done so well in the area of infrastructural development and youth empowerment. We want him to continue in office come 2019, and we are ready to mobilise support for him in the 23 local government areas of Rivers State.
Presently, there is no alternative for Wike in Rivers State; he has done a lot with little fund, and we want him to continue", he said.
Stories by Taneh Beemene