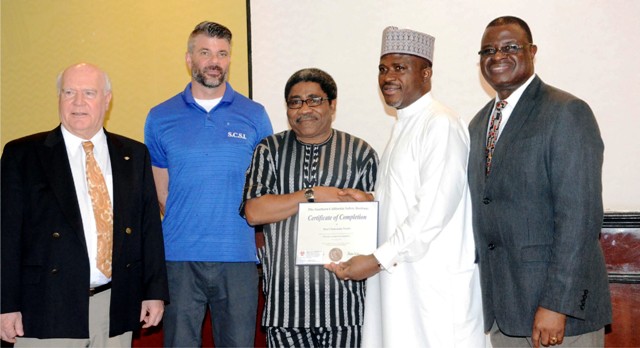 Roofing of the domestic arrival terminal building at the Port Harcourt International Airport , Omagwa which had been delayed over the years has finally begun.
The Tide on Tuesday observed that the roofing which began last weekend has accelerated so fast that almost 65 percent of the roofing space has been covered so far.
Although the roofing experts are on their part tackling their job, bricklaying work on the building is still ongoing, with so many areas yet to be built.
The project manager of the construction company handling the building (Inter Ban Construction Limited), Engr. Moses Nweke could not be reached as he was said to be away on other engagements, at the time of this report.
Meanwhile, some airport users and those that do business in the area have expressed hope that the contractor may have opted to deliver the project before the last quarter of this year.
For Mr. Peter Obilor, a ticketer at the airport, the arrival terminal building going by the present level of attention given to it by the contractor, could be ready for use before the end of this year.
He said that with the level of work done so far on the roofing everything about the roofing and block work could be completed at the end of the next month.
On his part, Mr. Jerry Wonodi, a diaspora Nigerian business executive expressed happiness that proper attention is now being given to the building, to the extent that roofing has got to the stage it is now, unlike before when everything was left abandoned.
He, therefore, pleaded with the Federal Government and the contracting firm, Inter Ban Limited, to be determined and ensure the project is completed and put to use so as to make the airport look like others.
It would be recalled that several promises had been made by the construction company on the roofing of the terminal building but could not be accomplished.
The project manager, Engr. Nweke had severally told journalists that roofing would be completed last year, but it all failed.
One would also consider that the visit of the Minister of State for Aviation Sen. Hadi Srika, to the airport in January this year, and the fall-out of that visit might have illicited positive response to what we can see now.
The arrival terminal building is one of the important projects at the Port Harcourt Airport that need to be put to use quickly. Businesses that are supposed to be done in this building are now being carried out under canopies.
Corlins Walter