Checkout Fake Lifestyles Of Slay Queens
To slay, according to the Oxford Advanced Learner's Dictionary is an informal, old fashioned word especially American and means to have a strong effect on somebody. These days many people in Africa especially in Nigeria and Kenya use the term or slang 'slay queen' to describe a woman that likes to show off her luxurious lifestyle even if she lives in the poorest neighbourhood and struggles to stay on her feet.
Presently, the internet is full of 'slay queen images, the 21st century is the perfect era for slay queens as they can use the instagram, snap chat, twitter, face book etc, to tell the whole would about the expensive things they do not even own. You might be surprised, but this type of behaviour is actually not peculiar to women as slay kings also exist and behave in the same way as slay queens do.
A recent post in the social media actually disclosed the traits of this slay queens and their modus operandi. Most of the time the slay queens are quite two dimensional beings with little or no depth to them. They all look, dress and behave in same ways. This makes it fairly easy to tell them apart from the general population, but not from one another.
According to the post, the following are seven characteristics that can describe a slay queen any where and my time.
Make up and style: your typical slay queen never lives home without make up. She can show up to the corner store in the middle of the night wearing a full face of makeup and most likely a pair of high heels and short tight dresses is what slay queens love most.
However, the fact that slay queens wear makeup all the time does not mean they are good at it. In real life, a slay queen might not even be able to match the colour of neck to the shade of her face. Nevertheless, almost all of them are experts in using retouching applications and soft wear. Their selfies that they post so frequently in the social media are face tuned so hard you will probably never recognize them on the streets. If you somehow manage to catch one of them without any make on, do not be too shocked by the striking difference between what you see and what they post on line.
Expensive lifestyle: one of the most definitive trait of queens of slay that distinguishes them from others is their love for expensive things and luxury. They will go out of their way to snap a picture in or around a flashy car with a bottle of pricely alcohol or in five star hotels.
Despite her love for all things shinny, a typical slay queen cannot afford most of the things she takes pictures with, she usually achieves her cool shots by or her 'bae'. A queen of slay might be also into an expensive shop must to try something on, take a picture of her self in it and leave.
Love for parties: Almost every slay queen is a party freak. Every weekend or some times even during the week, you can see her at the Fancy bars, clubs and other similar places dancing on her ridiculously high heels, drinking a colourful cocktail by the bar or drunkenly stumbling in or out of a cab. If you are (un) lucky enough, you might even see whole flock of them huddled together with their lips pursed and selfie hands out stretched in search of the best selfie angle and lightening. If a club has resident photographer, it can be certain that they would be in all of the pictures from the nights events.
Social media presence: A slay queen cannot live without her social media. After all how else will the world know about her awesome life if not for instagram snapchat or other social media platforms 95% of slay queens instagram profile is picture of her, mirror selfies, beach photos, club pictures, you name it, every minute of her life has to be documented, so the remaining 5% is photos of food and other random things.
The poses slay queens usually take in their photos are unnatural and uncomfortable as they flatten in their stomachs, curve their legs and push out their chests and behind they thing they look good, but more often than not they look utterly ridiculous.
Language: Even if you cannot see a slay queen approaching, you can hear her from a mile away, they have a weired way of talking, so it is often hard to comprehend what they are saying, their Language is littered with filler words and expletives and even the way they pronounce certain vowels is weired.
Just go, "you know" 'whatever is one of their favorite words. When slay queens are writing, they use lots of harsh tags and do not pay much attention to their grammar. Nevertheless, some of them have the audacity to correct others in other to seem smart.
Intelect: Now when it comes to smarts, an overwhelming majority of slay queens have little to offer in this department. If you find yourself in a conversation with one of them prepare to be amazed at the ignorance some people can possess.
However, not all of them are stupid some might just be playing dumb to get the attention. Some girls are actually incredibly smart because they are able to get an insame amount of followers on social media and then just live off sponsorship deals and gifts from gullible men.
My Victory Resulted From Steadfast Prayers, Says MBGN Winner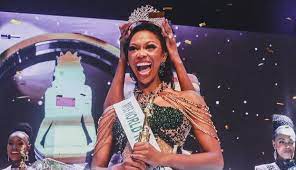 Winner of the Most Beautiful Girl in Nigeria 2021, Oluchi Madubuike, yesterday said that her victory was as a result of steadfast prayers.
Madubuike, who was crowned Miss Nigeria World 2021 on Saturday, took to her Instagram page to appreciate her family and other people who supported her in the journey.
According to her, she was victorious because of the steadfast prayers, love and support that she received from well wishes.
She said, "The little girl in me is screaming with joy at this new reality of mine. I'm sure my dad is with the host of angels in heaven celebrating me!
"I am so grateful to God most importantly for this opportunity and the hand of favour He placed upon my life. I am a living testimony of his divine work.
"To @silverbirdgrp , all our sponsors and partners, thank you all for this opportunity. I promise to maximize it to my fullest potential.
"This victory was a result of the steadfast prayers, love and support. I pray that God will find a way to repay everyone who contributed in a thousand folds."
Madubuike would be representing Nigeria at the 70th edition of the Miss World pageant to be held on December 16, 2021 in Puerto Rico.
Nigerian Female Celebrities Are Not Prostitutes -Movie Producer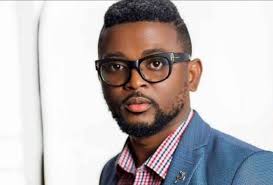 Nigerian movie producer, Samuel Olatunji, popularly known as Bigsam has debunked the idea that successful women in the entertainment industry earn their money through questionable means.
The Public Relations expert took to his Instagram page yesterday to condemn Nollywood actress, Nnaji Charity, who in her Instagram stories wrote that "being a female celebrity in Nigeria is more like an advanced prostitution."(sic)
"To say her post is uncharitable to women is stating the obvious. What is more uncharitable is the fact that she is a woman (that, I believe because these days, you never can tell), " the producer said.
He added, "What you are implying is that all these successful female celebrities, both in entertainment and outside entertainment are prostitutes, got to where they are, or are maintaining what they are by prostitution? Nothing could be farther from the truth.
Naming celebrities such as Linda Ikeji, Toyin Abraham, Funke Akindele-Bello, and Ini Edo, the Dear Affy producer attested to lucrative means by which several female celebrities he has worked with, make their money.
He said, "There was a time someone called me to say Linda Ikeji must be doing fraud or advanced prostitution to make the kind of money she has, that year, Linda was charging 50k per post (now it is 150k). I asked the person to open the blog and we did counting of sponsored post for that day as at 6pm, Linda has done about 20 sponsored posts. That year, Linda was raking in about 2 million daily. Before Covid and after, Toyin Abraham was making over 5 million monthly.
"About 10 years ago, we struck a major deal for Ini Edo, my first cut in the money was over 1.5m. Till date, Ini is making legitimate money quietly and in quick succession to have warranted talk that she's the richest actress in Nigeria. About two or three years ago, Funke Akindele Bello made over 1 million USD from just one of her projects."(sic)
Also mentioning the likes of Kemi Adetiba, Uche Jumbo, and Lizzy Jay, Bigsam said, "If you see all these women living life and living well, don't let your limited brain deceive you that they only make it by gracing beds of powerful men (some of these men actually live off them)."
"Women are doing well and it is possible for the upcoming one to do better without turning to prostitution," he continued.
He further encouraged ladies to ignore the claims by Nnaji as "she doesn't know what she's saying."
Wizkid, Omah Lay Bag High Nominations In AFRIMA 2021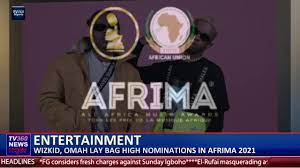 The African Union Commission and the International Committee of All Africa Music Awards have released the 2021 nominees' list.
The list, which was released on Wednesday, features over 400 songs from artistes in the 30 continental and 10 regional categories cutting across African talents and creatives living on the continent and in the Diaspora.
Leading the 2021 AFRIMA nominations scorecard is South Africa's sensation duo, Blaq Diamond with eight nominations for their song, 'SummerYoMuthi' in 'Best Male Artiste in Southern Africa'; 'Artiste of the Year in Africa'; 'Song of the Year in Africa'; 'Producer of the Year in Africa'; 'Best Male Artiste in African Inspirational Music'; 'Breakout Artiste of the Year'; 'Best Artiste, Duo or Group in African Pop'; and 'Best African Duo, Group or Band'.
Also, South Africa's Focalistic made it to the top of the list for his hit single, 'Ke Star' [Remix], featuring Davido and Vigro Deep with seven nominations including 'Best Male Artiste' in Southern Africa; 'Artiste of the Year in Africa'; 'Song of the Year in Africa'; 'Best Artiste, Duo or Group in African Dance or Choreography'; 'Best African Collaboration'; 'Best Artiste, Duo or Group In African Electro'; and 'Breakout Artiste of the Year'. Also, South Africa's Focalistic made it to the top of the list for his hit single, 'Ke Star' [Remix], featuring Davido and Vigro Deep with seven nominations including 'Best Male Artiste' in Southern Africa; 'Artiste of the Year in Africa'; 'Song of the Year in Africa'; 'Best Artiste, Duo or Group in African Dance or Choreography'; 'Best African Collaboration'; 'Best Artiste, Duo or Group In African Electro'; and 'Breakout Artiste of the Year'.