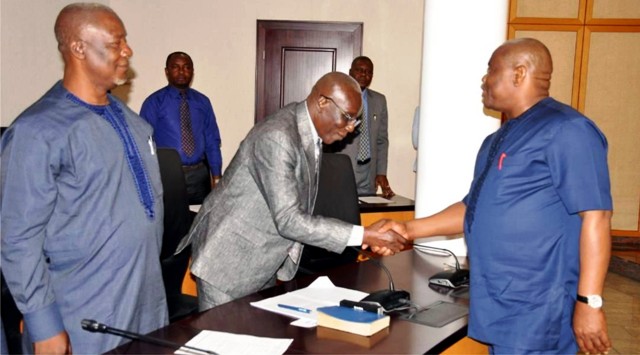 Nigeria and other debtor countries have been warned by the International Monetary Fund (IMF) of risk associated with debt repayment following growing global debt levels.
This is even as the IMF has warned that voters' disillusionment raises the threat of political developments that could destabilise a range of economic policies in the future, reaching beyond trade policy.
Nigeria's next general elections holds on February, 2019.
According to tradingeconomics.com, External Debt in Nigeria increased to $18,913.44 million in the fourth quarter of 2017 from $15,352.13 million in the third quarter of 2017.
External Debt in Nigeria averaged $7,806.46million from 2008 until 2017, reaching an all time high of $18,913.44million in the fourth quarter of 2017 and a record low of $3,627.50million in the first quarter of 2009.
Economic Counsellor and Director of Research at the IMF, Maurice Obstfeld, told journalists during the presentation of the World Economic Outlook (WEO 2018), at the on going 2018 Spring Meetings in Washington DC, that "looking past the next few quarters, there are notable risks to the outlook as… global debt levels – private and public – are very high, threatening repayment problems as monetary policies normalise in an environment where many economies face lower medium-term growth rates."
Obstfeld said the "new Global Financial Stability Report shows, global financial conditions remain generally loose despite the approach of higher monetary policy interest rates, enabling a further buildup of assets-markets vulnerabilities."
He further warned that "geopolitical risks should not be discounted as well as the recent escalating tensions over trade which present a growing risk."
These risks Obstfeld said could already be taking a toll noting that "global purchasing managers' index (pmi) remain in expansionary territory, they have recently softened in advanced and emerging markets economies alike owing in part to weakening export orders."
He explained further said the world economy is showing "broad-based momentum but that the prospect of a similar broad-based conflict over trade presents a jarring picture.
The IMF Research Director said despite the good near-term projections, longer-term prospects are more sobering. While advanced countries are facing aging population, falling rates of labour force participation and low productivity growth, they may not likely regain the per capita growth rates they enjoyed before the global financial crisis.
With regards to Nigeria and other commodities exporters, the IMF reiterated the need for diversified or risk losing out on the growth outlook for the future.
Meanwhile, the Federal Government has offered for subscription by auction N90 billion worth of bonds in its April 25 auction, the Debt Management Office (DMO) said. The offer circular obtained from its website yesterday in Abuja, stated that it would sell N30 billion of a five-year new issue maturing in April 2023 at an undisclosed rate.
It would also sell N30 billion seven-year re-opening bond to mature in March 2025 at 13.53 per cent and another N30 billion 10-year re-opening bond at 13.98 per cent to mature in February 2028. Nigeria issues sovereign bonds monthly to support the local bond market, create a benchmark for corporate issuance and fund its budget deficit.