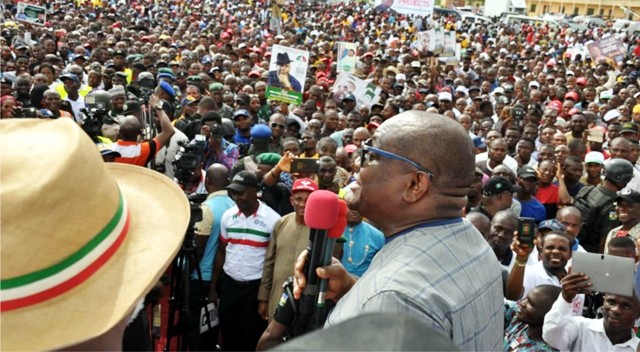 Rivers State Governor, Nyesom Ezenwo Wike has stated that the State Government is using urban renewal to address security issues in parts of the state capital.
Speaking with journalists last Friday after inspecting Ayamakara area in Ogbunabali, where the State Government recently demolished shanties , Governor Wike said that any shanty that poses a security threat will be brought down.
He said that the landlords at Ayamakara in Ogbunabali were duly compensated before the State Government demolished the shanties.
According to a statement by the Special Assistant to the Rivers State Governor on Electronic Media, Simeon Nwakaudu and made available to The Tide, the governor said, criminals used the shanties in the area as their hiding place to commit crime.
He said: "We decided that there will be no hiding place for criminals. All the waterways in this area will be cleared. Thereafter, we will decide the nature of development that will take place.
"Already, investors are coming for mixed development in the Nkpogu reclaimed area".
The governor said that the State Government will continue to ensure the security of the state through proactive initiatives.
Governor Wike also inspected the construction of the cinema and restaurants at the Port Harcourt Pleasure Park and Doctors Quarters at the Braithwaite Memorial Specialist Hospital.
Meanwhile, Rivers State Governor, Nyesom Ezenwo Wike has justified the establishment of the Neighbourhood Safety Corps by the State Government, saying it was meant to enhance peace across the state.
Addressing members of PDP Ex-Councillors Forum , Rivers State Chapter after their solidarity march to Government House, Port Harcourt last Friday, Governor Wike said that the setting up of the Neighbourhood Safety Corps followed established due process of the law.
Represented by his Chief of Staff, Engr Chukwuemeka Woke, the Rivers State Governor maintained that the Neighbourhood Safety Corps will also generate employment for youths.
He said: "By Monday, we shall inaugurate the Board of Directors of the Neighbourhood Safety Corps and Agency. The security agency has come to stay. No amount of intimidation will stop us from moving ahead.
"We will continue to develop the security infrastructure that will protect our people. We will also sustain our support for security agencies,"
The governor in a statement by his Special Assistant to the Rivers State Governor on Electronic Media, Simeon Nwakaudu, also assured the ex-councillors that the administration will continue to execute development projects for the people.
He thanked the ex-councillors for supporting his administration, saying that their support will never be taken for granted.
Chairman of the PDP Ex-councillors Forum, Rivers State, Hon LoveGod Nweze announced the endorsement of Governor Wike for a second term.
He said the ex-councillors support the Neighbourhood Safety Corps initiated by the Rivers State Governor for the improvement of security in the state.
They said that the opposition to the Neighbourhood Safety Corps is misplaced because it is already operational in Lagos and other APC States.