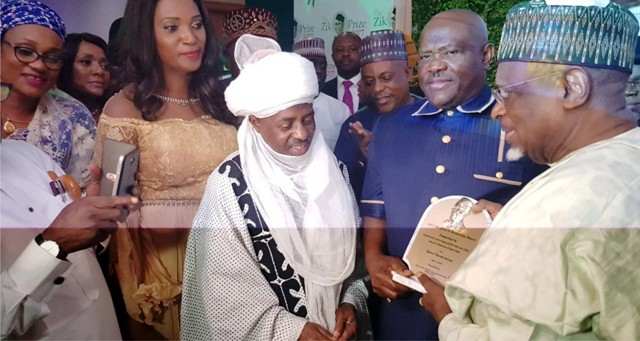 Ahead of the 2019 Governorship Election in Rivers State, stakeholders of the Peoples Democratic Party (PDP) in Rivers South-East Senatorial District have endorsed Governor Nyesom Wike for a second term in office.
The PDP stakeholders, at a Mega Solidarity Rally organized at Bori, headquarters of Khana Local Government Area (LGA) in Rivers State, passed a vote of confidence on Governor Wike for his developmental strides in Rivers State within few years in office.
The motion for Wike's endorsement as the sole candidate of the Rivers South East Senatorial District in the 2019 Governorship election was moved by Senator Lee Maeba and seconded by Senator Olaka Wogu in a people's parliament presided over by the Speaker of the Rivers State House of Assembly, Rt. Hon Ikuinyi-Owaji Ibani.
Addressing the overwhelming crowd at the South East PDP rally at Bori, Ibani, described Wike as a pragmatic politician who have transformed all parts of the state through the execution of quality projects.
Presenting the welcome address, a PDP stalwart from Oyigbo local government area and a former South Korea Ambassador, Desmond Akawor expressed satisfaction with Governor Wike's performance so far and assured the massive support of the people of the district for the Governor come the 2019 election.
Akawor who is the Administrator of Greater Port Harcourt said the South East Senatorial District with over 600,000 votes has the highest voting strength and is therefore a great determinant to who emerges as governor of Rivers State.
Akawor therefore, urged the people of the area to protect their votes and ensure nobody upturns their decision come 2019.
Former Deputy Governor of Rivers State, Engr. Tele Ikuru also lambasted the All Progressives Congress (APC) led federal government for the economic woes of the country.
"Am not disappointed in their performance that is why some of us left the party," Ikuru said, adding "this country has to be rescued and PDP need to rescue this country."
On his part, Leader of the Peoples Democratic Party in Opobo/Nkoro, Senator (Alabo) Adawari Pepple said Wike's infrastructural development in the area earned him the people's support.
"We don't need the army or police to vote and we believe in 2019 you will go back to Government House," Senator Pepple said.
In his remark, Chairman of the occasion, Barinua Wiwa (SAN) described Governor Wike as "a man of vision and high commitment to good governance." He also commended the governor for promoting the state in the comity of Nigeria's states.
Dignitaries that attended the event include Secretary to the Rivers State Government (SSG), Chief Kenneth Kobani; Commissioner for Works, Rt Hon Dumnamene Deekor; Commissioner for Finance, Hon Fred Kpakol and Commissioner for Education, Dr Tamunosisi Gogo-Jaja.
Others were the Commissioner for Commerce and Industry, Hon Nancy Nwankwo; Former Secretary to the Rivers State Government, Hon Pidomson Gabriel; Hon Owaji Abiante and Hon John Bazia, among others.
Taneh Beemene/