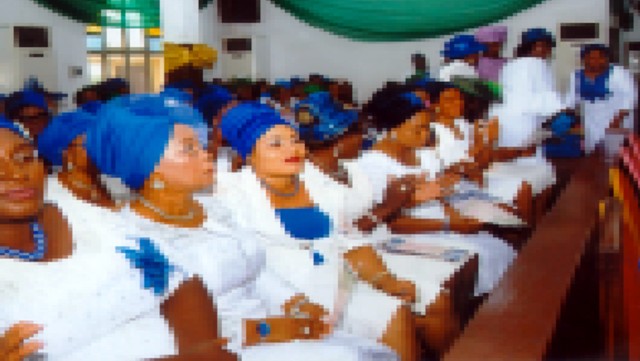 March 8th every year has been set aside globally to commemorate the International Day of Women. It is a day to take stock and strategise for the improvement and celebration of the achievements of women. The achievements are categorised into economic, cultural, political, social and individual.
The theme this year is "Press for Progress". How did the world come about this day? In 1908, 15,000 women marched through the streets of New York in the United States of America (USA) demanding for shorter working hours, right to vote and better pay package. But the idea to make it an international day was mooted by a woman, Clara Zetkin, in 1910 at the International Conference of Working Women in Copenhagen, Denmark.
The day was first celebrated in 1911. But the battle to terminate discrimination against women did not end there. In 1979, the Convention on the Elimination of all Forms of Discrimination Against Women (CEDAW) was adopted by the United Nations General Assembly and instituted on the 3rd of September, 1981.
The women continued with their fight for total emancipation and gender equality till September 3rd, 1995, when the fourth Conference on Women in Beijing held. This marked a significant turning point for the women's struggle. At the Conference, participating countries vowed to remove all obstacles to gender equality and the empowerment of women.
The Beijing Platform for Action at the Conference covered 12 critical areas of concern for women. These are: education and training, women and poverty, women and health, violence against women, women in power and decision-making, women and health, women and the economy, human rights of women, women and armed conflict, institutional mechanism for the advancement of women, women and the environment, women and the media and finally, and the most vulnerable – the girl-child.
In the 1995 golden jubilee celebrations of the founding of the United Nations, the CEDAW document/treaty was ratified by 187 member-states out of 194 nations. Surprisingly, the USA is among the countries that are yet to ratify it. That, notwithstanding, the women have continued to press on.
In Nigeria, late Dr. (Mrs) Maryam Babangida, a pioneer champion of women emancipation in Nigeria, a former First Lady and founder of Better Life for Rural Women, was viable in the fight to emancipate women. She built a workable platform for the articulation, formulation and implementation of development projects for rural women. Her Better Life programme has had great impact on women till date. It was in her time that women commissions metamorphosed into women ministry.
Then came Maryam Abacha, widow of Nigeria's late head of state, General Sani Abacha. It was in her tenure as First Lady the Beijing Conference held and a lot of women from Nigeria attended the Conference. Before both women got involved in the gender equality struggle in Nigeria, little or no effort was made in that direction. What was on ground was a mere fanfair that trivialised women empowerment.
This year's theme is expedient for women to key into. It is important for them as individuals, groups, associations, organisations and communities. Women have to tap into it and hit the ground running. It was for this reason Rivers State was not left out in the celebration of the Women's Day in the country.
Here in the state, the occasion held at the Alfred Diete-Spiff Sports Complex, Port Harcourt. In a keynote address, wife of the Rivers State governor, Her Excellency, Justice Suzette Eberechi Nyesom Wike, called for the empowerment of women at all levels. But which women group would hold Her Excellency accountable to her words and ensure that she fulfils what she said? She also called on parents to give equal opportunities to male and female children to enable the girl-child attain her highest level of development. How many mothers will heed this advice and press for the progress of their female children?
The governor of Rivers State, His Excellency, Barrister Nyesom Wike, was represented at the event by the Secretary to the State Government, Chief Kenneth Kobani. The governor commended Rivers' women for their strong support to his government and urged them to sustain the tempo. Fine. Strong commendation indeed. Is that all the women will get? What about the empowerment, the appointments and the positions in political parties? Are women not qualified to be in those positions?
The question now is: who is pressing on for the progress of women on the political front? How do we sustain the tempo achieved so far? What about working mothers? How are we working for their progress? This is because the working mother makes a lot of sacrifice both at home and at the workplace. Women are discriminated against in all fronts. It is very obvious that some employers of labour do not employ married women of child-bearing age. This discriminatory attitude also affects women in the legal profession.
Women also suffer segregation in the entrepreneurial world. Recently, the Entrepreneurial Platform Initiative celebrated women at a workshop at Sparklyn Hotels in Port Harcourt. It was revealed at the event that gender inequality is prevalent in the Niger Delta region. This affects women entrepreneurs greatly. It was also mentioned that women are denied access to funds to promote their businesses. However, the women were urged to think like entrepreneurs and organise themselves and be a part of government decision-making processes.
Multinational corporations cannot be left out of the ill treatment of women through their policies. Although few of them have encouraged women, they need to expand and support the enactment of women friendly policies. Broad-based partnership of various sectors will expand and strengthen creativity and initiative for women in the Niger Delta region in particular and Nigeria in general.
While women battle against setbacks society has erected for them, there is need for them to support themselves. Women should celebrate their fellow women and not work against one another. It is sad to see some of the discriminatory practices against women such as female circumcision, widowhood practices etc. being carried out by fellow women. Those belonging to the female gender need to change and be focused, remain undaunted and encourage themselves to form cooperatives.
Unfortunately, since CEDAW was adopted where governments agreed to make and implement policies that would enable women have access to land ownership, credit, inheritance and natural resources, nothing has been done till date. Women still do not inherit land in Nigeria. Their participation in politics and their access to political positions in relation to their male counterparts are still very low. Therefore, there is need for deliberate policies in specific areas like land rights, inheritance, property rights and asset holdings.
This year's theme introduces a critical dimension to the global emancipation of women in that it emphasises the complete eradication of poverty among the women folk. The empowerment of women shouldn't be left to them alone, they have to be assisted by their male counterparts. If favourable policies are made particularly in education and human resources, inter alia, Nigerian women and their global counterparts will get closer to their total emancipation.
Juliet Njiowhor