Winnie Mandela: Flawed Heroine?
South African activist, Winnie Madikizela Mandela has died at the age of 81 after battling a long illness. She was once married to former South Africa's beloved President, Nelson Mandela of blessed memory but she never cowered in his shadow she was an activist in her own right.
When Gertrude and Columbus Madikizela had their fourth daughter in 1936, they gave her the name Nom Zamo if indeed parents have premonitions of their children's lives, Winnie Mandela was aptly named "Nom Zamo' in their native Xhosa Language while literally means "she who strives: for more than six decades, she spent her life striving for justice for herself, her family and her country until her death on Monday April 2nd 2018 at the age of 81.
Her famed marriage to the symbol of anti-apartheid was bound to make her a collaborator in the fight against racial segregation in that country, but her struggle actually began before the two met at a time when it was a rarity for black people to go to school. She attended the Jan H Hopmeyr School of social work and earned a degree in social work at the age of 20.
It was not until two years later that she met a handsome fourth-year-old man at a bus stop where she was trying to get home from her job as a social worker, Rolih Lahla Nelson Mandela a tall charming man and soon enough a romance ensued between them.
Winnie was weary that the man was married and had three children already. He convinced her that the marriage had become strained as a result of his involvement into politics. Eventually, Mandela's first wife Evelyn Mase filed for divorce, citing adultery on the part of her husband that same year, 1958 Mandela and Winnie got married, their happiness was doomed to be short lived.
In five years, the couple had two daughters, Zenani and Zindziwa but due to his work in fighting against apartheid Mandela was frequently picked up and charged to court. However, in 1963, he was sentenced to life imprisonment on charges of planning a violent over throw of the government.
The responsibility of continuing the struggle fell on the young wife's shoulders and she carried on where Mandela stopped, she was arrested and detained several times often tortured, but her spirit was never broken she led the political party ANC like an Athena. In 1969 she was kept in solitary confinement for 18 months.
Even when she was banished to exile in 1977, her house was bombed twice by apartheid operatives, but her work was not without controversy. She was widely criticized for endorsing the killing of political opponents and quoted in 1986 as saying: "with our boxes of matches and our necklaces we shall liberate this country (Necklacing as in the burning of people with tyres around their necks).
She was also said to have a security force known as Mandela United Football Club whose role was to kill opponents and turncoats Most notoriously, she and her body guards were accused of slitting the throat of 14 years-old-Stompie Moeketsi who they suspected to be a police informer. She was given a six year jail term but offered the option of a fine.
Her criminal accusations also included several cases of intimidation and blackmail, little wonder publications described her as a "tarnished symbols. When Mandela was released from prison in 1990, she was on his arm and sang the "Bring him home song". She was by default the frist lady of the new democratic South, Africa.
Like it was before Mandela's conviction the love was short lived the couple separated in 1992 and finally divorced in 1994. Winnie's affair with a young lawyer, Dali Mpofu proved too bitter a pill for the old man to swallow, still she was part of his cabinet as deputy minister of Arts, Culture Science and Technology until she was sacked in 1985 after allegations of corruption, she later included her maiden name in full appellation going by Winnie Madikizela Mandela.
In 2003, she was again found guilty of embezzlement and given a suspended sentence of three years, but she returned to politics as a member of parliament from 2009 until her death. Every hero has an achilles heel, perhaps Winnie Mandela' hubris was her unflinching conviction in whatever she believed in, even when it seemed like the end did not actually justify the means.
She was unflinching and blessed or is it cursed with a scatting tongue. She once reportedly called Arch Bishop Desmond Tutu ( another revered figure in South Africa) a cretin, Mandela himself was not left out of her sharp criticism His Concilliatory approach to the new South Africa with something she did not agree with Mandela did not go to prison and he went in there as a burning young revolutionary", she once said an interview. But look what came out, Mandela let us down, he agreed to a bad deal for the blacks.
Nevertheless, her devotion to Mandela continued until he died. Many observers believed that the two were sole mates and never actually stopped loving each other even if she went to court to prove that their divorce was a fraud and he completely left her out of his will. Graca Machel whom Mandela later married also had a courteous relationship with her and once said.
"It is unfortunate that in our lives we don't interact very easily, but I want to state very clearly that Winnie is my hero, Winnie is someone I respect highly since her passing on Monday several nes outlets have described her as a flawed hero mugger and controversial, but she would not have minded her life she repeatedly said was dedicated to the struggle against shite rule, in her words: "I was married to the ANC, it was the best marriage I ever had, I am not sorry, I would never be sorry, I would do everything I did again if I had to everything", Winnie is survived by two daughters, eight grandchildren and a nation in mourning source, net news ltd.
My Victory Resulted From Steadfast Prayers, Says MBGN Winner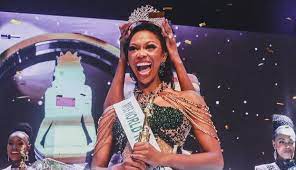 Winner of the Most Beautiful Girl in Nigeria 2021, Oluchi Madubuike, yesterday said that her victory was as a result of steadfast prayers.
Madubuike, who was crowned Miss Nigeria World 2021 on Saturday, took to her Instagram page to appreciate her family and other people who supported her in the journey.
According to her, she was victorious because of the steadfast prayers, love and support that she received from well wishes.
She said, "The little girl in me is screaming with joy at this new reality of mine. I'm sure my dad is with the host of angels in heaven celebrating me!
"I am so grateful to God most importantly for this opportunity and the hand of favour He placed upon my life. I am a living testimony of his divine work.
"To @silverbirdgrp , all our sponsors and partners, thank you all for this opportunity. I promise to maximize it to my fullest potential.
"This victory was a result of the steadfast prayers, love and support. I pray that God will find a way to repay everyone who contributed in a thousand folds."
Madubuike would be representing Nigeria at the 70th edition of the Miss World pageant to be held on December 16, 2021 in Puerto Rico.
Nigerian Female Celebrities Are Not Prostitutes -Movie Producer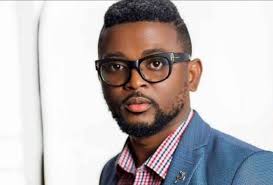 Nigerian movie producer, Samuel Olatunji, popularly known as Bigsam has debunked the idea that successful women in the entertainment industry earn their money through questionable means.
The Public Relations expert took to his Instagram page yesterday to condemn Nollywood actress, Nnaji Charity, who in her Instagram stories wrote that "being a female celebrity in Nigeria is more like an advanced prostitution."(sic)
"To say her post is uncharitable to women is stating the obvious. What is more uncharitable is the fact that she is a woman (that, I believe because these days, you never can tell), " the producer said.
He added, "What you are implying is that all these successful female celebrities, both in entertainment and outside entertainment are prostitutes, got to where they are, or are maintaining what they are by prostitution? Nothing could be farther from the truth.
Naming celebrities such as Linda Ikeji, Toyin Abraham, Funke Akindele-Bello, and Ini Edo, the Dear Affy producer attested to lucrative means by which several female celebrities he has worked with, make their money.
He said, "There was a time someone called me to say Linda Ikeji must be doing fraud or advanced prostitution to make the kind of money she has, that year, Linda was charging 50k per post (now it is 150k). I asked the person to open the blog and we did counting of sponsored post for that day as at 6pm, Linda has done about 20 sponsored posts. That year, Linda was raking in about 2 million daily. Before Covid and after, Toyin Abraham was making over 5 million monthly.
"About 10 years ago, we struck a major deal for Ini Edo, my first cut in the money was over 1.5m. Till date, Ini is making legitimate money quietly and in quick succession to have warranted talk that she's the richest actress in Nigeria. About two or three years ago, Funke Akindele Bello made over 1 million USD from just one of her projects."(sic)
Also mentioning the likes of Kemi Adetiba, Uche Jumbo, and Lizzy Jay, Bigsam said, "If you see all these women living life and living well, don't let your limited brain deceive you that they only make it by gracing beds of powerful men (some of these men actually live off them)."
"Women are doing well and it is possible for the upcoming one to do better without turning to prostitution," he continued.
He further encouraged ladies to ignore the claims by Nnaji as "she doesn't know what she's saying."
Wizkid, Omah Lay Bag High Nominations In AFRIMA 2021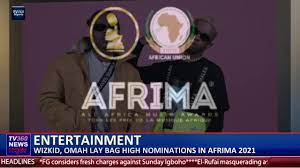 The African Union Commission and the International Committee of All Africa Music Awards have released the 2021 nominees' list.
The list, which was released on Wednesday, features over 400 songs from artistes in the 30 continental and 10 regional categories cutting across African talents and creatives living on the continent and in the Diaspora.
Leading the 2021 AFRIMA nominations scorecard is South Africa's sensation duo, Blaq Diamond with eight nominations for their song, 'SummerYoMuthi' in 'Best Male Artiste in Southern Africa'; 'Artiste of the Year in Africa'; 'Song of the Year in Africa'; 'Producer of the Year in Africa'; 'Best Male Artiste in African Inspirational Music'; 'Breakout Artiste of the Year'; 'Best Artiste, Duo or Group in African Pop'; and 'Best African Duo, Group or Band'.
Also, South Africa's Focalistic made it to the top of the list for his hit single, 'Ke Star' [Remix], featuring Davido and Vigro Deep with seven nominations including 'Best Male Artiste' in Southern Africa; 'Artiste of the Year in Africa'; 'Song of the Year in Africa'; 'Best Artiste, Duo or Group in African Dance or Choreography'; 'Best African Collaboration'; 'Best Artiste, Duo or Group In African Electro'; and 'Breakout Artiste of the Year'. Also, South Africa's Focalistic made it to the top of the list for his hit single, 'Ke Star' [Remix], featuring Davido and Vigro Deep with seven nominations including 'Best Male Artiste' in Southern Africa; 'Artiste of the Year in Africa'; 'Song of the Year in Africa'; 'Best Artiste, Duo or Group in African Dance or Choreography'; 'Best African Collaboration'; 'Best Artiste, Duo or Group In African Electro'; and 'Breakout Artiste of the Year'.