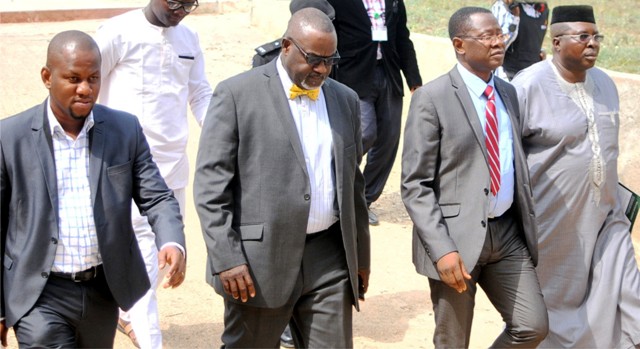 A Professor of Mechanical Engineering in the Department of Mechanical Engineering, Rivers State University (RSU), Port Harcourt, Prof Howells Idaerefagha Hart has called for a total restructuring of the nation's power sector for better improved services.
Hart made the call while delivering his inaugural lecture titled: "Sustainable Electricity Generation in Nigeria: Of Enthalpy, Entropy, Energy and all that, No Politics" during the 53rd inaugural lecture of the institution held at the Law Faculty Auditorium last Wednesday.
He said that the call became very imperative due to the quest to have a break-through in the power sector, adding that wrong government policies were introduced into the system without critical considerations on the workabilities of such policies on the sector.
According to him, what the Federal Government needs to do now is bringing together all the various actors and players to a round table discussion on the way forward and how the country' s power system can function effectively.
"We need to sit down together to restructure the system, pick those who are knowledgably in the system to discuss in a roundtable so that we can achieve the desired breakthrough in the sector," he stated.
The Professor of Mechanical Engineering identified wrong political decision in the appointment of those entrusted with responsibilities in the power sector as major setbacks in the system, adding that professionals should be appointed to hold the positions in the sector including the Minister of Power.
Hart opined that the problem of reliability promoted high costs in the sector occasioned by instability and added that the structure of the nation's power system should be redesigned in order to meet the needs of the citizens.
He further disclosed that none-siting of the generating stations close to where gas plants are stationed was also responsible for abysmal downward performance in the sector, adding that the cost to maintain adequate surveillance to the gas pipelines that service the generating stations is very high.
"We need to study our environment, climate and design these turbines the way temperate will work with our climates. Don't forget that these gas turbines were designed in temperate regions, so we need to modernise them to our own climate. Because of political reasons, these generating stations are built in an area far from where these gas plants are. It takes huge resources to keep surveillance in these gas pipelines and when there is attack, it causes great damage to the system", he said.
The former Deputy Vice Chancellor (DVC) of the university anchored his lecture on the Concept of Energy, Manifestation of Energy, Economics of Energy Resources, Fossil Fuels, Hydro Power, Solar Energy, Biomass, Wind and Energy Conversions.
Earlier in his speech, the Vice Chancellor of RSU, Prof Blessing Didia lauded the lecturer for his brilliant and professional presentation and added that he had justified his professional calling.
He described him as a hard working lecturer who has done the institution proud through the presentation.