Meet 20 Contestants For BB Naija 2018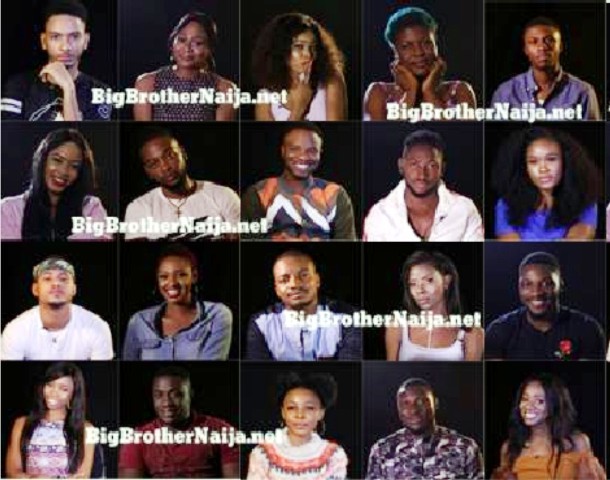 Below are all the twenty housemates for the Big Brother Naija (BB Naija) 'Double Wahala' 2018 edition of the Nigeria Reality TV show.
Teddy: A recording artiste and graduate of the University of Texas, USA is also known as bad man Teddy. The 29 year old considers his high points to be when his son was born and getting his recording contract.
Vandora: She is the first of three siblings and in a relationship, she will miss her boyfriend most while in the house and also bring heated conversation and charisma into the house. She is in a journey of discovery and loves wearing short outfits.
Nina: The last daughter amongst five siblings loves singing and chatting. The 21 year old English and Literary Studies graduate enjoys eating spaghetti and music by Wizkid. She described herself as unpretentious and can neither stand proud people nor liars.
K. Brule: An upcoming songwriter and artistE, his hobbies are playing football and watching movies. His mummy is super excited about him being a housemate and he intends to bring his dirty sense of humour to the house. His favourite colour is metallic red, he is 23 years old.
Princess: She is a public relations manager with a construction firm who enjoys cooking and designing clothes. The 25 year old will love to use BBN platform to explore her acting talent and if she wins will spend the money on her lingerie and beauty business
Alex: She is 21, enjoys dancing and talking. She likes polar bears and has promised not to hold back anything while in the house. She believes everything about her is unique and does not like fake or dirty people.
Deeone: He is 27 and the first of three siblings and a standup comedian, he loves Wizkid and says nothing will make him quit the game. If he wins the cash prize he will start comedy agencies to help upcoming acts.
Miracle: Miracle is a pilot who enjoys dancing and camping he is 24 years old and single he plans to charm the ladies while in the house and believes fans will find him unique too. If he wins the prize money he will get more aeronautic training and help his family.
Ahneeka: She is 25 years old media entrepreneur who enjoys goofing around. She considers her sister to be her best friend. She loves eating pasta and her favourite colour is black, she does not like dull moments and she will liven up the house.
Bambam: She is 28 and the secret is her favourite brook. She will miss her brother and best friend whilst in the house she is bringing drama entertainment and charm into the house, if she were a world leader she will change people's perception about themselves.
Rico Swavey: Even if he had a million dollars, Rico Swavey would be in the House "just to catch the waves." He said he exploded with joy when he got his first big acting gig, and shared that he was a lion at heart, a protector who likes to stand up for the oppressed when Rico Swavey is not busy charming ladies, he enjoys swimming and singing. Rico's parents and seven siblings are happy and supportive.
Tobi: A native from Ogun State, Oluwatobi Bake is passionate about photography and football, Tobi's hobbies range from poetry, dancing, rapping, singing and drawing. Against all odds, Tobi graduated from University of Lagos considering he is an avid clubber who lives on social media. The youngest of four siblings. Tobi's most painful expreince was seeing his father cry at his grandmother's funeral. Forever supportive Tobi's family shares in the BB Naija excitement. He has always wanted to be in the House if only "for fun."
Khloe: A horror movie buff, Khloe owns having no hidden talent and is only looking to bring drama to the house. At the core of herself, Khloe believes she is often misunderstood and hopes to use her time in the house for her true self to shine. If Khloe were a world leader, she would "stop university education" because she's real, she doesn't "sugar coat" and says it "the way it is."
Lolu: Lolu enjoys eating, reading, travelling, playing video as well as board games. His highest point in life was securing a job at a large investment banking corporation although losing his mother made him reach rock bottom. The University of Ilorin graduate also a secret poet, dancer and singe. He's also great with accents, Lolu's dad is unaware of his participation in Big brother but his sister is excited about it.
Cee-C: Cee-C enters the house pretty satisfied to have found her purpose in life. Oozing confidence and authenticity, she said she is 'eye candy' and 'mentally attractive' too. Her features are enhanced by her love for dresses that hug her body at the right spots. The privately educated Cee-C likes to learn new stuff and is an avid novel reader. She is a mean cook and is an avid tennis player.
Anto: Born and raised in the US, Anto came back to Nigeria for the first time at the age of 20 to work at her dream job in a male dominated indsutry. She has no special talents that she knows of. Growing up on the Atlantic Coast. Anto loves going to the beach, dancing and cooking. She also takes no prisoners for being scandalous so she can wear anything.
Bitto: The youngest of four siblings. Bitto most poainful memory was losing his mum at an early age. He expects his family to be shocked but very supportive of him. He will miss Sylvia his best friend and girl friend the most. If he was an animal, Bitto says he would be a camel for there is no stroke that can break his back. Bitto's hobbies include travelling, taking pictures, music and movies.
Leo: Leo enjoys playing basketball and is a fervent supporter of Premier League Football Clubs. He is still pained that his father didn't live to see him graduating from University. With his good looks, intelligence and secretmath skills,Leo believes he can "solve everyone's problems." If he was an animal, the fiercely protective Leo would be a lion "to defend" his family, his mother three sisters and brother.
Ifu Ennada: Ifu Ennada works and plays hard: she is a self-made woman who remembers the feeling of making her first millions. She cites her hobbies as drinking Mojitos, partying, karaoke and online shopping. Ifu Ennada admits she'll miss her phone as she likes to "reply to people on social media."
Angel Awotarigha: is a filmmaker and music lover from Bayelsa State who often gets mistaken for a famous Nigerian personality.
He enjoys martial arts, swimming, playing the guitar and video games. Working with an American rapper is a highlight of Angel's career.
One of the ten children, Angel lost his mum a year ago and his family is strongly rallied behind him. Angel describes himself as passionate, and keeping his fiery and emotional nature under wraps may be a challenge in the house.
My Victory Resulted From Steadfast Prayers, Says MBGN Winner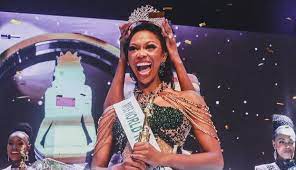 Winner of the Most Beautiful Girl in Nigeria 2021, Oluchi Madubuike, yesterday said that her victory was as a result of steadfast prayers.
Madubuike, who was crowned Miss Nigeria World 2021 on Saturday, took to her Instagram page to appreciate her family and other people who supported her in the journey.
According to her, she was victorious because of the steadfast prayers, love and support that she received from well wishes.
She said, "The little girl in me is screaming with joy at this new reality of mine. I'm sure my dad is with the host of angels in heaven celebrating me!
"I am so grateful to God most importantly for this opportunity and the hand of favour He placed upon my life. I am a living testimony of his divine work.
"To @silverbirdgrp , all our sponsors and partners, thank you all for this opportunity. I promise to maximize it to my fullest potential.
"This victory was a result of the steadfast prayers, love and support. I pray that God will find a way to repay everyone who contributed in a thousand folds."
Madubuike would be representing Nigeria at the 70th edition of the Miss World pageant to be held on December 16, 2021 in Puerto Rico.
Nigerian Female Celebrities Are Not Prostitutes -Movie Producer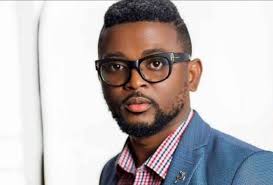 Nigerian movie producer, Samuel Olatunji, popularly known as Bigsam has debunked the idea that successful women in the entertainment industry earn their money through questionable means.
The Public Relations expert took to his Instagram page yesterday to condemn Nollywood actress, Nnaji Charity, who in her Instagram stories wrote that "being a female celebrity in Nigeria is more like an advanced prostitution."(sic)
"To say her post is uncharitable to women is stating the obvious. What is more uncharitable is the fact that she is a woman (that, I believe because these days, you never can tell), " the producer said.
He added, "What you are implying is that all these successful female celebrities, both in entertainment and outside entertainment are prostitutes, got to where they are, or are maintaining what they are by prostitution? Nothing could be farther from the truth.
Naming celebrities such as Linda Ikeji, Toyin Abraham, Funke Akindele-Bello, and Ini Edo, the Dear Affy producer attested to lucrative means by which several female celebrities he has worked with, make their money.
He said, "There was a time someone called me to say Linda Ikeji must be doing fraud or advanced prostitution to make the kind of money she has, that year, Linda was charging 50k per post (now it is 150k). I asked the person to open the blog and we did counting of sponsored post for that day as at 6pm, Linda has done about 20 sponsored posts. That year, Linda was raking in about 2 million daily. Before Covid and after, Toyin Abraham was making over 5 million monthly.
"About 10 years ago, we struck a major deal for Ini Edo, my first cut in the money was over 1.5m. Till date, Ini is making legitimate money quietly and in quick succession to have warranted talk that she's the richest actress in Nigeria. About two or three years ago, Funke Akindele Bello made over 1 million USD from just one of her projects."(sic)
Also mentioning the likes of Kemi Adetiba, Uche Jumbo, and Lizzy Jay, Bigsam said, "If you see all these women living life and living well, don't let your limited brain deceive you that they only make it by gracing beds of powerful men (some of these men actually live off them)."
"Women are doing well and it is possible for the upcoming one to do better without turning to prostitution," he continued.
He further encouraged ladies to ignore the claims by Nnaji as "she doesn't know what she's saying."
Wizkid, Omah Lay Bag High Nominations In AFRIMA 2021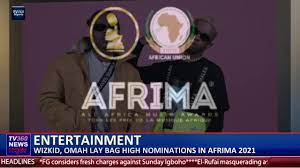 The African Union Commission and the International Committee of All Africa Music Awards have released the 2021 nominees' list.
The list, which was released on Wednesday, features over 400 songs from artistes in the 30 continental and 10 regional categories cutting across African talents and creatives living on the continent and in the Diaspora.
Leading the 2021 AFRIMA nominations scorecard is South Africa's sensation duo, Blaq Diamond with eight nominations for their song, 'SummerYoMuthi' in 'Best Male Artiste in Southern Africa'; 'Artiste of the Year in Africa'; 'Song of the Year in Africa'; 'Producer of the Year in Africa'; 'Best Male Artiste in African Inspirational Music'; 'Breakout Artiste of the Year'; 'Best Artiste, Duo or Group in African Pop'; and 'Best African Duo, Group or Band'.
Also, South Africa's Focalistic made it to the top of the list for his hit single, 'Ke Star' [Remix], featuring Davido and Vigro Deep with seven nominations including 'Best Male Artiste' in Southern Africa; 'Artiste of the Year in Africa'; 'Song of the Year in Africa'; 'Best Artiste, Duo or Group in African Dance or Choreography'; 'Best African Collaboration'; 'Best Artiste, Duo or Group In African Electro'; and 'Breakout Artiste of the Year'. Also, South Africa's Focalistic made it to the top of the list for his hit single, 'Ke Star' [Remix], featuring Davido and Vigro Deep with seven nominations including 'Best Male Artiste' in Southern Africa; 'Artiste of the Year in Africa'; 'Song of the Year in Africa'; 'Best Artiste, Duo or Group in African Dance or Choreography'; 'Best African Collaboration'; 'Best Artiste, Duo or Group In African Electro'; and 'Breakout Artiste of the Year'.