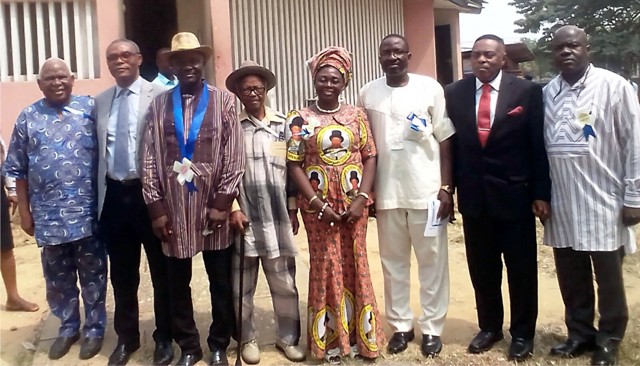 Once again, January 11,
2018 was another historic day to members of the late Elechi Amadi as he was honoured by members of his family and well-wishers across Rivers State.
The three-in-one event attracted some important dignitaries from all walks of life, most especially his closest associates.
The event put together to honour the late literary icon, was in three phases namely: book launch titled: 'In a Blaze of Glory: Creative Tributes to Elechi Amadi'; dramatic display that portrayed late Amadi's personality and tributes and benedictions rendered by his closest friends to remind the people that the late poet and novelist didn't die, but lives on.
Speaking at the book presentation organised at the University of Port Harcourt Choba, penultimate Thursday, a lecturer in the University of Port Harcourt, Prof Chidi Maduka, tasked Nigerians to always show respect to the late author by attending events organised to honour his legacies in appreciation of his contributions to development of African art and literature.
"There is no other African novelist who has surpassed Amadi as a perceptive depicter of man's struggle for survival in a world where cosmic forces often play an enigmatic role in human life," Maduka said.
Maduka, who reviewed the book, stressed that the memorable legacy of Elechi Amadi to the transformation of the literary landscape in Africa was legendary.
He noted that Amadi's literary works had placed Nigeria in the world map, and stressed that it was high time all Nigerians, especially politicians emulate the good legacies of the literary giant.
"Elechi Amadi fought for the success of this country, and not only his state. And as it can be seen, his picture used on the book launch today is glittering of him, which suggests that he is triumphantly fulfilled in his new world. Also, his character is worthy of emulation for leaders in all states and countries in the African continent.
"I want to urge Nigerians to dress in manners that would promote our culture and increase the revenue of our textile industry because these were some of Elechi Amadi's ways to encourage our textile industry and promote our culture. We demand the possibility of our Elechi Amadi coming back to us again," Maduka added.
He pointed out that Amadi started very early in life in Mathematics and Physics, then switched to Applied Science, noting that he became a living scientist as he kept telling people that the gods were important.
Maduka charged Nigerians, most especially the youth and politicians, to acknowledge Amadi's immeasurable contributions to knowledge, adding that his name must ever remain fresh in the hearts of every well-meaning Nigerian.
"Though he is gone, but his books make him immortal," Maduka argued, and charged Nigerians, especially literary arts students, to strive to excel beyond Amadi's exploits by leveraging on the foundation already laid by the late novelist.
Also speaking, Emeritus Prof, Otonti Nduka, described the literary icon as "a great man, a great Nigerian, a modest man."
Nduka said: "We know who is who, and we know our class. He certainly immortalised his name by impacting the society with his literary works."
Former Vice Chancellor, University of Port Harcourt (UNIPORT), Prof Nemi Briggs, described Amadi as a colossus in the world of literary arts saying, "Science takes its roots from arts; the scientists take their thinking from arts. I now have very deep respect for the arts. Elechi Amadi studied science and saw something very bigger in arts. I docked my mind to it."
Briggs advised the Nigerian youth to read very deep in order to exercise their minds, adding that "The mind God has given to us all is a tremendous one".
Another former Vice Chancellor of UNIPORT, Prof Joseph Ajienka, described Dr Amadi as "a celebrated writer and a blessing to this part of the world", advising that, "everyone should celebrate him as he was gifted in arts."
Ajienka advised the youth to deepen themselves in literature, adding that education should not be one-sided, but should be all-inclusive and balanced. He stressed that it was only by so doing that one can appreciate what is happening in the other world and ultimately help contribute to peace in the country.
The Chairman of the occasion, and Dean, Faculty of Humanities, Prof Femi Shaka, described the event as "A celebration of an icon, role model and an achiever per excellence. That we are celebrating Elechi Amadi today is a testament to the fact that we give him due honour."
The chairman, who was represented by a professor in Theatre and Film Studies, Emmanuel Emasealu, also used the opportunity to describe late Amadi's wife, Dr Priye Iyalla-Amadi as "a fine example of a lady of substance, vision, tolerance, endurance, hard work and source of inspiration to humanity."
Bayelsa State Commissioner for Mineral Resources, Markson Fefegha, stressed his commitment and dedication to late Amadi's values, pointing out that his teachings and literary works have made him what he is today.
Fefegha hinted that he set aside all other commitments to grace the occasion because "For me, Elechi Amadi lives on", and promised to give his family every needed support.
"Elechi Amadi loves to introduce young people into the acquisition of knowledge, and since the wife was able to bring us all together today, I am going home much fulfilled.
"The icon we celebrate today is an industrious son of Africa; as he helped us to build ANA, Bayelsa State. The reading culture has not died, but it's the shift of the media from text to online. I want the people to read more of text too. As it is seen all over the world, literature and culture have taken UNIPORT to an enviable height, which all of us are very proud of," Fefegha added.
In his remarks, the Rector of Elechi Amadi Polytechnic, Rumuola, Dr Samuel Kalagbor, described Amadi as "a literary giant and an elegant scholar".
Kalagbor noted that there were so many ways of celebrating a genius, emphasizing that one of the ways was to immortalise their names through monuments, event centres, government-owned institutions, among others, adding that the change of the name of the Port Harcourt Polytechnic to Elechi Amadi Polytechnic, Port Harcourt, by the Rivers State Government was commendable.
"The Governor of Rivers State, Chief Nyesom Wike deemed it necessary to change the name of the institution from Port Harcourt Polytechnic to Elechi Amadi Polytechnic, Port Harcourt because he felt that this was one sure way of immortalising the literary giant of Africa," he said, adding, "We are very proud of it because looking at what is happening all over the country, we need people like Elechi Amadi".
In her response, the wife of the literary giant, Dr Priye Iyalla-Amadi, stated that "I was inspired to put together the pieces that have become a book today in my darkest hours when I heard my husband saying 'darling, wipe your tears, I am with you.'
"Since then, I saw my husband like a replica of myself, his glory has touched inside of my heart, and today, I am so happy being in the midst of my husband's true friends. This was not publicised on the radio, television or newspaper, but all the friends I reached through text, came here with that fanfare and really paid homage to my husband. So, I feel he has been really honoured".
Mrs Iyalla-Amadi explained that she decided to celebrate her late husband because "while alive, he married me well, he was a good husband, he took good care of me. So, I am able to stand to say I will do my best for him, and I will continue to do my best to keep his memory alive. So, if husbands marry their wives well, they will be remembered by their wives."
She advised the younger generation to always seek integrity, honesty and truth, in place of money saying, after acquiring those qualities, money would come.
Susan Serekara-Nwikhana