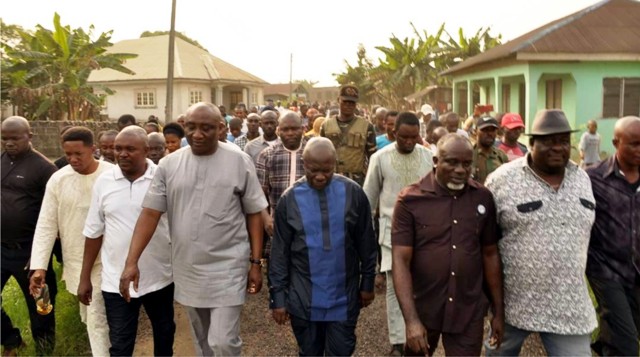 Governor Henry Seriake Dickson of Bayelsa State has commended the ruling All Progressives Congress (APC) for its recommendations on the issue of the proposed restructuring of the country.
Dickson said that the recommendations had further strengthened the agitations for true federalism and resource control in the Niger Delta.
He said restructuring Nigeria would calm frayed nerves and strengthen the nation's unity.
The Governor called on the leadership of the APC to ensure implementation of the recommendations of its committee on restructuring before the conduct of the 2019 general elections.
Dickson said,' implementing the report before 2019 general elections would be the true test of the sincerity of the APC on the issue of the recommendations.
The Special Adviser to the Governor on Media Relations, Mr. Fidelis Soriwei, quoted the governor as having made the comment in an interview with journalists on the recommendations of the APC's Committee on Restructuring led by Governor Nasir El Rufai òf Kaduna State in Abuja on Friday. The El Rufai Committee had recommended state ownership of onshore mineral resources including oil, state control of police, prisons among others while presenting its report to the leadership of the APC.
The Governor said that what the APC committee did in its recommendations were the most fundamental of all the approaches to the burning issue of restructuring in the best interest of the country.
He stressed that as a politician driven by conviction, he had to commend the APC on its bold recommendations on restructuring because it was right and worthy of appreciation.
"Let me start by commending the committee and the leadership of that party for making what I will call the most fundamental proposal dealing with the issue of restructuring. This is very refreshing, and for me, when I see what is right, I commend it; when I see what is in the best interest of our country, I commend it because my politics is driven by conviction, not convenience," he said.