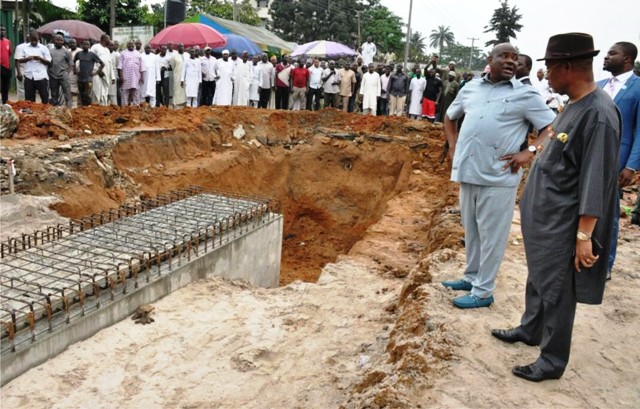 The first impression of a
first time visitor to Rivers State is formed on arrival by the state of the roads and environment. It is, therefore, mandatory to maintain, in great condition, the roads and other social amenities, which are to the well-being of the citizenry.
The present administration in the state, under Chief Ezenwo Nyesom Wike is obviously taking into cognizance the spate of projects particularly roads going on in the state.
A friend confessed to having almost run into a large roundabout at the Garrison junction. Though the initial plan for the road was a flyover bridge, since the cost was rather exorbitant, in the words of His Excellency, rather than allow the project become an abandoned one, it was converted into a roundabout, with short stretch of two bridges over the Nwaja River.
The need for a good road network in any vibrant state cannot be over-emphasized, both for the well-being of the citizenry as well as for the economic development of the state.
With the spate of road projects going on in virtually every area of Port Harcourt, there is no doubt that Port Harcourt is being repositioned as a destination for business, conferences, and of course leisure.
The governor right from the inception of his administration made it quite clear that something drastic had to be done to erase the stigma of bad roads he met.
In the last two years, there has been quite a lot of construction, reconstruction and resurfacing of both state and federal roads in the state. This includes expansion of roads in the city and its environs through a strategic development plan to urbanise the road network in Port Harcourt and Obio/Akpor.
Construction and reconstruction of inter and intra-communal roads in about thirteen local government areas of the state is also in the works.
In Port Harcourt city and Obio/Akpor Local Government area, within the period under review, there was rehabilitation of roads such as the Peter Odili Road, Professor Okujagu Road, Danjuma Drive, Off Peter Odili Road, Rumukalagbor, Rumuibekwe, AmadiAma to A. Micheletti junction as well as Nlerum Road, CBN junction by the State Secretariat Complex and Eliohani Road. Others are Woji Road, Evo Road, Tombia Extension, Ahoada Road, Ohiamini Road, King Perekule road, Birabi Road, Orusa Street and Forces Avenue in New and Old GRA respectively.
Borikiri and the Port Harcourt township are also benefitting from the reconstruction of roads going on in the state. The roads currently under reconstruction include Creek Road, Bonny Street, Bishop Johnson Street, Adaka Boro Street, Tourist Beach Road, Bishop Fubara Street, Captain Amangala Street, Elliot Henry Street etc.
Worthy of note in the Borikiri area are roads such as Moscow Road round about, Marine base junction, Churchill Road, Kolokuma Street, Sokoto Street, Abiye Sekibo Road and Industry Road.
Densely populated Diobu Area of Port Harcourt, which could not boast of good roads before now, are also benefitting from the largesse of road construction, as places such Adelabu Street, Azikiwe Street, Ojoto Street, Abel Jumbo Street, Nnokam Street, Chief Amadi Street, Anokwuru Street, Abakaliki, Chief Amadi Street and Wokoma lane as well as Ikwerre Road by Education Bus Stop to Abonnema Wharf as well as the fly over Park by The Tide, premises now wear new look.
Others are Agip, Eagle Island Iloabuchi Link Road, Olu Obasanjo Link Road and Bishop Okoye, Ejekwu Joinkrama, Lumumba, Elechi, Nkoro, Atabale Wobo, to mention a few.
Another area with poorly planned roads and also densely populated but quite a business hub, Ogbunabali. Today, however, all the Internal roads have been tarred with good drainages to ensure the longevity of the roads. Expansion and provision of pedestrian walk ways are some necessary features accommodated in the reconstruction of Ogbunabali road, starting with the major road which was rehabilitated in 2015. Also in Port Harcourt is the daulization of Nkpogu road with two bridges.
General Sani Abacha Road is undergoing comprehensive reconstruction with good drainages on both side, to forestall flooding and damage to the road. So also is the D/Line axis enjoying good roads under the present dispensation.
In Obio/Akpor, massive road construction and reconstruction is on. The Woji Township Road, which was impassable at some point now wears a new look, from Old Aba Road through Alcon so also are roads like Bakery Road, Faith Avenue, Railway Road, Chioma Avenue, Mini Woji Street, Mini Otudor Street. Woji is also a beneficiary of the Akpajo-Woji Bridge and dualization.
Several other roads in Obio/Akpor under reconstruction or already completed include Bori Camp junction to Rumuola flyover, Eliozu East-West Road by the overhead bridge, Canaan Avenue and Ozurunha Street in Rumuowabie Community, Okocha Mgbodohia Road, Owabie Road, Rumuola overhead bridge by Rumuadaolu, Aba Road by Artillery, Rumuokoro-Rukpokwu Roundabout. Rumuagholu-Airport Road, with spurs to Nkpolu and the International Market. This road is very strategic, as it reduces the long drive to the Airport and saves time and fuel.
Other roads rehabilitated in Obio/Akpor are the Ozuoba-Ogbogoro, Rumuolumeni Road, the abandoned Elioparanwo Road, Rumuokwurushi Eneka – Igwuruta Road, the Abuloma Woji Bridge. (This bridge connects Woji to other parts of Port Harcourt); Rukpakolusi-Eligbolo Road, Mgbuo simini-Nkpo Rumuolumeni Road, Tam-David-West Road, (a very strategic by-pass to the International Airport through ObiriIkwerre), Rukpokwu Market junction to Aluu Road, Ozuoba Rumuosi-Rumuokparaeli Road, Igbogo-Choba Road, Rumualogu to Alakahia Road, Rumuepirikom-Rumuolumeni Road, Eliozu-Rumunduru-Oroigwe Elimgbu Road with a bridge, the Oil Mill Elelenwo – Akpajo Road, Miniorlu-Mbuakara- Elioparanwo Road, Eneka, Rumuapu-Rukpokwu Road and East-West–Elelenwo-Woji- Slaughter Trans-Amadi Road.
Port Harcourt, being the state capital and Obio/Akpor a very close neighbor by virtue of its proximity, enjoy more of the massive road construction in the state, but notwithstanding, other areas in the state are also benefitting from road construction and reconstruction. For instance, communities who had been cut off from urban areas due to the bad state of their roads have been re-connected.
A case in point that was really pathetic is the Igwuruta-Chokocho Road. This road before now was almost impassable. With the reconstruction of the road by Wike's economic and social activities in Etche have greatly improved. Also in Etche we have the Chokocho-Igbo Etche, Rumuokwurushi Road, the Chokocho-Linking Obio/Akpor to Etche Umuechem-Ozuzu-Elele Road.
There are also internal roads like the Ulakwo 11 – Afara-Nihi road.
In Ikwerre Local Government area, we have the Airport, Ipo-Omademe – Ozuaha Road, Isiokpo Internal Roads in Emohua. Rumuji –Ibaa-ObeleIsiokpo road, Rumuakunde – Rumuche – Akpa – Abakpa, Elele-Alimini internal roads.
Abonnema is also enjoying the dividends of goods roads as the Abonnema ring road phase 2 that was abandoned has been resuscitated. So also is Abonema-Obonoma bridge and road.
In Abua, the Abua-Degema-Emoh-Iyak-Ighom-Elok Road that was hitherto in bad shape, paralysing economic activities in this community has been reconstracted. There is also Ulaehuda-Odioko – Anwunugboko-Ubeta-Ihuechi-Odiereke Road and Edeoha – Ikata-Ochigba Road, all in Ahoada West and East Local Government Area.
Omoku is not left out, as most of their internal roads have been awarded and work is in progress such as the Akabuka – Omoku Road. Okrika can boast of Okochiri internal roads and the Ekerekana-Okochiri Link road.
Ogoni has the Ogoni –Andoni-Opobo Unity Road, Kpopie-Bodo Road, the Oyigbo Market Road. Kom-Kom junction is one of the first roads to be awarded, and was completed in the first hundred days of the administration. There is also the old Aba Road by Mbano Camp junction of Oyigbo. The condition of this road before the advent of this administration was nightmarish and in a state of total disrepair.
Sakpenwa-Bori-Kono Road is a very strategic gateway to the Ogoni area. You can access and exit Ogoni land though this road, and it was built as a one lane road. The road is being dualised by the Wike administration based on its economic value to the Ogoni people. Work has reached advanced stage.
Building the roads is just a part of it, there is the need to keep the roads' in good condition after construction, hence the Governor working on foresight set up a road maintenance agency, whose acronym is operation zero pothole. This agency focuses on effective and efficient maintenance of roads built by the state government.
The infrastructural progress recorded in roads in the various parts of the state can be said to be encouraging and setting the developmental agenda for the state. With the current speed in road construction and reconstruction in different parts of the state, there is no doubt that Port Harcourt in particular and Rivers State in general will be a one stop shop destination for all kinds of investment opportunities.
Juliet Njiowhor