Rashidi Yekini NPFL Award: Okpotu Bags Highest Goal Scorer Award
Lobi Stars Football Club of Makurdi, Anthony Okpotu  at the weekend  Saturday in Ibadan, bagged the Rashidi Yekini NPFL's Highest Goal Scorer Award for the 2016/2017 Season.
Tidesports source gathered that Okpotu bagged the award with N100, 000 after scoring 19 goals in the just concluded Nigeria Professional Football League (NPFL) 2016/2017 season.
According to Tidesports source  the award organised by the Rashidi Yekini Foundation headed by Mr Jubril Mohammed, the late Yekini's lawyer, was the third edition.
Okpotu described the late Yekini as a legend and all-time highest national team goal scorer who has not been celebrated enough.
He dedicated the award to his team mates and management, saying that the award would spur him to score more goals in the subsequent season. Okpotu called on sportsmen in the country to emulate the giant strides of the late Yekini, urging them to invest in their lives while they were still active.
"When you climb a ladder, you don't have to push it down to prevent others from climbing, because you may still need the ladder when you want to fall,'' he said.
Yemi, the daughter of the late Yekini, called on people to always ensure that they impart more on others in whatever they do.
She said that anyone who was ready to impart on others must be ready to make sacrifices, thanking all for coming together to celebrate her late father and his memories.
In the same vein, Mohammed, the Yekini's lawyer, said that he would not relent in doing more for the late Yekini's family, saying that he had a covenant with the soccer legend.
" We have a covenant where he told me he never trusted anyone, but me.
"He presented to me a special Quran to which we both held to make the covenant.
"Yekini had a premonition of his death and he told me I should not betray the trust he reposed in me.
"He entrusted all upon me and I promised him that I will always be by his family,'' the lawyer said.
Also, an ex-international, Felix Owolabi, urged sportsmen to always look after themselves while active, saying that many celebrated sportsmen in the country had been abandoned.
"When you are on the stage, people will love you for the services you rendered, but when you are no more on stage, they will turn against you.
"The feeling is that you have been paid for the services you rendered when you are active. Our people needs attitudinal change in this country,'' he said.
Also Mr Abayomi Oke, the Oyo State Commissioner for Youth and Sports, appreciated the foundation for organising such a laudable project.
He said that it was good to celebrate our heroes while they were alive.
The commissioner also stressed the importance of education in whatever anyone does, saying that education usually gives leverage on every chosen career.
NAN reports that the event was attended by Justice Moshood Abas of Oyo State High Court, Mr Mike Idoko of Lobi Stars Football Club and Coach Festus Allen, former 3SC Coach.
Others were Mr Raheed Balogun, the General Manager of 3SC, Mr Niyi Alebiosu, Chairman, Sports Writers Association of Nigeria (SWAN), Oyo State Chapter and Mr Remi Olaniran, a gubernatorial hopeful in Oyo State.
Infantino Reveals How Nigeria Can Host FIFA Competitions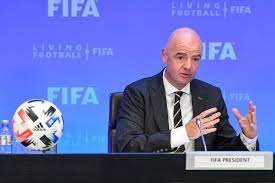 FIFA President, Gianni Infantino last Thursday, in Abuja, revealed how Nigeria can be made a destination for top Grade A football matches and FIFA competitions.
Infantino gave the insight when the Minister of Youth and Sports Development, Sunday Dare took him on a tour of the renovated main bowl of the MoshoodAbiola National Stadium.
The FIFA boss, who was visibly happy with the re-grassed pitch at the stadium, said well-maintained stadia with good pitches were key to hosting grade A matches.
He said FIFA was ready to work more closely with Nigeria to develop the game and host more grade A matches in the country.
"We (FIFA) have to make sure when a country, when a government with the President, the minister and private persons are investing in football, in stadia, we work with them to give something back.
"It's obvious that stadiums like this (MoshoodAbiola stadium) and others in Nigeria deserve the best quality games.
"They deserve top national team games, top club games and it's not just about Nigerian football or African football, it's about global football.
"We are working together to see what kind of new opportunities, competitions we can bring for men and women to fill this stadium and make the heart of the stadium beat for the fantastic spectacle that all of the Nigerian love, which is football," he said.
Earlier, the minister said the Federal Government will continue to invest in sports development and facilities.
Tidesports source reports that the FIFA President, in the company of the minister, had earlier visited President Muhammadu Buhari at the Statehouse, as part of his engagement.
Why NFF Must Offset Rohr's Salaries, Bonuses  – Aikhomogbe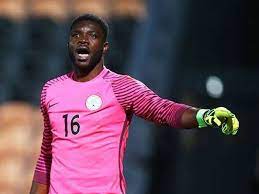 Former Nigerian goal keeper, Andrew Aikhomogbe has called on the Nigerian Football Federation (NFF) to resolve every outstanding salaries and bonuses owed to the Super Eagles coach, Gernot Rohr before the next World Cup qualifiers against Central Africa Republic (CAR).
Aikhomogbe made this known on the backdrop of the football body's recent deal with Baba Ijebu.
Although the financial details of the deal was not disclosed, Aikhomogbe in an interview with Newsmen from his base in Cairo, Egypt, stated that the NFF should use this platform to offset Rohr's salaries and bonuses.
"It's a big delight to know that the Nigeria Football Federation have signed a deal with Baba Ijebu and this will serve as an opportunity for them to use part of the money to pay Rohr's salaries and bonuses.
"There is no better time to motivate him than now before Nigeria's next 2022 World Cup qualifiers against the Central Africa Republic (CAR) on October," he said.
Enyimba Players Vow To Support  Finidi
Enyimba FC Goalkeeper, John Noble has stated that the players of the People's Elephants will be key to the success of the newly appointed coach of the team, Finidi George.
Finidi, signed a two-year deal with Enyimba and oversaw his first full training session with the team on Thursday after a cameo appearance on Wednesday.
Speaking in a chat with Tidesports source, Noble  gave his assessment of the coach in his first session under the manager and believes the former Super Eagles winger has what it takes to lead the team to the next level.
He added that the Enyimba players will be the ones to hand Finidi George his success at the club.