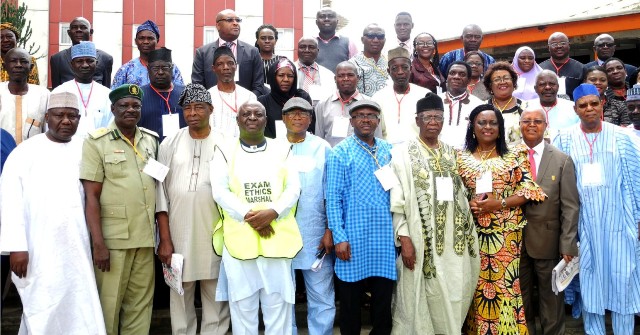 On many occasions, concerned public service stakeholders have drawn the attention of authorities to the importance of adhering to best practices in service delivery for national development.
Their concern is informed by petitions and protests that usually trail public service examinations, recruitment, confirmation and promotions.
They note that there ought to be a pragmatic approach to addressing and eliminating the causes of such petitions, protests and conflicts for acceptability of such exercises.
According to them, it is the only way to achieve the goals of inspiring, motivating, invigorating and encouraging high performance in public service.
Chairman, Exam Ethics Marshals International, Mr Ike Onyechere, observed that authorities should adopt new approach to solving the problem because most of the petitions ended up in courts of public opinion and courts of law.
"There is need to deconstruct contemporary rules, regulations and processes of public service recruitment, confirmation and promotion examinations, with a view to aligning them to global best practices.
"The development of nation-states are propelled or constrained by the quality, motivation and performance of their public service sector.
"One of the standard operating procedures for building and sustaining an inspired, invigorated, high performance public service sector is through recruitment, confirmation and promotion examinations,'' he said.
According to him, the exercises are to ensure that the best officers are identified, selected and employed for effective service delivery.
He, however, said that in order to inspire and motivate the workforce, critical stakeholders must accept the results of such examinations.
Similarly, to attain best practices in public service, the Federal Civil Service Commission has urged the ministries, departments and agencies of the government to ensure that the recruitment and promotion of civil servants examination are based on ethics, transparency and integrity.
The Chairman, Promotion Committee of the Commission Prof. Aminu Sheidu, says "the implication of transparency in an examination is that the examination should be scrupulous enough to bear stakeholders' scrutiny.
"It should be free from pretence or deceit and should be characterised by visibility or accessibility of information concerning the examination procedures, results and other outcomes to concerned stakeholders.''
Sheidu insists that maintaining an efficient standard would promote competence among public servants.
"The concept of ethics, transparency and integrity in an examination context has overall objective of quality, credibility and acceptability of an examination and its outcome.
"In maintaining ethical standards, all stakeholders, candidates, examiners, security operatives and the commission, for example, are expected to be honest.
"All forms of cheating, assisting others to commit an act of dishonesty, altering or interfering with evaluation instruments and documents, leaking examination questions and impersonating to write examination for others, among others, are all considered unethical,'' he says.
According to him, many examination bodies and institutions have often published and publicised code of ethics to guide all stakeholders.
Sharing similar sentiments, Head, Education and Research of Medical and Health Workers Union of Nigeria, Mr Ayegbe Ojonugwa, observed that ethics played a key role in identifying what should be done and how it should be done right, thereby bench-marking best practices in the system.
Ojonugwa noted that a lot of unqualified people had found their ways to the public service, thereby posing a great challenge to the system.
"We are in a country where a lot of things happen and you can say why; we have medical doctors, engineers, lawyers, who in the course of their practice, you see series of lapses here and there.
"You then ask could it be that the error started from training in the medical school or could it be that error in the system or that the students were not trained well.
"When these students are not trained well, they cannot give what they don't know to the society; so, this has a multiplier effects,'' he said.
He, nonetheless, advocated continuous campaign, advocacy and stringent conditions on issues that border on ethics of any profession.
He insisted that the system must be put on track by strengthening the institutions that would propel it to function.
But the National President of Medical and Health Workers Union of Nigeria, Mr Biobelemoye Josiah, attributed unethical practices in the administration of public service examinations to social decay and more permissive society, among others.
He said people were aware of unethical acts in such examinations, but certain communications created the atmosphere for people to commit crimes.
"Society's standards are lower; social decay; more permissive society; materialism and hedonism have grown as well as more quantity desires.
"Also unnecessary quest to succeed; current economic conditions, corruption, loss of confidence, general political ethics and climate are contributors to lower ethical standard,'' he observed.
Other factors he mentioned were greed; unnecessary desire for gain; selfishness and the lack of personal integrity among individuals.
Josiah noted that once the existing factors affecting ethical standards were addressed, the issue of having compromised public service promotion examinations would not occur.
According to him, sanity and uprightness in the conduct of public service promotion examinations rests on the applicant and the examiner as well.
"When examinations are conducted and the best among equals are certified and promoted, it will give a signal of the presence of future team of intelligent, experienced and capable hands.
"Such future leaders will in turn train and mentor the upcoming generation for a better tomorrow,'' he said.
Josiah also observed that ethical and unethical decisions in organisations, especially in the public service, were not made in isolation of the bureaucrats in diverse capacities.
"The onus then is on whoever is occupying any position at any level to form part of the positive chain, including the conduct of promotion examinations,'' he noted.
Josiah advised ministries, departments and agencies to uphold higher ethical standards to ensure better and effective service delivery in the country.
He said public disclosure, publicity, media coverage, better communication, increased public concern, public awareness, consciousness and scrutiny, among other values, would facilitate higher standards in public service delivery.
Nwachukwu writes from News Agency of Nigeria.
Jacinta Nwachukwu