Jonathan Warns PDP Over Chairmanship Choice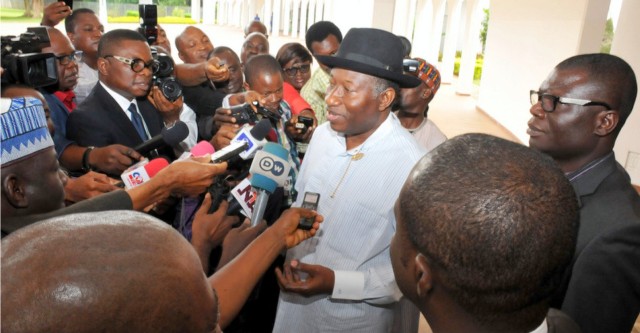 Former President, Dr Goodluck Jonathan has advised Peoples Democratic Party (PDP) members not to make the mistake of making wrong choice of National Working Committee (NWC) members at the December convention.
Jonathan gave the advice when he received an aspirant for the party's national chairmanship position, Chief Raymond Dokpesi in his residence in Abuja, yesterday.
He cautioned that the party could not afford to make mistake in choosing its next national chairman and publicity secretary, describing them as "very delicate positions''. "This time around, we need a very courageous and vocal person to be the chairman.
"There are two positions that we must not make mistake on – the positions of the national chairman and that of the national publicity secretary, because I have worn the shoes before and I know where it pinches.
"If we make a mistake as a party and elect wrong chairman and publicity secretary, we are finished," Jonathan said.
He said that PDP at this moment, needed courageous chairman, who in the face of persecution, would remain courageous to protect the party's interest and defend democracy.
"We need very competent person and a team player, somebody who will not negotiate to get money from the aspirants to make them candidates.
"If you do that, you have destroyed the party because a party must come up with programmes and policies that will elect the best of the best. "If you present the best material, the chances of your wining election are stronger than when you present a wrong material.
"We need such kind of chairman that will galvanise the national committee and also link up with state committees and do the best for the party.
"This is key so that by 2019 when we go for the general elections, PDP will have majority in the states and national assemblies and of course, PDP must win the presidency," he said. Jonathan, who said that the December convention would be keenly contested, urged chairmanship aspirants to see the exercise as a family affair.
"Whatever comes out, as faithful loyalists of the party, you should accept it. So, whoever is going to contest should have that in mind.
"Recently, I read that you met with one of the aspirants; that is a good spirit; no victor no vanquished. The winner must be PDP and not an individual." He also corroborated the view of the former military Head of State, Gen. Abdulsalam Abubakar (retd), on the need for the PDP to fully assume its role of opposition.
According to the former president, PDP must migrate from the ruling party to opposition for the purpose of stabilising the country's democracy. "I am not saying that as an opposition party, you must be saying anything you like, no. PDP is a very mature party.
"We will not go to the public and criticise anyhow but all over the world, the opposition party checkmates the ruling party so that things are done properly, so that there will not be impunity.
"If the opposition party goes to sleep, the ruling party can do anything it likes," he said. He, however, commended the Sen. Ahmed Makarfi-led National Caretaker Committee of the party, saying that they had done very well, especially during the period of crisis in the party.
Jonathan prayed for Dokpesi in his aspiration to become PDP chairman and described him as "a member who has done well for the party''.
He said that Dokpesi had used his resources to support the party, and "has shown so much commitment to the affairs of the party." Earlier, Dokpesi had urged Jonathan to ensure that the PDP came out of the December convention stronger and united.
He commended the former president's resilience and efforts in ensuring that the party's leadership crisis was resolved. "I am very positive that this party must come out of December elective national convention stronger and united to be able to give the needed opposition to the All Progressives Congress (APC).
"As our leader, you have to look for means to ensure that we come out of the forthcoming convention stronger and united," he said.
Dokpesi also visited Hajia Inna Ciroma, a former PDP National Women Leader and former Minister, who is also vying for the Deputy National Chairman (North) and her husband, Alhaji Adamu Ciroma. He was also at the home of Sen. Patricia Akwashiki, a former Minister.
Poor Performance: Wike Threatens To Sack Task Force On Street Trading …Pledges Support For Indigenes Who Invest In Rivers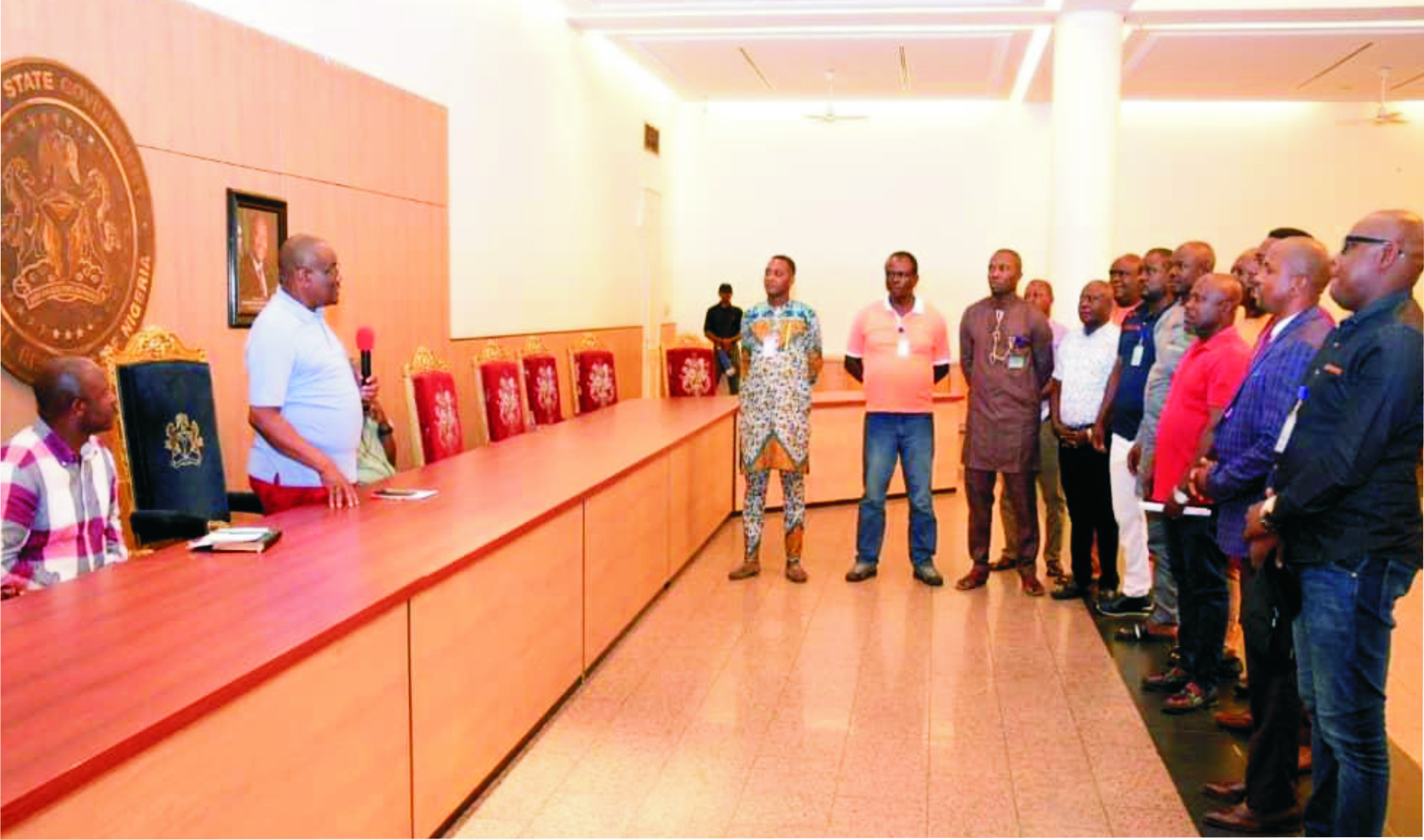 The Rivers State Governor, Chief Nyesom Wike, has declared that if the productivity of the Task Force on Street Trading, Illegal Markets and Motor Parks continues to decline, he would dissolve the task force.
Addressing members of the task force at the Government House, Port Harcourt, yesterday evening, Wike regretted that the operatives have compromised in some locations, negatively affecting their performance.
He said that the task force through reduced performance has allowed street traders to return to Mile One, Air Force Junction, Rumuokoro and Agip areas of the state capital.
He, however, praised the team operating in Garrison.
He said: "If the productivity of the task force continues to go down by tomorrow, I will dissolve the task force. We will not tolerate a situation where the progress we have made is reversed".
Wike warned the operatives of the Task Force on Street Trading, Illegal Markets and Motor Parks against acts of extortion, saying that they must focus on their official responsibility.
He said: "All acts of extortion must stop forthwith. Any operative found wanting in this regard will be sanctioned. There is no reason why you should receive bribes from defaulters".
The governor said that leaders of non-performing zones must rise up and work hard to ensure that the streets are free from illegal traders and motor parks.
He warned members of the public against physically assaulting operatives of the task force.
The governor noted that going forward; the state government would take measures to protect the operatives from criminal elements.
"From now on, we will change our strategy. We are going to activate communication outlets for immediate response whenever criminal elements attack the operatives. Security operatives will be on ground for rescue operations when the need arises.
"We must show that we are ready to protect the operatives at all times. We are determined to clean up our streets, stop illegal trading and improve all round security", he said.
Wike said that the task force started excellently, noting that they should not allow themselves to end badly.
He said that if this set fails, they would be shown the way out, and wondered why operatives would be complaining about their monthly allowances when they earn more than some civil servants.
Wike urged them to see their appointments as a privilege to serve the state and build their future.
The governor said it was the same way that some members of the State Executive Council complained that they were not getting anything from the administration, but they are now lobbying extensively to return to government.
He informed that an additional 200 operatives would have their biometrics captured, today, to strengthen the capacity of the task force.
Wike said that his commitment to return Port Harcourt to its Garden City status would not be compromised on any account, and reiterated that Rivers interest was his priority.
Meanwhile, he Rivers State Governor, Chief Nyesom Wike has assured that he would continue to support those who invest in the state with a view to strengthening the economy for the good of Rivers people.
Commissioning Vino Emporium in Port Harcourt, last Friday, Wike said that Rivers indigenes who invest in the state were true lovers of the state and people.
The governor said: "I am here to support Dr Abiye Sekibo for this investment. It gives me pleasure anytime Rivers people invest in the state. These investments generate employment for our people.
"He has supported the economy of the state, instead of standing aloof to de-market the state like others do".
He explained that Rivers people need to continue investing in the state because even after his constitutionally approved second term, the state will remain constant.
"After my second term, another person will become governor. Rivers State is constant and that is the reason why it should not be de-marketed by any Rivers son or daughter", he said.
The governor called on Rivers people to patronise the new recreational facility, for it to stabilise and grow.
In his remarks, Imo State Governor, Rt Hon Emeka Ihedioha said his visit to the facility was symbolic as it would cement the relationship between Rivers and Imo states.
He said that his victory during the election was made possible because Wike rescued the PDP and created a platform for Imo people to vote the party into power.
In his response, the Chairman of Vino Emporium, Dr Abiye Sekibo said that he decided to set up the facility because of the "Invest in Rivers" campaign of the governor.
Sekibo said that the facility was the first of its kind in the state.
He said wines in the facility were carefully selected to serve the good people of Rivers State.
The commissioning programme attracted notable personalities from across the country.
FG Vows To Review Broadcasting Code …Explains Why Govt Is Breaking Monopoly In Sector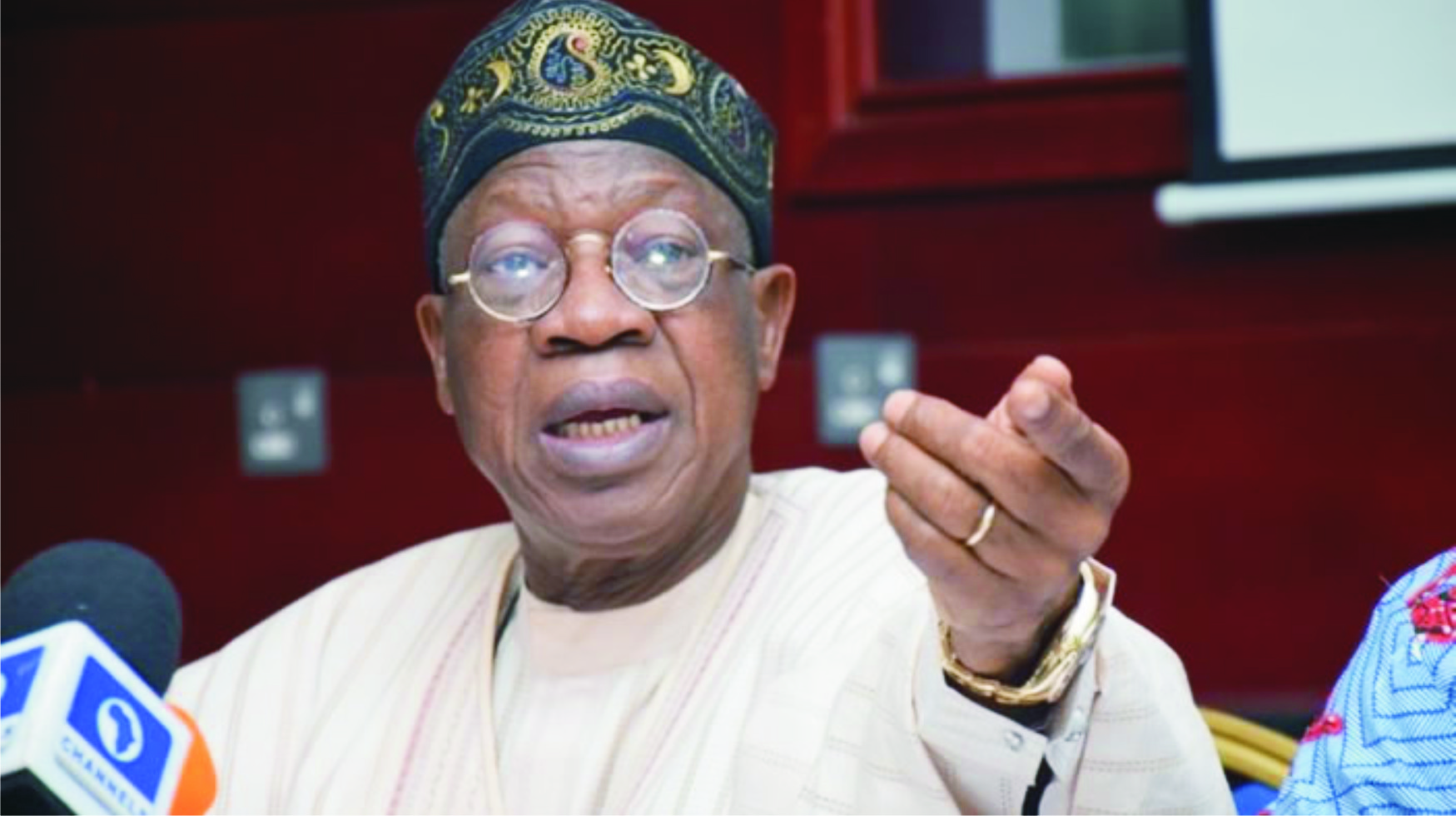 The Minister of Information and Culture, Alhaji Lai Mohammed says no amount of attacks, sponsored or otherwise, will stop the implementation of approved recommendations on reform of broadcasting code.
The minister stated this, yesterday, at a meeting with Online Publishers in Lagos.
"Let me be straight: No amount of attacks sponsored or otherwise, will stop the implementation of the approved recommendations.
"Only non-patriots and anarchists will kick against measures aimed at putting an end to fake news and hate speech, especially in our broadcast industry.
"Only those who are guilty should be afraid of the efforts to sanitize the broadcast industry. Responsible broadcasters have nothing to fear.
"This is not a move to stifle free speech or gag anyone. But purveyors of fake news and hate speech should not expect to sleep easy," he said.
The minister had on October 10 announced President Muhammadu Buhari's approval of the review of National Broadcasting Code and extant broadcasting laws to reflect stiffer penalties for violators of broadcasting regulations.
Mohammed, who inaugurated the National Broadcasting Commission (NBC) Reform Implementation Committee, added that the President also endorsed the implementation of reforms to end monopoly in the sector.
The minister, however, noted that since the inauguration of the committee, there have been attacks, many of them sponsored, from some quarters.
"As I speak, plans are ongoing to launch more coordinated attacks, with a view to truncating the implementation of the approved recommendations," he said.
He stressed that no responsible government would sit by and allow fake news and hate speech to rule the airwaves.
The minister stressed that fake news and hate speech have the capacity to exploit the national fault lines and trigger a national conflagration.
He reiterated that the Federal Government would continue to evolve ways to tackle the menace.
The minister recalled that he launched the National Campaign Against Fake News in July, 2018, in Abuja.
"While the national campaign has succeeded in putting the issue of fake news and hate speech on the front burner of national discourse, the menace has yet to go away.
"Let me be clear: we didn't think the issue will suddenly disappear, but we also didn't think it will get worse, which is what it is now.
"In fact, it remains a clear and imminent danger to the polity. It is in this light that we are once again asking you to join us in pushing this campaign," he said.
The minister enjoined the Online Publishers, to lead the campaign against fake news and hate speech, which he tagged as "the Siamese twins of evil".
"Gentleman, we expect you to remain in the vanguard of the efforts to tackle fake news and hate speech.
"We expect you to educate our people on the efforts being made, especially by the government, in this regard.
"This administration has no intention of muzzling the media or stifling free speech.
"Our campaign is against fake news and hate speech. And we will not rest until our media space has been rid of fake news and hate speech," he said.
The President had underscored the need to inject sanity into the nation's broadcast industry, following the unprofessional and unethical conduct of some broadcast stations, especially before and during the last general elections.
Highlights of the terms of reference of the reform implementation committee inaugurated by the minister included upward review of fines from N500,000 to N5million for breaches relating to hate speeches, inciting comments and indecency
"Wilful repeat of infractions on three occasions after levying fine on a station to attract suspension of license
"Upgrade of breach of political comments relating to hate speeches and divisive comments to "Class A" offence in the Broadcasting Code."
The committee is also saddled with the responsibility of amending the NBC Act to enable NBC license WebTv and radio stations, among others.
The minister also said that the Federal Government was determined to end all forms of monopoly in broadcasting because it is detrimental to the actualization of the immense potential in the industry.
The minister stated this on Sunday at a meeting with Online Publishers in Lagos.
Mohammed recalled that he, on October 10, inaugurated the National Broadcasting Commission (NBC) Reform Implementation Committee to, among others, implement reforms to end monopoly in the sector.
The committee was also mandated to implement the review of National Broadcasting Code and extant broadcasting laws to reflect stiffer penalties for violators of broadcasting regulations as approved by President Muhammadu Buhari.
"A situation where a few people corner a chunk of the industry to the detriment of others, especially our teeming and talented youths, is totally unacceptable and untenable.
"Monopolies stunt growth, kill talents and discourage creativity.
"The clearest example of the creative energy that can be unleashed when monopoly is totally broken can be seen in the telecommunications industry.
The minister added: "Of course, the broadcast industry has also been liberalised. But any vestige of monopoly is antithetical to the liberalisation of the broadcast industry and must be dismantled.
"In the case of Nigeria, it's the monopoly of content that breeds anti-competition practices.
"You cannot use your financial or whatever power to corner and hold on tight to a chunk of the market, preventing others from having access.
"Such monopolies are crumbling everywhere in the world and Nigeria cannot be left out.
With the implementation of the committee's mandate, television viewers, especially lovers of sports may witness an end to MultiChoice's monopoly on the live airing of high-profile sporting events.
High-profile sporting events, especially for well-loved sports, particularly soccer, are currently only available to subscribers of DSTV.
World Post Day: A Reflection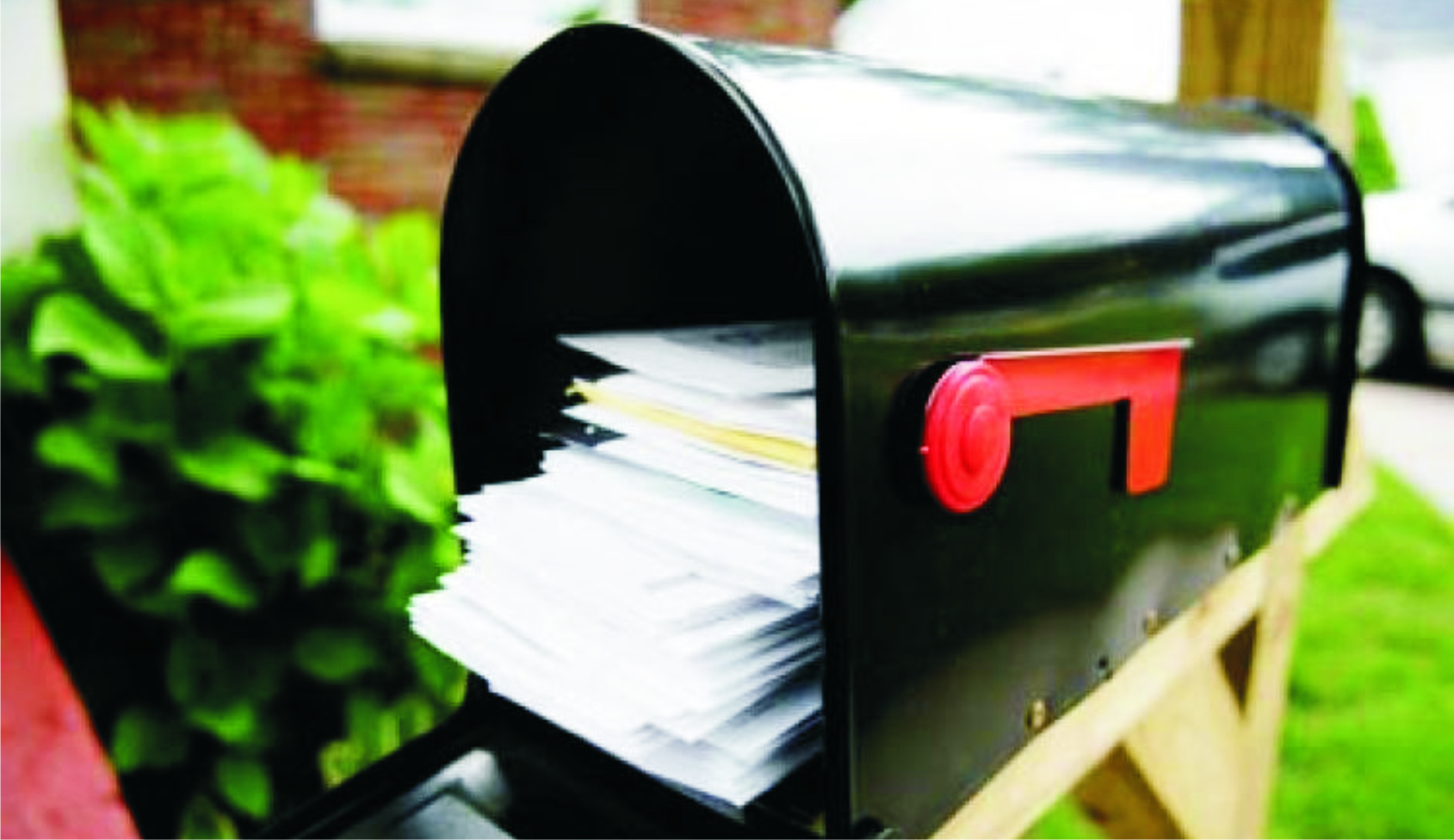 October 9 was observed globally as World Post Day. Although the occasion is past, it is necessary to say a few things about the experience of the older generations of Nigerians with postal services. There was a golden era of the popular P&T, humourously called "Palavar and Trouble, even though its services had to do with posts and telegraphy. Those who know what was to do business with P &T, coined the term befitting its operations as well as an appropriate term depicting the behaviour of its staff.
To say that someone is making "Post Office face" is depictive of rudeness and snobbery. Such work habit has been responsible for putting a number of people out of the labour market and kept some women single in old age. When a business organization alleviates its customers, it loses their patronage and sympathy. Old P & T was notorious for high-handedness, arrogance and snobbery towards its customers.
Perhaps, the change of its name to NIPOST was meant to launder its corporate image. Did it work?
By the time Nigeria became independent, P & T occupied an exalted and powerful position in the nation's economy. What was known as P & T Quarters could be likened to Aso Rock in the olden days. There were three most exalted government establishments anyone would work, namely: P & T, Nigeria Ports Authority and the Nigeria Railways. The era of oil boom had not come.
The prestige of these establishments was such that the Ports Authority and Railways had separate police units and quarters, and the P&T was the harbinger of sneaky spying into postal documents and telecommunications. Today, the story is quite different from what the past was. The decline in the Railways began with its chief executive having more official cars than any other senior civil servant in Nigeria. His reply when confronted officially was that: "I love cars". So, let it be with Dr Ikejiani!
Those who know about P&T training school in Oshodi in the first six years after Nigeria became independent, would testify that it was a beehive of activities, responsible for manpower up building. Communication experts in the armed and security forces had some forms of training there. Things began to change after 1966 and rather than talk about P & T and its roles in posted and telegraphic services in Nigeria, what we hear of today are internet and electronic communications.
Morse code is now an out-dated technology!
Of more relevance to the Nigeria public with regards to the obsolescence of the old wonders of the post and telegraphic service, is the issue of attitude of service providers. Yes, stamp and stamp duty remain relevant in business transactions and revenue generation. Even stamp collection was a creative hobby for youths in the past, but today, it is possible that some secondary school students may not have seen various stamps. Those who transact business and enter into agreements rarely know what role stamp should play.
What used to be known as cablegram in the past would sound like Greek to some Nigerians now. But modern telecommunications technology has made it possible for anyone to talk to other people anywhere on earth, and even see their faces as you discuss. When P&T was responsible for the installation of telephones, it was possible to wait for over 24 months before a subscriber could have a telephone in his home. Phone was a symbol of status.
Far more instructive is the fact that a communications military macho-man who later became a popular senator, once told Nigerians that telephone was not meant for everybody. Now we see children of the agbero-class of Nigerians make use of cell phones every day.
Workers in Nigerian postal services were readily associated with lukewarm attitude, coupled with arrogance and snobbery. For a public servant to be lackadaisical can be a disservice to an establishment. "Post-office face" phenomenon is not confined to workers in the postal services, but it is a serious attitudinal aberration quite common in public establishments. Neither are female workers alone in the exhibition of Irritating snobbishness.
One such snobbish university administrative officer learnt a bitter lesson when he was jolted by the discovery that the person talking to him was a professor on accreditation mission. Of more value is the fact that snobbish people miss opportunities that can come with being nice to strangers.
People exhibit and expose the quality and nature of their up bringing through the way they relate with others. Thus, the attitude of antagonism, confrontation and snobbery would draw similar reactions from those we meet daily. But it pays better to be polite, courteous and humble.
It cannot be said that the attitude of brashness and lack of courtesy among people can be attributed to current economic conditions. Neither is such behavioural pattern peculiar to any particular class of people or sex. What is worrisome is that lack of courtesy is becoming increasingly pervasive among Nigerians. Does military rule have anything to do with braggadocio and coarseness among Nigerian citizens? Maybe!
The history of postal services in Nigeria is quite an instructive one. We are reminded that we live in a world where change is a constant factor. Those pretty and handsome ones who made "post-office face" in the past must be quite old now, with wrinkled faces. As we think of the World Post Day, let us also remember that we can price ourselves out of market when we make too much "shakara" in our relationships with others. Politicians who forget that change is a constant factor in life should think of a Haitian idiom that those who live in the air cannot rest their feet on the ground. Good lessons from P&T!
Bright Amirize