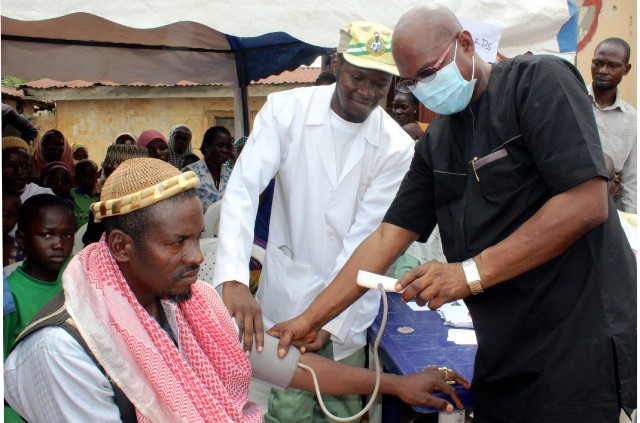 The regulatory body of doctors will decide on the Federal Government's decision on banning doctors in public service from engaging in private practice.
The Chief Medical Director, Lagos State University Teaching Hospital (LASUTH), Prof. Adewale Oke,  Ikeja made this known at the weekend in Lagos.
Oke, in an interview with newsmen  said that the Nigerian Medical Association (NMA) and the Medical and Dental Council of Nigeria (MDCN) would soon come out with clear positions on this issue.
Our correspondent  reports that the Federal Government had on October 11, after the Federal Executive Council (FEC) meeting, banned doctors in the public service from engaging in private practice.
Oke said that the matter would be addressed by the two bodies.
"The ban came up suddenly with many expressing different opinions. But for political reasons, it is advisable to have discussion with NMA and MDCN on the matter.
"They are professional bodies and the regulators of medical profession.
"So, they will at the appropriate time make their decisions known to the public.
"It is desirable for doctors to concentrate on residence, but if we have to consider other factors, in term of service, there may be different complexion and thought about it.
"We should engage in wide consultations on the subject matter, he said.
Also, in his reactions, the Secretary, Association of Resident Doctors (ARD), LASUTH Chapter, Dr Ajibola Salami said that the ban was a step in a wrong direction.
"The NMA and MDCN, as regulatory bodies, have set the guidelines for private practices for its members which are fair enough.
"The law, as stipulated by MDCN, says you cannot own a private practice, unless you are of 10 years post-graduation experience or you are a consultant or otherwise, a fellow.
"This regulation has been working without any barrier.
"We are therefore, not in support of doctors using the government time for private practice; that is unethical," he said.
Salami said that doctors on the payroll of government, but engaging in private practice during their official schedule, were cheating government.