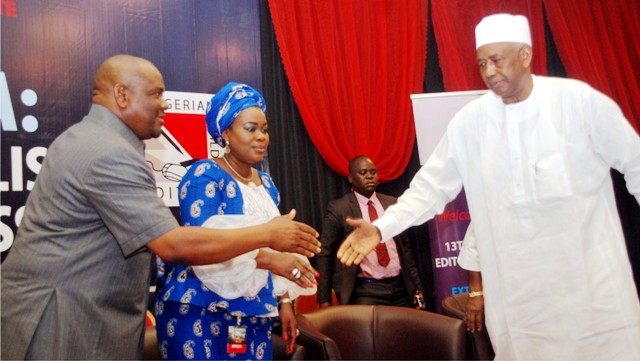 The All Nigerian Editors' Conference, an annual flagship of Nigerian Guild of Editors, chose "The Nigerian Media: Balancing Professionalism, Advocacy and Business'' as the theme of its conference held in Port Harcourt from September 20 to September 24.
No fewer than 400 editors across the country converged to brainstorm on the way forward for the country's mass media development.
Among other issues, editors brainstormed on ways of growing media organisations economically without compromising editorial responsibility of delivering qualitative contents capable of giving the country's media stamp of quality.
Some of the outstanding papers and discussions presented at the conference emphasised that editors were essentially content deliverer, gatekeeper and business developer to generate fund.
This position triggered arguments and divisions among the editors participating at the conference.
Some believed that indulging in the dual responsibilities of making money and handling content delivery could lead to a compromise and fall in the quality of reports served to the audience.
On another platform, some insisted that the editor must necessarily take steps to generate income through the introduction of business orientation and attitude to their job.
For instance,  publisher of the Interview and former Editor of the Daily Punch, Mr Azubuike Ishiekwene, said journalism in Nigeria could only be grown if editors adopted a single-minded focus on their editorial responsibility as well as their call to ensure quality and professionalism.
"To save our business, we have to focus on the single most critical thing we know best; journalism, or, to put it slightly differently, providing meaningful content.
"You can learn all the acts of balancing professionalism with advocacy and business, if you are an editor, but until and unless you get your journalism right and pursue it with single-minded focus; you will be wasting your time,'' he observed.
Ishiekwene warned that journalism would be thrown to problem and would seize to be what it is, if editors saw money-making instead of focused editorial delivery as their business.
"If journalism finds itself in trouble today, it's because we, the professionals, have sacrificed journalism on the altar of business and poor ethics,'' he warned.
But Editor-in-Chief, Citizens Trumpet Newspapers, Mr Chooks Oko, disagreed with Ishiekwene's position, describing the editor as both a manager and a gatekeeper.
In his paper entitled: "The Editor as a Businessman'', Oko said the position occupied by the editor in a news organisation placed them to take critical decisions that touch on the economic fortunes of such organisations.
The central message of Oko's paper was that the editor required the ability to take decisions that would generate revenue for the organisation while holding strong to the professional call to maintain ethics and ensure quality.
He urged editors to tap into opportunities that abound within the sector and ensure a clear-cut balance between such business opportunities and their editorial responsibilities.
He expressed worry that an average Nigerian editor saw appellation "businessman'' as "derogatory'', depicting a certain degree of greed to make money.
"It is generally seen as an alias for wheeler-dealing omnibus money makers without scruples; but we all can see that it is not the case in the real sense,'' he insisted.
According to him, for an editor to run a good show, he needs to combine his training and the instincts of a businessman to pull his company through while also making money for himself.
Oko suggested that editors should encourage commercial diversification to other areas of the business and ensuring that the best practices were respected in running such businesses.
Sharing similar sentiments, Managing Director of the News Agency of Nigeria, Mr  Bayo Onanuga, said the editor should get involved in strategic business thinking to generate more revenue.
He viewed the media industry as one having plethora of opportunities which must be harnessed for better content delivery, staff welfare and general organisational growth.
Onanuga noted that editors as managers should access opportunities provided by technology and take advantage of such opportunities to grow their organisations.
He said the media industry would do better if media managers considered diversification to businesses that had relevance to strategic sections of the society.
Onanuga's explanation notwithstanding, former editor of Weekend Pioneer Newspaper, Mrs Margaret Edem, said editors must be careful in mixing business with their jobs.
She warned that indulging actively in making money would lead to compromise in quality, content and credibility.
"Talking critically, won't there be contradiction for the editor to be a professional and at the same time the one making money for the medium?
"Editors have to take critical decision on contents delivery that would accord credibility and responsibility to the medium.
"The editor has to ensure sound content delivery, mixing this responsibility up can be tempting, media organs must be careful,'' she warned.
She observed that an organisation would fare better if the editor concentrated on the job and another person would do the job of making the money.
Similarly, a former editor of Sunray Newspaper, Mr Ifeatu Agbu, said the editor ought to first be a professional before attempting to be a businessman.
"My position is that we should first and foremost be professional in the discharge of our duty because that is the training of an editor.
"Now that we also have to make money while doing our job, we need to create the mechanism to inculcate business orientation in our members,'' he said.
His argument notwithstanding, Agbu observed that with the new orientation and awareness for business, journalists needed to be trained to mix business with the job.
Whatever may be the views of editors on the issue, analysts insist that getting neck-deep into business will compromise ethics, quality and content.
They also note that the media will fare better if Nigerian Guild of Editors as the organ at the pinnacle of media practice in Nigeria insists on high ethical standards in content delivery.
They believe that the essence of the media is to hold the government accountable to the people as contained in the 1999 constitution.
According to them, the tradition of the Nigerian press to resist oppressive governments and stand up to oppression will be lost the moment it places money-making ahead of editorial delivery.
Okeh writes for News Agency of Nigeria.
Azubuike Okeh