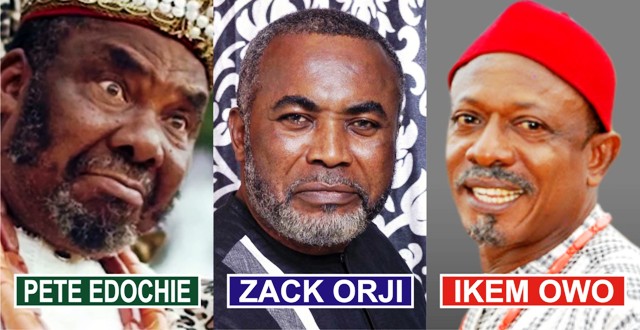 As Nigeria celebrates 57th independence anniversary as a sovereign nation today, it becomes pertinent to take a critical look at the performances of the two key sectors of the economy, culture and entertainment in terms of their contributions to the Gross Domestic Product (GDP) of the nation's economy.
In the area of culture, the National Cultural Policy launched by the Federal Government of Nigeria in September 1988, defined culture as ; "the totality of the way of life evolved by people in their attempt to meet the challenges in their social, political, economics, aesthetics and religious norms and mode of organisation, thus distinguishing a people from their neigbours".
Nigeria has enjoyed greater patronage of her cultural heritage since independence in 1960 with increasing documentation of folklore and traditions. The literary arts has witnessed a phenomenal growth, this has also given prominence to Nigerian authors and scholars within and outside the country.
These literary icons include Prof. Wole Soyinka, the first black writer to win the Nobel Prize in Literature in 1986, Chinua Achebe, Cyprian  Nwapa John Pepper Clark, Gabriel Okara, Abubakar Imam, Flora Nwakpa, John Sofola, Chukwuemeka Ike, Captain Elechi Amadi and Chimamanda Adiche, among others.
This positive development has encouraged script writers to have a reservoir of materials for film scripts used especially by Nollywood film producers. The high quality arts in the country represent the evidence of early civilisation and ancestral cultural heritage of the people patronised by tourists and royal fathers such as carvings, marble and iron objects and relics, ancient musical drums and other instruments.
The Nigerian landscape appears to be incomplete without works of art that are found in most public places and museums that tell tourists about the dominant cultural values and heritage of the people. Art exhibitions are held regularly to promote these works and generate revenue for the country.
Among the states that contribute to the development of arts, culture and tourism, Rivers State is at the forefront. The state is widely respected for her rich cultural heritage and traditional ways of life preserved in local customs, rich and varied handicrafts as well as historic monuments and sites.
The people's cultural heritage is also showcased through carnivals such as the Rivers State cultural festival, popularly known as Carniriv. Others include Aquatic boat Reggttas, such as the annual Opobo International Boat Regatta, Nwantam Festival, yam festivals, wrestling contests, masquerade and other cultural dances. These events attract visitors and tourists to the state annually to watch the Rivers State culture at its best.
The diverse cultural features of the country which are a manifestation of the socio-cultural differences of over 250 ethnic groups that inhabited the land for ages have attracted several international recognitions. Writers and performing artistes the world over are regarded as "cultural engineers" of the society and their contributions have given the country a global acclaim in terms of the development of indigenous cultural heritage of the people.
Another key sector in the country is entertainment. The Entertainment landscape in Nigeria encompasses music, movies and comedy. The industry is dynamic and viable as it has attracted local and international investors to the country.
A new report by Price Water House Cooper (PWC) has disclosed that the Nigerian entertainment and media market revenue which rose to $3.6 billion in 2016 would increase at a compound annual growth rate (CAGR) of 12.2 percent to $6.4 billion in 2021.
The development of music has its root in the culture and tradition of the various ethnic nationalities in the country. The peoples used musicto entertain themselves and important guests, celebrate important cultural events and other local festivals using traditional musical instruments like drums, gongs etc.
The era of modern music witnessed the emergence of indigenous high life music veterans and contemporary music genres such as hip hop Rythym and Blues (RnB), Dance hall, raga gyration traditional reggae beats etc. Those who championed high life music in Rivers State and were nationally and internationally acclaimed for their exploits include: Rex Lawson, King Sunny Brown, Prince David Bull and Jackwest Omodu, all of blessed memories.
In the modern comptemporary category are award winning artistes such as Duncan Mighty, Daniel Wilson, Kikis, Burna Boy, Muma Gee, Lady IB, Lexy M. Peter Stone Close, Oba Omega, Robin Maja etc, as well as their contemporaries at the national and international levels like: P-Square, D'Banj, Don, Jazzy, 2 Face, Timaya, Phyno, Tekno and Wizkid, among others.
The industry has waxed relatively strong over the years, turning in billions of  Naira into the Nigerian economy. The Nigerian music industry has the capacity to rule the airwaves of not only Nigeria but also the length and breadth of Africa and the world at large. It is also a glaring news that the number of stakeholders in the industry is ever increasing.
In the past few years, the growing numbers of new productions, studios and artistes have paved way for more vibrant and self sustaining industry. A lot of Nigerian artistes are already enjoying corporate sponsorship for their unique talents and achievements. Some have recorded land mark album sales, most times running into hundreds of thousands of copies.
Other artistes have won prestigious awards in international contests and events, hence attracting more and more investments from very many sources. The investments have no doubt aided the entertainment and cultural production of world class quality music as a result of innovations in sounds, rhythms and recording techniques with Nigerian traditional beats and instruments.
The Nigerian movie industry, popularly called Nollywood, is Nigeria's pride in the global market. Since 1990s, the Nigerian movie industry has emerged as a fast growing cultural force all over the continent of Africa.
Nollywood emerged in 1992 and quickly imposed itself as one of the World's largest film industries. Today, it comes just behind Hollywood of America and Bollywood of India. It is a unifying brand for practitioners who are prominently based in Enugu, Onitsha, Lagos, Abuja and Asaba, Delta State.
The movie "Living in Bondage", produced by Kenneth Nebue was the first movie that broke the jinx in indigenous movie production and set the pace in Nigeria. Nollywood with her sister, the Nigerian music industry is proceed to take the world stage by identifying its relevance and essence in filling the gap created by the dearth of quality productions.
Nollywood has established itself as a major cultural and economic force in Nigeria and the rest of Africa. Nollywood today boasts of impressive number of actors and actresses as well as film producers. They include Pete Edochie, Olu Jacobs, Francis Duru, Nkem Owoh, Patience Ozokwo, Mercy Johnson, Ini Edo, Rita Dominic, GenevieveNnaji, Omotola – Jalade, Ekeinde, Ngozi Ezeonu Chika Ike, Evi Esien etc.
Rivers State is not playing second fiddle in the make- belief industry, rather the state is leading the pack with some of the best talents in the industry. They include Dr Sam Dede, Columbus Irosoanga, Walter Anga, Gentle Jack, Hilda Dokubo, Tonto Dike, former GLO ambassador, Monalisa Chinda, Maureen Ihua, Amb. Milliscent Jack, Alaso Wariboko and former President of Actors Guild of Nigeria (AGN), Ibinabo Fiberesima, among others.
In the comedy sector of the Nigerian entertainment industry, stand up comedians have come to complete Nigeria's entertainment landscape. They dish out jokes and humour based on everyday experience of Nigerians to a wide variety of audience through direct stage shows or recorded VCD, DVDs in English or Nigerian pidgin.
Gone are the days when comedy was regarded as pass time for the unserious minds, uneducated and jesters who were paid peanuts for their funny jokes. Today, comedy has transformed to big business, turning its practitioners into millionaires.
Throwing up a huge industry with several direct investments opportunities and support services.
Among the most popular of these highly talented comedians are Gordons, Basket Mouth, 1 Go Dye, Klint D' Drunk, Bovi, Aporozo, Seyi Law, Helen Paul, Lepacious Bose and Funny Bone. Rivers State also parades wave making 'rib crackers' such as Julius Agwu, Prince Hezekiah, Angel D'Laugh, Dan D' Humorous, Rugged Pastor and Tekena Iyalla, among others.
The tourism sector is also bubbling with activities. The world tourism is defined as: "any activity that involves the movement of people from their normal place of residence and work for a period not less than 24 hours and not more than one consecutive year".
The purpose of which may be for sporting activities, leisure, recreation or for religious purpose.
Tourism is acclaimed all over the world as the fastest growing industry in Africa.
The potential of tourism in Nigeria is speculated to be much bigger than that of oil and gas.
Nigeria as a country is blessed with abundant human and natural resources as well as historic sites. The natural features of the country which readily attract tourists and other investors include warm sunny climate, fascinating beaches, ever green vegetations, etc.
Some of the tourist sites are Sukur Land Scape(Cameroon/Nigeria border), Zuma Rock (Along Kaduna/Abuja High Way) Olumo Rock (Abeokuta, Ogun State), Kura Falls (20s, Plateau State) Agbokim Waterfalls, Gurarah water falls (Niger State), Obudu cattle ranch (Calabar) and Ogunta Lake (Imo State) etc.
Others are: Ikogosi Springs (Ekiti State), Lekki Beach (Lagos), the Whispering Palm Resort (along Badagry Express Way), Yankari National Park (Bauchi State). Rivers State, rightly referred to as "home of tourism and hospitality", boasts of natural beaches, unique wild life, rich tropical and mangrove forests and friendly climate which make the state a tourist haven.
Some of the tourist attractions in the State are, the Port Harcourt Pleasure park, Isaac Boro Garden Park, Monument of King Jaja of Opobo, Upper Orashi Forest Reserve, Port Harcourt Zoological Garden, Port Harcourt Tourist Beach, Finima Beach and natural Park, Okirika Aquatic Stadium, Isaka holiday Resort etc. There are also several hotels, standard markets, Clubs and Cinema houses, amusement parks, etc.
The potentials of tourism in Nigeria is speculated to be much bigger than that of oil while oil has been described as 'God mine', tourism is said to be 'Diamond Mine'. It is one of the major foreign exchange earners in many developing countries of the world including Nigeria.
Although culture and entertainment in Nigeria has witnessed rapid transformation and growth, it is not yet Uhuru for the sector as many agree that among other challenges facing the creative industries. It is the structure to rely on in order to play a key role in the nation's economic growth.
However, President Mohammadu Buhari, represented by the Minister of Industry, Trade and Investment, Dr Okechukwu Enelamah in a recent summit held in Abuja themed "Repositioning Tourism in a Diversified Economy", stressed the Federal Government's interest to open up the cultural industry. He noted that the prosperity the culture and entertainment industry was brining to other countries indicated that Nigeria could no longer treat it with levity.
This is a welcome development for the practitioners and other stake holders to put their houses in order to enable them lunch the industry into the global market as a blossoming industry of global relevance to attract more revenue to the country and to serve as the nation's alternative to over dependence on oil and gas.