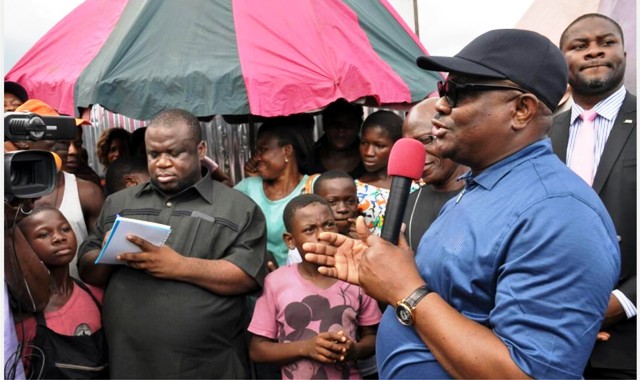 The Rivers State Governor, Chief Nyesom Wike has felicitated with Nigerians on the 57th Independence Anniversary, urging all Nigerians to be committed to building bridges of peace and development.
He congratulated all Nigerians on the successful celebration of the 57th Independence Anniversary, noting that despite the challenges of nationhood, Nigeria will continue to make progress.
In an Independent Anniversary Message, Wike declared that the government and people of Rivers State will continue to work for a united Nigeria.
He stated that the state was not part of any agitation for secession, pointing out that Rivers people were committed to one, indivisible Nigeria.
The governor reiterated his call for dialogue as a means of resolving all developmental, economic and political challenges facing the country.
He called for better security and justice for all federating units to give all Nigerians a sense of belonging and de-escalate tension across the land.
The governor assured all residents of Rivers State that his administration will always protect them.
While wishing Nigerians a peaceful 57th Independence celebration, the governor advised them to work diligently for the development of the country.
Meanwhile,  Governor, Nyesom Wike has called on Nigerians to use the 57th Independence  Anniversary to completely detach  themselves  from the uncontrollable lies of the ruling All Progressives Congress (APC).
Addressing market women at the Mile 1 Market in Port Harcourt on Saturday after inspecting ongoing projects, Governor Wike said that the APC  has failed Nigerians and there is no need giving them another chance.
He regretted  that APC promised Nigerians several projects, but none has been actualized after more than two years  in office.
Governor Wike pointed out that the Mile 1 being built by his administration  was one of the failed promises of the immediate past APC administration in the state.
He said: "APC is a party founded on lies and deceit. They make promises  without  any intention  to keep the promises. They lie without  remorse.
"Take this  Mile One market for instance.  The immediate past APC administration in the state promised to construct the market, but they failed the market women.  We promised to build the market and work is progressing."
The governor said upon completion of the market, the administration  will not allow street trading in that axis.
"I want to inform you that when we finish this market, street trading will not be allowed along this road. This  market will accommodate all of you", he said.
He charged  the market women to observe basic sanitation and support the contractors to deliver  on schedule.  He said the market will come on stream  by next  year.
Governor Wike inspected ongoing completion work at Woji-Akpajo Bridge and road, Dualisation of Elelenwo-Akpajo Road, Slaughter Road, Garrison-Trans-Amadi-Elelenwo Road, Produce House and  Mile One Market .