Nigeria @ 57: What The People Say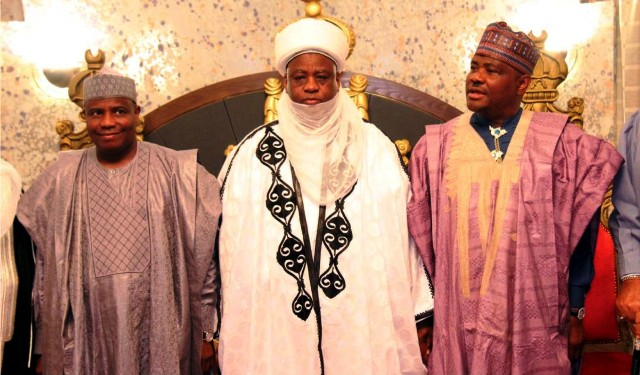 Exactly 57 years ago, the colonial rule of the Great Britain in Nigeria came to an end after years of struggle by some of our past heroes.
As always, today October 1, the country marks the anniversary of the great event.
But how has the country fared in these past 57 years? What can the citizens say about Nigeria at 57? Our Deputy Editor (Features), Calista Ezeaku sought answers to these questions from some Port Harcourt residents.
Excerpt:
Barr Emeka Onyeka: It is really good we are celebrating. It is really good we've come this far, but it is not yet an Eldorado. I think it calls for more of sober reflection than bonfire in the sense that it is really a good time for us to do a stock keeping, checking ourselves from 1960 till date, so far, how far? What have we done? What have we achieved? Are we making progress? Are we actually on a steady decline?
So for me, it's neither here nor there.
Sincerely,  I don't think this is a time to merry, given the present condition of the country. What really calls for rolling out of the drum is the happy mood of the people. When a greater number of the people are hungry, what are we rolling out the drum for? By doing so you will be irritating them. You will be angering them and if you don't take time, the anger might translate to action. I think what we need to do is for us to check ourselves, look at our people, which is the primary responsibility of the leaders and know wether the leaders have actually been fair to the citizens.
There are so many things that we have not gotten right in the past 57 years. The first one is fairness. Sincerely, people are not treated fairly.  I believe strongly that people should be treated fairly. Our resources should be distributed fairly. You know that fairness is justice. Appointment of individuals or groups to government positions should be done fairly to reflect the true federalism that we claim to have in practice. A situation where you see people in leadership acting with some sectional colouration, does not augur well for the nation.
Going forward,  for me I think it is a wonderful opportunity that we are one. I strongly believe that we should remain one. Being one is of great advantage.The greater advantage is there when everybody is treated fairly.
What I recommend is this, irrespective of where the president or  even the governor comes from, he should see every citizen of the nation or his state as one and the same and treat them as their children.  When you start treating some of the children as outsiders, naturally, you can never be fair to them. The President and the Governors should treat their subjects better than they are doing at the moment.
The strike and agitations that have been going on in the country for sometime now are anger in action. They are anger demonstrated, animosity displayed. People are not happy for one thing or the other.
You see a situation where those at the federal level are spending money as if others simply escorted them to the nation,  without having any stake in the nation called Nigeria. I mean it is annoying! Every person feels so bad. The workers are not paid adequately, and those who are elected to serve us are taking all and at the end of the day, we are all going to the same market. So how do you think the workers will feel? Naturally they will feel bad. The resources are not fairly distributed. Naturally the people, especially those from whose areas the resources are being generated, will feel bad.
So as a person, I strongly support restructuring. True federalism is what will make people sit up.
Mr Monday Johnson – Driver:
What I can say about Nigeria at 57 is that things are not moving on well in the country.  There is bad leadership.  Just look at the roads we ply here in Rivers State,  they are bad . The  East/West road is very bad. There is hardship every where.
Our hope is that with the Independence day celebration, there should be some positive changes.
We will be very happy if they can fix the roads and make life better for us.  Government should invest  in the education sector and also the health sector so that the poor people will have reasons to rejoice.
Miss Mercy Kaneh- Young School Leaver:
Nigeria today is a very difficult place to live in. Cost of living is so high, business is not flurishing. I help my elder sister with her business and I know how hard it is for her to sell her goods and even make profit. Look at me, I'm supposed to be in a higher institution but because of economic  hardship I couldn't go. So we want a change in this country.  I want better leadership that will make things easy for the people.
Mr Franklyn Obiene –  Public Servant/ Youth Leader:
There are many good reasons why we should celebrate Nigeria at 57. Because it is Nigeria's birthday, because we are alive, because we are a united country, we should celebrate. But the growing insecurity in the country is a big concern. People are no longer free to move around because of fear of the police, militants or political party fanatics. In other parts of the country, we have the IPOB challenge, the boko haram and other agitating groups. All these create tension in the country and make people feel unsafe.
So let government think of measures to tackle the problem of insecurity and what is making people to agitate. Let our leaders lead us well and then the people will follow.
They said, they are fighting corruption abi? Let them do it without fear or favour. Any corrupt person, no matter how highly placed, should be fished out and brought to book. Let government at various levels empower the youth.  It is said that the future of any country is in the youth but I don't see any attention being given to these future leaders.
Every administration that comes on board will tell you they will do this and that for the youth but at the end of the day, nothing is done. The situation still remains the same. Let them empower the youth, please.
Mr Salisu Musa – Businessman:
We thank God for keeping us alive to celebrate Nigeria at 57.  For me, l like as the country is now. The fighting has reduced. The tribalism issues are coming down. In Rivers State here, our roads are better. As Federal Government dey fight corruption, l like am. Government should create job opportunities for the people.
Many companies are laying off their staff, that  is not good. Government should build industries that will employ the jobless people. They should equip public hospitals.  Before now, they use to give us free drugs at the hospitals. Today, there is nothing like that anymore.
Mrs Ngozi Amadi – Teacher:
The country has come a long way. Struggling with challenges ranging from insurgency, militancy, Ebola, corruption and others.
A country where leaders have emerged with the sole motive of enriching their pockets and saving for their generations unborn. Being the most populous country in Africa coupled with the instigations from outside and within the continent, to mention but a few.
Regardless of these numerous challenges, Nigeria has remained integrated. Nigeria is a great country, I am proud to be a Nigerian. My advice to fellow Nigerians is to come together and let's fight all appearances of corruption at all levels and make this country an envy to the rest of the world.

IPPIS: Oil Workers Threaten To Shut Down, Sunday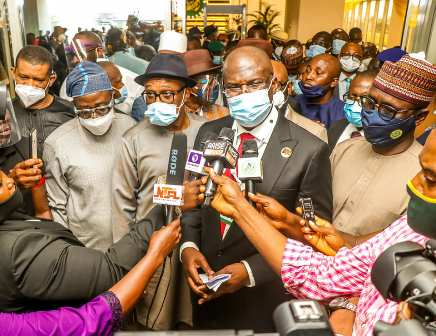 Senior oil workers under the aegis of the Petroleum and Natural Gas Senior Staff Association (PENGASSAN) and Nigeria Union of Petroleum and Natural Gas Workers (NUPENG) have threatened to shut down all oil operations by Sunday, if the Federal Government failed to pay their salaries latest today.
The oil workers, who had embarked on a peaceful warning protest since Wednesday issued the threat when they gathered at the Petroleum Training Institute (PTI), Effurun in the continuation of the agitation, yesterday.
The protesters, who adorned red T-shirts carried assorted placards with inscriptions such as "No To Forceful Enrollment into IPPIS"; "Release Our Salaries Now or No Dialogue"; and "We Are Not Against IPPIS but Create Another Platform That Address Our Peculiarities", amongst others.
Addressing the protesting workers, the Vice Chairman, Warri Zonal Council of PENGASSAN and Secretary of Regulators Forum, Prince Audu Oshiokhamele, warned that "if the salaries are not released by Friday, then all oil operations will be shut down by midnight of Sunday."
He declared, "I want to assure you, our union members, that if our salaries are not released before Friday (tomorrow), by 12 midnight, on Sunday we will shut down the whole nation. What we are just doing now is a warning protest but by Sunday, the music will change".
Also addressing the protesters, Oshiokhamele, who was in company of Mr. James Esiomor, PTI branch Chairman of PENGASSAN and Mr. Ejokirhie Jahpurpose, Chairman of PTI branch of NUPENG, expressed surprise that the Federal Ministry of Finance claimed ignorance of non-payment of their salaries in the last three months.

Rivers Commissioner Harps On Petroleum Prices Stability
The Rivers State Commissioner for Energy and Natural Resources, Dr Peter Meede, has stated the need for the Federal Government to ensure stability in the pump price of petrol in the country.
Meede said this while addressing the head of Port Harcourt Zone of the Petroleum Product Pricing Regulatory Agency (PPRA), Mr Ikien Sika, who paid him a visit in his office in Port Harcourt.
The commissioner said the instability in the pump prices of Petroleum products was responsible for the sharp practices some marketers engaged in.
He noted that the ministry would not tolerate the activities of dishonest marketers in the state, adding that it was not good for economic planning
According to him, "a situation where today we have a different price, next month we have a different price, the other month again you have a different price is not good for planning. We will not allow them to take advantage of Rivers people in terms of under dispensing of products, selling fake products that would undermine the security, safety and lives of Rivers people.
"I want you to collaborate with the ministry, let the people operating this industry in Rivers State understand that the ministry is alive and ready to support them to do their business but in a situation where they will compromise the standard of the product, we will not take that."
He furthermore, said that the state governor, Chief Nyesom Wike, had ensured a conducive environment for doing business in Rivers State, which he pointed out would benefit petroleum marketers and warned that any attempt to short change Rivers people would not be tolerated.
He said, "you can hear that there is problem in Lagos and other states, but th-e sector in Rivers State here is relatively safe, but we need that collaboration. You can see that we're partners in progress and we would appreciate that you continue to support us. A situation where people demarket Rivers State is over, the days where people would say 'don't go to Rivers state, is over. His Excellency has worked so hard to ensure that the environment of Rivers state, security of Rivers State, the economy of rivers state is on the front burner, that's why you see the best we were doing in ensuring that peace and other forms of businesses thrive in Rivers State.''
Responding, the head of Port Harcourt Zone of the Petroleum Product Pricing Regulatory Agency (PPPRA), Mr Ikien Sika said the agency was pleased with the peaceful co-existence between petroleum marketers and the state.
"We have to commend the governor and then of course the honourable commissioner, but there is still something and we have to tell ourselves the truth. In my house today I cannot open the windows, because of the soot. These are some of the things which I have noticed, but other things I was told that has actually reduced to a large extent", he said.
He observed that the fluctuation of pump prices in petrol is an indication that the federal government will soon deregulate the petrol sector.
On his part, the Zonal Chairman of the Petroleum Product Retail Outlet Owners Association of Nigeria, Prince Sunny Ugbe, said that federal government was wrong to allow petroleum product marketers to determine the price of petroleum products in the country.
Prince Ugbe also noted that the PPPRA recently increased Ex-depot price of petrol and left the marketers to fix the retail price
He called on the federal government to fix the moribund refineries across the country as part of measure to ensuring a smooth process of deregulation of the petroleum sector
By: Tonye Nria-Dappa

FG To Deduct Illegal Mining Fees From States' Allocations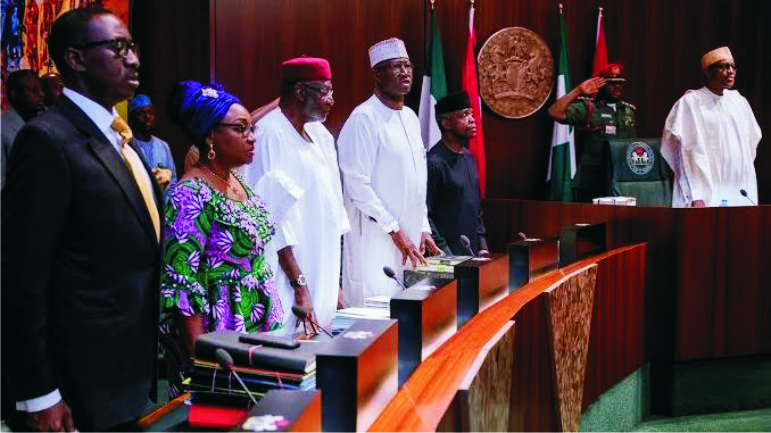 The Federal Government on Wednesday resolved that henceforth, it would be deducting any illegal fees imposed on mining companies by state governments from the allocation of such states.
It has therefore directed the Minister of Finance, Budget and National Planning, Zainab Ahmed, to begin to implement the directive.
The decision was reached at a meeting of the Federal Executive Council presided over by the President, Major General Muhammadu Buhari (retd.).
The Minister of Information and Culture, Lai Mohammed, disclosed this to State House correspondents at the end of the meeting held at the Presidential Villa, Abuja.
Mohammed said the decision was taken to eradicate double taxation in the mining sector and also gain investors' confidence.
He said, "On the issue of double taxation whereby mining companies are taxed by local and state governments, two decisions were taken.
"One is that the council directed the Minister of Finance, Budget and National Planning to deduct directly from federal allocations of states which have deprived Federal Government of Nigeria's revenue due to it by imposition of illegal taxes and levies on mining companies in their states.
"In other words, if a particular state engages in double taxation, you are imposing illegal taxes on a duly registered mining company, and it is reported to government, the Ministry of Finance, Budget and National Planning will deduct that money from your allocation.
"The intent is to ensure that we don't scare away investors, be they local or foreign. This will go a long way to reassure the investors that Nigeria is a safe place to invest now."
The minister added that FEC also directed the National Economic Council to dialogue with the state governors in order to make them understand that states can participate in mining as corporate bodies by registering companies.
He reiterated the position of the law that the Federal Government had the exclusive right to mine and manage all mineral resources.
Mohammed added that the Minister of Mines and Steel Development, Olamilekan Adegbite, who presented a memorandum to the council, also identified insecurity in certain parts of the country as one of the major challenges facing the mining sector.
He noted that in the North Western part of the country, mining had been suspended because of the activities of bandits and kidnappers.
He added that the industry was also faced with the problem of collision between some stakeholders, sometimes the traditional rulers.
He also reported certain decisions of past government in the area of storage of explosives that were used for mining.
Mohammed said, "Before now, the position is that any miner that wants to use explosives for mining must store them in either the military barracks or police facilities.
"So, he (Adegbite) asked for special dispensation to build special facilities at least one in each of the geo-political zones of the country. He also complained about extortion, the position of community development agreement, and the issue of many illegal miners."
The minister said the council noted that insecurity and illegal mining had led to a huge loss of money and directed the National Security Adviser, Babagana Monguno, to set up a special unit domiciled in Abuja to carry out targeted operations at identified and confirmed illegal mining sites nationwide.