Nigeria @ 57: What The People Say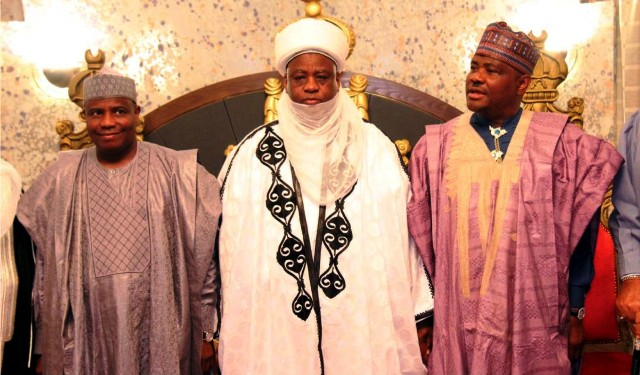 Exactly 57 years ago, the colonial rule of the Great Britain in Nigeria came to an end after years of struggle by some of our past heroes.
As always, today October 1, the country marks the anniversary of the great event.
But how has the country fared in these past 57 years? What can the citizens say about Nigeria at 57? Our Deputy Editor (Features), Calista Ezeaku sought answers to these questions from some Port Harcourt residents.
Excerpt:
Barr Emeka Onyeka: It is really good we are celebrating. It is really good we've come this far, but it is not yet an Eldorado. I think it calls for more of sober reflection than bonfire in the sense that it is really a good time for us to do a stock keeping, checking ourselves from 1960 till date, so far, how far? What have we done? What have we achieved? Are we making progress? Are we actually on a steady decline?
So for me, it's neither here nor there.
Sincerely,  I don't think this is a time to merry, given the present condition of the country. What really calls for rolling out of the drum is the happy mood of the people. When a greater number of the people are hungry, what are we rolling out the drum for? By doing so you will be irritating them. You will be angering them and if you don't take time, the anger might translate to action. I think what we need to do is for us to check ourselves, look at our people, which is the primary responsibility of the leaders and know wether the leaders have actually been fair to the citizens.
There are so many things that we have not gotten right in the past 57 years. The first one is fairness. Sincerely, people are not treated fairly.  I believe strongly that people should be treated fairly. Our resources should be distributed fairly. You know that fairness is justice. Appointment of individuals or groups to government positions should be done fairly to reflect the true federalism that we claim to have in practice. A situation where you see people in leadership acting with some sectional colouration, does not augur well for the nation.
Going forward,  for me I think it is a wonderful opportunity that we are one. I strongly believe that we should remain one. Being one is of great advantage.The greater advantage is there when everybody is treated fairly.
What I recommend is this, irrespective of where the president or  even the governor comes from, he should see every citizen of the nation or his state as one and the same and treat them as their children.  When you start treating some of the children as outsiders, naturally, you can never be fair to them. The President and the Governors should treat their subjects better than they are doing at the moment.
The strike and agitations that have been going on in the country for sometime now are anger in action. They are anger demonstrated, animosity displayed. People are not happy for one thing or the other.
You see a situation where those at the federal level are spending money as if others simply escorted them to the nation,  without having any stake in the nation called Nigeria. I mean it is annoying! Every person feels so bad. The workers are not paid adequately, and those who are elected to serve us are taking all and at the end of the day, we are all going to the same market. So how do you think the workers will feel? Naturally they will feel bad. The resources are not fairly distributed. Naturally the people, especially those from whose areas the resources are being generated, will feel bad.
So as a person, I strongly support restructuring. True federalism is what will make people sit up.
Mr Monday Johnson – Driver:
What I can say about Nigeria at 57 is that things are not moving on well in the country.  There is bad leadership.  Just look at the roads we ply here in Rivers State,  they are bad . The  East/West road is very bad. There is hardship every where.
Our hope is that with the Independence day celebration, there should be some positive changes.
We will be very happy if they can fix the roads and make life better for us.  Government should invest  in the education sector and also the health sector so that the poor people will have reasons to rejoice.
Miss Mercy Kaneh- Young School Leaver:
Nigeria today is a very difficult place to live in. Cost of living is so high, business is not flurishing. I help my elder sister with her business and I know how hard it is for her to sell her goods and even make profit. Look at me, I'm supposed to be in a higher institution but because of economic  hardship I couldn't go. So we want a change in this country.  I want better leadership that will make things easy for the people.
Mr Franklyn Obiene –  Public Servant/ Youth Leader:
There are many good reasons why we should celebrate Nigeria at 57. Because it is Nigeria's birthday, because we are alive, because we are a united country, we should celebrate. But the growing insecurity in the country is a big concern. People are no longer free to move around because of fear of the police, militants or political party fanatics. In other parts of the country, we have the IPOB challenge, the boko haram and other agitating groups. All these create tension in the country and make people feel unsafe.
So let government think of measures to tackle the problem of insecurity and what is making people to agitate. Let our leaders lead us well and then the people will follow.
They said, they are fighting corruption abi? Let them do it without fear or favour. Any corrupt person, no matter how highly placed, should be fished out and brought to book. Let government at various levels empower the youth.  It is said that the future of any country is in the youth but I don't see any attention being given to these future leaders.
Every administration that comes on board will tell you they will do this and that for the youth but at the end of the day, nothing is done. The situation still remains the same. Let them empower the youth, please.
Mr Salisu Musa – Businessman:
We thank God for keeping us alive to celebrate Nigeria at 57.  For me, l like as the country is now. The fighting has reduced. The tribalism issues are coming down. In Rivers State here, our roads are better. As Federal Government dey fight corruption, l like am. Government should create job opportunities for the people.
Many companies are laying off their staff, that  is not good. Government should build industries that will employ the jobless people. They should equip public hospitals.  Before now, they use to give us free drugs at the hospitals. Today, there is nothing like that anymore.
Mrs Ngozi Amadi – Teacher:
The country has come a long way. Struggling with challenges ranging from insurgency, militancy, Ebola, corruption and others.
A country where leaders have emerged with the sole motive of enriching their pockets and saving for their generations unborn. Being the most populous country in Africa coupled with the instigations from outside and within the continent, to mention but a few.
Regardless of these numerous challenges, Nigeria has remained integrated. Nigeria is a great country, I am proud to be a Nigerian. My advice to fellow Nigerians is to come together and let's fight all appearances of corruption at all levels and make this country an envy to the rest of the world.

ICT Skills'll Deliver Economic Independence To Nigerian Girls – NITDA
The National Information Technology Development Agency (NITDA) has said that if Nigerian girls are taught relevant Information and Communication Technology (ICT) skills at a young age, they will be set up for economic independence in future.
The Agency who made this remark through a press release signed by its Head, Corporate Affairs and External Relations, Mrs Hadiza Umar, joined the global community to mark the "Girls in ICT Day." The day which is marked annually on the fourth Thursday in April falls on the 23rd April this year.
In the statement, Mrs Umar said that the Agency is highlighting the need to promote technology career opportunities for girls and women in ICT, the world's fastest growing sector.
She said, "During this year's celebration, NITDA is drawing attention to the critical need for more girls and women to participate actively in the ICT sector of our economy. The International Telecommunications Union (ITU) had estimated skills shortfall of over two million jobs in the ICT sector within the next few years. This opens a huge opportunity for girls and young women who have the ability to learn Coding, Apps Development, Computer Science and other ICT related courses.
"This will not only make them ready for a successful career in the ICT sector, but ICT skills are rapidly becoming a strong advantage for students in just about any other field they might choose to pursue. With technology playing vital role in all manner of careers, from Arts to Social Sciences, and from Law to History, to Graphic Design, learning ICT skills at a young age will set girls up for economic independence. Furthermore, the ICT sector needs more girls and women and celebrating a day like this reminds us that ICT helps to improve the lives of people everywhere.
"It contributes significantly towards better healthcare, better environmental management, better communication, and better educational systems that transform the way children and adults learn. NITDA, in its proactive manner and in line with the National Digital Economy Policy and Strategy as well as in furtherance of bridging the gender imbalance in ICT in Nigeria, has embarked on series of Capacity Building programmes for women and girls across the country. Girls with ICT skills can expect to earn good wages and enjoy huge career opportunities.

Keystone Bank Disowns Ex-staff, Fake Investment Company
Keystone Bank Limited has alerted customers of the activities of one Mr. Obinna Onuselogu, who parades a company, Triple C Investment Limited, as an affiliate of the bank with the aim of defrauding unsuspecting members of the public.
The bank, in a statement yesterday, said Onuselogu, who used to be a staff, was no longer in its employ.
It added that anyone who transacts any business with him purportedly in the name of the bank does so at his/her own risk.
"Please note further that Keystone Bank is neither related nor affiliated to any company known as Triple C Investment Limited, which Mr. Onuselogu claims to be its chief executive officer.
"Anyone who transacts any business with him purportedly in the name of Keystone Bank does so at his/her own risk," the statement said.
It was learnt that the ex-staff has been using the name of the bank and its executives claiming to be in partnership with the bank with the intent of defrauding unsuspecting members of the public.
The bank said it was working on a legal process and security agents to put an end to the unscrupulous activities of the so-called Tripple C Investment and its agents.

Fishermen Union Warn Against Dead Floating Fish Consumption
The Bonny Indigenous Fishermen's Cooperative Union has set up a 20-man task force to work with the police and arrest any person or group of persons found with the polluted floating fish along Bonny sea and creeks.
President of the union, comrade Promise Bristol, made this known in a chat with newsmen in Bonny.
Bristol observed that a large quantity of different species of fish were found dead, floating on the sea, from the Atlantic Ocean to the communities and fishing ports in Andoni and Bonny Local Government Areas.
According to him, the species of fish included croaker, popularly known as "broke marriage", "shine nose", mackerel, among others.
Bristol lamented that the incident had brought untold hardship to the fishermen in the areas, saying that fishing is their only source of livelihood and appealed to government at all levels to come to their aid.
Bristol said the cause of the death of the fishes was unknown and warned members of the public against their consumption, pointing out that consumption of such fishes could be detrimental to human health.
Tonye Nria-Dappa