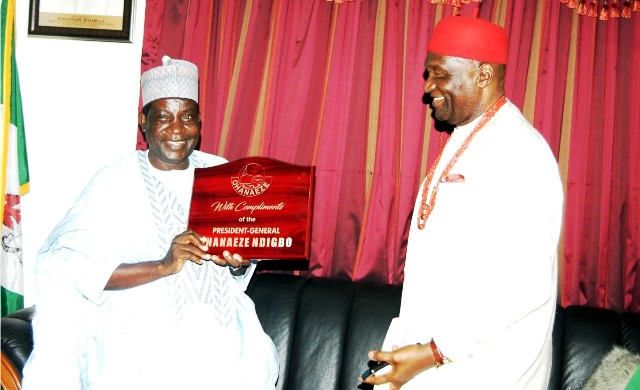 Borno
The Bama Initiative for Human Development, an NGO, last Sunday in Maiduguri staged a peaceful demonstration demanding the return of Internally Displaced Persons (IDPs) to their respective communities in Bama.
The group's Chairman, Alhaji Muhammad Hassan said that the IDPs would want to return and continue their normal activities in view of the prevailing peace in the state.
Hassan noted that about 70 per cent of the reconstruction and rehabilitation projects had been completed in the area, saying that they were tired of living as displaced persons.
"We are in Maiduguri for more than three years without meaningful means of livelihoods. The condition of our people is pathetic", he said.
FCT
The Minister of Information and Culture, Alhaji Lai Mohammed has said that as far as Federal Government appointments to public offices and key positions are concerned, the era of "godfatherism'' is over.
The minister stated this in Abuja last Sunday at a thanksgiving reception by the newly appointed Permanent Secretary in the Ministry of Information and Culture, Ms Grace Gekpe.
Mohammed, who was represented by the Managing Director of  News Agency of Nigeria (NAN),  Mr Bayo Onanuga stated that appointment to positions in the Federal Government "is strictly by merit''.
"Gone are those days when people were appointed into positions by other factors apart from merit.
"Most of us must have heard that the new permanent secretaries were asked to write examination; Gekpe was one of the very few that scaled through the examination", he said.
Kaduna
A philanthropist, Alhaji Suleiman Mohammed-Mijinyawa last Sunday says he plans to rehabilitate at least 1,000 drug addicts in Zaria, Kaduna State.
He said this in an interview with newsmen on the sideline of the weekly orientation and counselling programme for over 350 youth in Zaria.
Our correspondent reports that the programme which was organised by the philanthropist drew youths from 12 political wards of Zaria Federal Constituency.
Mohammed-Mijinyawa said the essence of the programme was to counsel the affected youth on the need to repent and become useful to the society.
Kano
Max Air Limited says it has so far returned no fewer than 23,000 pilgrims to Nigeria since the commencement of airlift of pilgrims after the 2017 Hajj in Saudi Arabia.
This is contained in a statement by the Airline's Public Relations Manager, Alhaji Ibrahim Dahiru in Kano last Sunday.
According to him, the pilgrims were transported back to Nigeria from the Holy land through various airports in 45 flights.
He said the airline had made seven trips each for Sokoto and Katsina States in addition to eight flights for Zamfara.
He said that the airline also made four trips for Kaduna pilgrims, three trips for Kwara, one for Kogi, while Kano and Nasarawa States had two trips each.
Kogi
A cleric, Pastor Ben Oluyemi of the Living Faith Church, Winners Chapel, Lokoja has advised Nigerians to love God unconditionally to enjoy supernatural breakthrough.
Oluyemi made the call in Lokoja last Sunday in a sermon, titled: 'Gateway to Supernatural Breakthrough; The Force of Love".
The cleric, who is the state Pastor of the church also urged Christians let the love of God reflect in their relationships with people via caring, sharing and praying for one another.
According to him, doing so will promote God's kingdom on earth.
Reading from the Bible, Oluyemi, who quoted the book of 1 John 4 : 8 and 16 to buttress his point, said, "He that loves not, knows not God; for God is love."
Lagos
Stand To End Rape (STER), an NGO last Sunday sensitised over 50 teenage boys and girls at Bogije community in Ibeju Lekki Local Government Area of Lagos State on prevention of sexual violence and early pregnancy.
STER Executive Director, Ayodeji Osowobi, told participants at Bogije Primary Health Centre that the campaign woud also help parents and community leaders in protecting the girls against early pregnancy so as not to jeopardise their future.
"To enhance their knowledge on dangers of having unprotected sex which leads to unwanted pregnancy,stigma and unsafe abortion.
"We decided to come to this community because we have many records of teenage pregnancy between 12 and 15 years old in this community", Osowobi said .
Nasarawa
Pastor David Tarva of Living Faith Church, Keffi has challenged wealthy Nigerians to spare some of their wealth for the needy.
Tarva, who gave the charge during a sermon last Sunday, said that it was a sin to throw away remnants while those in need were starving.
Using the analogy of Jesus asking his disciples to feed the people, he pointed out that humans needed physical bread, in addition to the spiritual food for the journey to eternity.
"People have to be nurtured spiritually and physically from hunger and poverty," he sad.
Niger
Some university  students in Minna have  expressed joy over the suspension of the one-month-old strike by the Academic Staff Union of Universities (ASUU).
They expressed the joy in separate interviews with newsmen in Minna.
Ms Rita Moses of the Department of Educational Services, Federal University of Technology, Minna described the suspension of the strike as the best thing in the nation's  education sector in recent times.
Mr Abdulkarim Mohammed of  the same institution also lauded the union's  decision, noting that students could now resume normal academic activities.
Oyo
A former Minister of Information, Prof Jerry Gana is to deliver the 9th convocation lecture of Ajayi Crowther University (ACU), Oyo,scheduled to hold on Thursday, October 12, 2017.
A Senior Assistant Registrar, Public Relations, ACU, Mr Alvan Ewuzie said this in a statement made available to newsmen in Ibadan last Saturday.
Ewuzie said that the politician and former minister of information would deliver a lecture entitled: 'Building a Culture of Academic Excellence in Nigerian Universities'.
He stated that Gana was expected to bring his vast experience in politics and the academia to bear in the lecture which was among the events lined up for the convocation ceremony.
Plateau
Governor Simon Lalong of Plateau State has sworn-in Justice Yakubu Dakwak as the Acting Chief Judge of the state following the retirement of the former Chief Judge, Justice Pius Damulak.
Speaking at the ceremony last Saturday in Jos, Lalong said that the swearing-in of Dakwak was in line with the provisions of the law.
"Today's swearing-in of my Lord, Justice Yakubu Dakwak, as Acting Chief Judge of Plateau, is in keeping with judicial precedence and the time-tested tradition of succession on the bench by seniority.
"Nature abhors a vacuum and so does the Judiciary. I have therefore considered it imperative to exercise without delay the duty of swearing-in an Acting Chief Judge for the state.
"Through the administration of the oath of allegiance in keeping with the provision of section 271(2) (3) and particularly sub-section (4) of the 1999 constitution as amended, the process for the confirmation or appointment of the substantive Chief Judge shall follow constitutionally laid down procedure and this shall commence immediately," he said.
Sokoto
The Sokoto State Government has built 50 new secondary schools based on demands by their respective host communities, according to the Commissioner for Basic and Secondary Education, Dr. Jabbi Kilgori.
Kilgori told newsmen last Sunday in Gudu that government's partnership with communities on education had continued to yield positive results on the sector.
He said that government had established consultative committees on educational development at state and local government levels, to streamline government activities toward maximum success of the state-of-emergency declared on education.
According to him, members of the committee included traditional and religious leaders, Parents Teachers Associations, community-based organisations, NGOs and selected individuals.
"The committees assist government on enrollment drive campaigns, mobilise parents on continuation of studies and carry out other forms of sensitisations including door-to-door contacts", Kilgori stated.
Zamfara
Troops of 1 Division of the Nigerian Army and operatives of the Department of State Service (DSS) have arrested two suspected illegal arms dealers along Funtua-Gusau road in Zamfara State.
Army spokesman, Brig.-Gen. Sani Usman said in a statement last Monday that preliminary investigation showed that the suspects were on their way to deliver ammunition to armed bandits.
Usman said that they were caught driving a Golf Volkswagen car with registration "number AWE-534-AA (Nasarawa) containing 1,479 rounds of 7.62mm (Special) ammunition."
According to him, the suspects are in  custody of DSS.
Usman said that troops deployed at Dangulbi in Maru Local Government Area of Zamfara also arrested three armed bandits while on routine patrol.

Bello's Gunmen After My Life, Family -Kogi Dep Gov
Deputy Governor of Kogi State, Elder Simon Achuba yesterday alleged that the governor of the state has sent gunmen after his life.
Acbuba called on the inspector General of Police, the Department of State Services (DSS), the Army and other security personnel to safeguard his life, family members and his aides.
Achuba, who spoke with newsmen at his official residence in Lokoja said, "From all information at my disposal, the governor has mobilised gunmen to attack me.
"I want the police, SSS, IGP to know that if anything should happen to me, my family and aides, the governor should be held responsible."
The deputy governor likewise called on the President to beam his searchlight on the state.

LGAs Responsible For Farmers, Herdsmen Clashes In Nigeria -UN
Zebulon Takwa, Peace and Development Adviser, Office of the UN Resident Coordinator in Nigeria, says poor Local Government administration is largely responsible for farmers-herdsmen clashes in Nigeria
Takwa, who gave the position in an interview with newsmen yesterday in Abuja, expressed concerns over "weak operational structures at the local government level''.
He said that issues that were supposed to be addressed by local administration authority were left unattended to over a long period.
The UN official noted that most of the issues that escalated to crises ought to have been resolved at the local level by the authorities, traditional and religious leaders.
He decried the situation where structures for such prompt amicable settlement were not effective enough to prevent conflicts.
Takwa condemned the situation where most local government officials migrated to urban centres instead of concentrating on their primary responsibilities of settling crises, developing infrastructure and social amenities, among others.

Reprisal Killing: Taraba Police, Tiv, Junkun Differ On Casualities
The Police Command in Taraba State has said that only one individual was killed in what appeared to be a revenge for the alleged murder of a Junkun man yesterday.
While the Tiv claimed that no fewer than nine of their kinsmen were killed in Takum town, Takum Local Government Area of Taraba State on Tuesday, the Police said the figure was not true.
Takum is the hometown of Governor DariusIshaku who turned 65 today.
Multiple sources in Takum said trouble started yesterday morning when a Jukun man was killed on his farm along Takum-Wukari road, and irate Jukun youths in Takum went on the rampage, killing at least eight people in the town.
A resident of Takum, Mr. Nathaniel Jato, in a telephone interview with our Correspondent said the eight people killed in Takum town were all Tiv resident in the town.
"We counted at least eight dead bodies around General Hospital Junction and Zenith Bank around the Wukari roundabout.
"We were told that many people were killed around Rimi Primary school area, but there is tension, so we can't go there.
"The Caretaker Chairman of Takum Local Government Council, ShibanTikari, has assured us that the situation will not escalate, but I am afraid the situation might degenerate if adequate security measures are not put in place," he lamented.
Jato, who said there was threat that their houses would be attacked in the night, called on Governor Darius Ishaku and security authorities to quickly restore peace in the area to pave way for proper investigation of the matter.