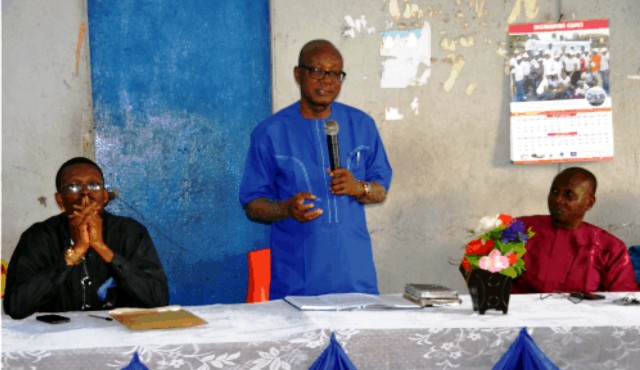 A cleric, David Omorimoye, yesterday urged the Federal Government to adopt whistle blowing policy to curb illegal importation of firearms.
Omorinoye gave the advice while speaking in Omu-Aran, Irepodun Local Government area of Kwara, during a prayer session for sustenance of the nation's democratic system and economic growth.
He explained that the development posed a threat to the nation's unity, peace and stability.
Omorinoye is also the chairman of the Pentecostal Fellowship of Nigeria (PFN), Omu-Aran chapter, and the pastor in-charge, Bible Faith Church, Omu-Aran.
The cleric, who spoke against the backdrop of the recent interception of illegal firearms at Lagos port, described the development as a source of concern to patriotic citizens.
He said the call for the adoption of whistle blowing was informed by the need for genuine information to unearth the syndicate behind the illegal dealings in the country.
Omorinoye, a former chairman of the Christian Association of Nigeria (CAN) in the local government, said the trend was a threat to the sustenance of the nation's highly cherished democracy.
The pastor noted that it required collective efforts of stakeholders to tackle illegal importation of firearms, saying "the implication extends far beyond the 2019 general election".
"The country is just coming out gradually from the threat posed by the insurgents in the North-East and also the agitation by a section of the country.
"So, candidly speaking, this incessant interception of firearms, thrice within nine months, has created palpable fears in the minds of law abiding and patriotic Nigerians.
"It is not out of place for the Federal Government to re-strategise by taking workable measure such as introduction of whistle blowing policy to unearth the culprit," he said.
The man of God added that such evil act required prompt attention of both the State House of Assembly and the National Assembly under matter of urgent and national importance.
The PFN boss urged the National Assembly to undertake review of the existing law guiding arms possession and importation.
Omorinoye said that there was a need for effective collaboration among the Nigeria Customs, Immigration Services and other sister security agencies to stop the ugly trend.
He advised the political class to be tolerant and shun acts capable of truncating the nation's nascent democracy.