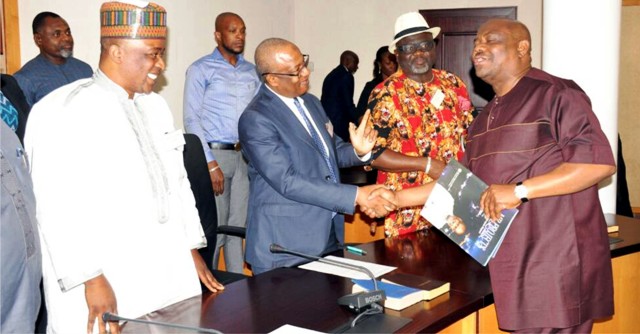 The Rivers State Governor, Chief Nyesom Wike, has accused the Central Bank of Nigeria (CBN) of denying the state the necessary funds that will stimulate the growth of the economy.
Speaking when he granted audience to the House of Representatives Committee on Banking and Currency and the Central Bank of Nigeria (CBN), last Tuesday, in Port Harcourt, Wike noted that his administration has already partnered with the CBN to support SMEs through grants.
He pointed out that the apex bank had over the years withheld funds that would benefit the state due to politics at the centre.
Wike used the visit to disclose plans by his administration to continue to support the Small and Medium Enterprises (SMEs) for the sustained growth of the state's economy.
He said: "As a state government, we have taken steps to support and improve SMEs in the state. Everything will be done to encourage entrepreneurship through legislation.
"Support for SMEs will empower more people and create jobs that will sustain a greater percentage of our people. We will continue to invest in SMEs", he added.
He commended the House of Representatives Committee on Banking and Currency and the Central Bank of Nigeria for coming to the state for their retreat, saying that they have emulated other groups who found the state a worthy host of important events.
The governor also called on politicians to work towards developing their respective communities instead of perpetually playing politics.
Wike charged all politicians in leadership positions to use their positions to impact the lives of the people.
He said: "Party is a mere vehicle to attaining office. Once elections are over, let us focus on projects delivery. Whatever you are doing, do it for the people".
Meanwhile, Wike has raised alarm over the deliberate plots to rig the 2019 elections, maintaining that the election manipulators will be resisted.
According to him, insecurity grew across the country because the Federal Government preferred to play politics with security challenges in Rivers State.
Chairman of the House of Representatives Committee on Banking and Currency, Jones Onyereri said that the retreat was necessary to forge a formidable front to build a framework that will grow the middle class.
The Deputy Governor of the Central Bank of Nigeria, Mr Suleiman Baro said the essence of the retreat was to facilitate the oversight function of the National Assembly.
He said that the CBN will continue to work with the National Assembly to strengthen the fiscal and monetary framework for the economic development of the country.