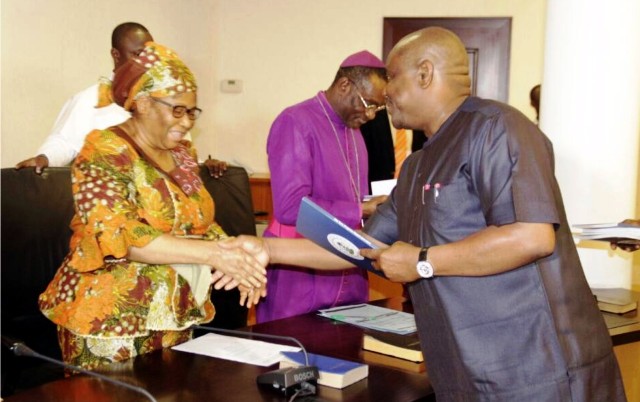 A political group, Islamic Sisters Association of  Nigeria, Rivers State, says it will work with other organisations to return Governor Nyesom Wike for a second term in office. State President of  the association, Hajia Maryam Nasiru, who said this during a religious peace carnival in Port Harcourt also called for harmonious relationship between Christians and Moslems in the state.
Nasiru said that Wike deserved a second term in view of the numerous development projects embarked upon within the last two years in the state.
She said that the religious peace carnival was meant to consolidate on the existing peace between Moslems and Christians in the state as the two groups are children of the same father, stressing that her group is reaching out to female Christian politicians with a view to forging a common front.
Nasiru who stated that the association had always supported good governance since the era of Dr Peter Odili  appealed for the inclusion of its members in the Moslem Pilgrims Welfare Board.
Also speaking, Sheck Abdulsalam Abdullah said that Christians and Moslems had a common origin, hence, should live in peace with one another.
Abdullahi also exonerated the islamic religion from the Boko Haram insurgency in the North East region of  Nigeria.
In his speech, Rev. Peace Nwobilor urged support for government to promote peace in the state, adding that as religious groups, promotion of peace should be paramount in their minds.
The cleric also urged both moslems and Christians to love one another  if they were descendants of Abraham.