Disu Warns Rohr On Tactics Against Cameroun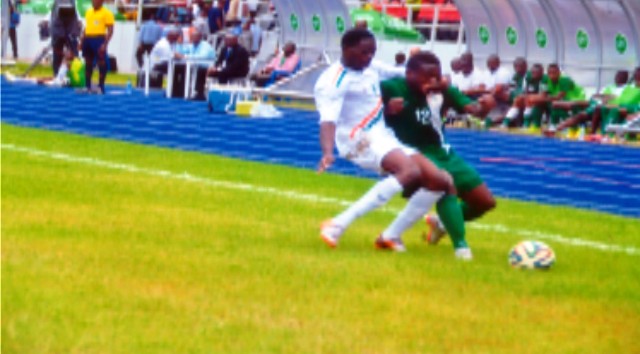 Former Technical Director, Nigeria Football Federation (NFF), Tunde Disu, warned Super Eagles coach, Genort Rohr against wrong tactics against Cameroun in the Russia 2018 qualifiers on September 1.
Disu told newmen in Lagos that, the team's tactical formation against South Africa in the AFCON qualifiers was wrong and should not be used again.
He said that the Eagles loss to Bafana Bafana in the AFCON qualifiers was due to wrong tactical formation, adding that the Indomitable Lions of Cameroun would be more tactical.
"The formation used by Rohr during the AFCON qualifier against South Africa is wrong tactics. He cannot use a supporting striker as an arrow head when using 4-3-3.
"Rohr should know that Kelechi Iheanacho cannot spearhead attack, that is not his role and that is why he is roaming about during the match against South Africa without a shot at goal.
"I want them to sit down and analyse the match themselves, that system is faulty because most teams can now predict the formation. If we use that selection and tactics, we will be embarrassed.
"Rohr should align with the modern tactics of play rather than stick with the old play which will not benefit us. We are too predictable now.
Disu said that, the players at the disposal of Rohr were good enough to accommodate another formation which was less probable to opposing teams.
"We cannot continue to use the 4-3-3 formation, it's outdated and counterproductive. We should rather play 4-2-3-1 which is far better for the defenders.
"The players determine the system and not the system that determines the players. It is better to have two defensive midfielders in front of the defenders, maybe if there is an overlapping one.
"Playing 4-3-2-1 formation also means that we need intimidating strikers like the late Rashidi Yekini to torment the opposing teams. We have Gbolahan Salami before but I don't know if he is not called.
"The lone striker may be very tall and strong to hold the ball up as his midfielders while full-backs join him in attack. The striker could also be very fast.
"African soccer is more physical and there is need for us to have a strong striker in the manner of Salami that can torment the defence of our opponent,'' he said.
Disu warned Rohr to be wary of Cameroun threat could pose to the Eagles' qualification, adding that a loss to Indomitable Lions would close the qualification ticket.
"I want the coach to be careful with the Cameronians so that they will not scuttle our chances; any defeat to them closes the qualification ticket.
"It does not matter where we are now because we won't be begging Cameroun to lose any of their games after defeating us.
"The Indomitable Lions are in form now and they are using the modern formation. Rohr needs to change that formation or else we will be out of contention.
"To beat those indomitable Lions, a very good top 9 will be a good option and not necessarily to score goals but to torment the defence line and maybe to create chances for others,'' he said.  Disu said that, other countries and clubs have been winning through the golden formation, noting that, countries that had yet to play the style were lagging behind.
Terony Unity Cup Commences Soon In PH
Terony Sports Foundation says arrangements have been concluded to commence Unity Cup 2022, at the end of this month.
According to the organizer of the football tournament, AminaTamuno, the registration that started December 2021will end next week Tuesday.
He said the competition was slated to take place at Number six field old Port Harcourt Township.
Tamuno explained that the competition will be on knock out bases, saying that the reason for the one month tournament was basically to foster the existing and unity in the area.
"We are organizing this tournament just to sustain the peace and unity we are enjoying.
Besides, will we use it to discover talents from the grassroots and groom them to stardom" Tamuno said.
He equally uses the forum to appeal to well-meaning individuals, corporation organizations and multi Nationals to Sports grassroots football Competitions so that talents will be discovered.
By: Tonye Orabere
NWFL: Coach Wants Players To Put More Efforts
The Head Coach of Rivers Angels FC of Port Harcourt Edwin Okon has tasks his (players) to do more if they want to qualify for the continental game.
He said that the Nigeria Women Football League (NWFL) is a strong one, adding that for them to make to super six they have to put in extra effort. .
Okon said this on Wednesday in his post-match interview with sports journalists shortly after his player whitewashed Abia Angels FC 4-0 in the match day four of the NWFL at the University of Port Harcourt Sports complex.
According to him, they need to put more effort to ensure that the team qualifies for Super six.
He thanked God for the victory, adding that they want to maintain their position in the league.
"First and foremost I want to thank God for the victory.
The league is a strong one but we want to maintain our position in the league.
We need to put in more effort in the game to ensure we keep to our task" Okon stated.
Despite the four goals scored the number one Female football Coach in the state, said that in every game there are mistakes adding, that he will still go back to the drawing board to perfect those grey area.
Also speaking the head coach of Abia Angels Ann Chiejine, blamed is goalkeeper for the loss, saying that she will go and do more of ball work.
"General my girls played well but we need to go back and do more of technical play," Chiejine said.
By: Kiadum Edookor
Open Trials 'll Create Opportunities For Youths -Hon Wobo
Port Harcourt based Football Club Sticmaclloyd, in partnership with 433 Football Agency of Ukraine, Germany football academy and Sports Mate 360 football academy of Poland says arrangements have been concluded to hold a two day Port Harcourt City Open Football Trials, between 17 to 24 years.
The open trials is slated to hold 29th -30th of this month at Sharks Football Stadium, Port Harcourt and expected to commence 6:00 am each day.
Speaking with Tidesports in an exclusive interview on Saturday, in Port Harcourt, the Chief Executive Officer (CEO) of Sticmaclloyd FC, Hon.Wobo I. Stanley, said the opening trials will create opportunity for talented footballers in the State to play in Europe.
According to Stanley, who was an ex international, selected players will also the have opportunity to enhance their football career in Germany, Poland, Ukraine and Italy.
"My club Sticmaclloyd Fc, is affiliated to 433 football agency, Germany, Poland and Ukraine football academies, besides, we have also signed Memorandum of Understanding ( MoU) haven fulfilled their requirements to ensure that selected players have good contract" Hon. Stanley said.
He further, revealed that players that will go to Poland will combine both studies and football.
"Our foreign representatives have already sent their coaches to do the selection" he stated.
Stanley uses the forum to advice youth in the State to come and show their talents.
"We are sure players that will participate in the trials that selection will be purely on merits. Players who did not make it this time can make it next time" he added.
By: Tonye Orabere