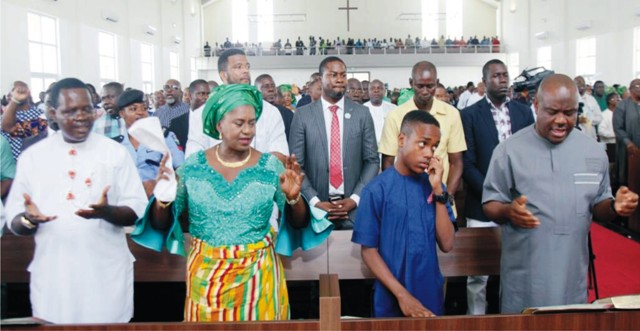 The Rivers State Governor, Chief Nyesom Wike says God saved the Peoples Democratic Party (PDP) from demise because of the sacrifices of the state.
Wike, who spoke at the special interdenominational thanksgiving service for PDP's victory at the Supreme Court, at the Ecumenical Centre, Abonnema Wharf Road, Port Harcourt, yesterday, said there was no "Plan B", hence, God intervened to save the party.
The governor noted that Rivers State was at the forefront of the fight to get justice, while debunking claims in some quarters that he was among those who were floating a new party, in case the matter goes in favour of the SenatorAli Modu Sheriff-led faction.
According to him, since the state relied solely on God, it was not surprising that God intervened, adding "I told God that we cannot have you and have a Plan B".
He continued, 'We don't believe in another alternative, and we know that God will see us through. One day, victory will come".
Wike stated that with Sheriff, the party was headed for the downward trend; hence, he and other party leaders had to fight to salvage the PDP from the doldrums.
He commended the judiciary for saving the country's democracy, stressing that, "the entire Nigeria has come out to accept the verdict because the ruling party never wanted opposition to thrive".
Wike enjoined PDP faithful to continue to have faith in God as the party has a lot to offer Nigerians, saying that, "With what we have done in this state, it's difficult for anybody to say that PDP will not win. So, we will continue to do more".
Commenting on the future of the party, Wike averred that there was room for reconciliation, and urged those who have left, including new members to join the party.
He enjoined members to commence mobilisation, while warning against discrimination against new members, pointing out that the party was big enough to accommodate everybody's interest.
Wike further assured that he and other party leaders will continue to support the Senator Ahmed Makarfi-led National Caretaker Committee in order to move the party forward.
Earlier in his sermon titled, "Between Reward of Divine Sunshine", the Rt. Ven Fyneface Akah said the Supreme Court judgement has demonstrated that God rewards those who are faithful.
Akah maintained that the thanksgiving service was a signal that the PDP has a divine leadership, which underscores the recognition by the governor, that God was supreme.
The Anglican vicar enjoined members and party leaders to see their victory as a mark of responsibility to serve the people, adding "We must work in such manner that we will give thanks to God all the time".
The thanksgiving service witnessed special rendition by the Choir and Solo group, including prayers offered for the state, the governor, party and the nation in general.