RSG Pledges To Support Nigeria's Scramble Team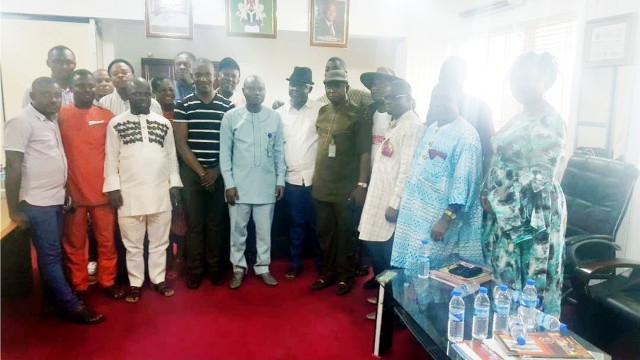 Permanent Secretary, Rivers State Ministry of Sports, Sir Michael Nnodi has said that the state government would assist the seven-man team that will represent Nigeria in the World Scramble Championship in Kenya in November this year.
He stated that the governor of the state, Chief Nyesom Wike is a sports loving person that has special interest in the development of sports, especially, at the grassroots.
Nnodi made the remarks when he received the World Scrabble Champion, Wellington Jighere, a Nigerian from Delta State and his team, on Friday, in his office, in Port Harcourt.
According to him, the state would definitely assist within her limited resources to ensure that Nigeria defends the title.
"On behalf of Rivers State government, I congratulate you in your various achievements, most especially for making the country proud.  To emerge as world champion in a highly educative game is commendable.
We will definitely assist you to attend the world championship," Nnodi said.
The selected scrabble players to represent Nigeria at the forthcoming World Scrabble Championship billed to hold in Kenya, November this year have been in intensive one week camping in the state.
Speaking, the state Director of Sports, Joshua J. Kio, expressed worries that the coach had not groomed much Rivers State indigenes, but said he was motivated by their multiple achievements.
"I expected more Rivers State players to be in the team, however I am motivated by your multiple achievements. I urged the team to put more effort and commitment because it is not easy to defend a title", Kio stated.
Earlier, the leader of the delegation, Prince A. Ikolo, who also doubled as the national and Rivers State Scramble Coach appealed to the state government for financial assistance to enable them attend the world championship. Ikolo explained that the players were poised to win the title back to back, as to make history.
"We are going to Kenya to win the title back to back, besides, the seven days camp in Port Harcourt has been so successful", Ikolo added.
Also speaking at the occasion, the World Scramble Champion, Wellington Jighere further appealed to the state government to help the team in any little way they could to enable them go for the competition.
Tonye Orabere
Terony Unity Cup Commences Soon In PH
Terony Sports Foundation says arrangements have been concluded to commence Unity Cup 2022, at the end of this month.
According to the organizer of the football tournament, AminaTamuno, the registration that started December 2021will end next week Tuesday.
He said the competition was slated to take place at Number six field old Port Harcourt Township.
Tamuno explained that the competition will be on knock out bases, saying that the reason for the one month tournament was basically to foster the existing and unity in the area.
"We are organizing this tournament just to sustain the peace and unity we are enjoying.
Besides, will we use it to discover talents from the grassroots and groom them to stardom" Tamuno said.
He equally uses the forum to appeal to well-meaning individuals, corporation organizations and multi Nationals to Sports grassroots football Competitions so that talents will be discovered.
By: Tonye Orabere
NWFL: Coach Wants Players To Put More Efforts
The Head Coach of Rivers Angels FC of Port Harcourt Edwin Okon has tasks his (players) to do more if they want to qualify for the continental game.
He said that the Nigeria Women Football League (NWFL) is a strong one, adding that for them to make to super six they have to put in extra effort. .
Okon said this on Wednesday in his post-match interview with sports journalists shortly after his player whitewashed Abia Angels FC 4-0 in the match day four of the NWFL at the University of Port Harcourt Sports complex.
According to him, they need to put more effort to ensure that the team qualifies for Super six.
He thanked God for the victory, adding that they want to maintain their position in the league.
"First and foremost I want to thank God for the victory.
The league is a strong one but we want to maintain our position in the league.
We need to put in more effort in the game to ensure we keep to our task" Okon stated.
Despite the four goals scored the number one Female football Coach in the state, said that in every game there are mistakes adding, that he will still go back to the drawing board to perfect those grey area.
Also speaking the head coach of Abia Angels Ann Chiejine, blamed is goalkeeper for the loss, saying that she will go and do more of ball work.
"General my girls played well but we need to go back and do more of technical play," Chiejine said.
By: Kiadum Edookor
Open Trials 'll Create Opportunities For Youths -Hon Wobo
Port Harcourt based Football Club Sticmaclloyd, in partnership with 433 Football Agency of Ukraine, Germany football academy and Sports Mate 360 football academy of Poland says arrangements have been concluded to hold a two day Port Harcourt City Open Football Trials, between 17 to 24 years.
The open trials is slated to hold 29th -30th of this month at Sharks Football Stadium, Port Harcourt and expected to commence 6:00 am each day.
Speaking with Tidesports in an exclusive interview on Saturday, in Port Harcourt, the Chief Executive Officer (CEO) of Sticmaclloyd FC, Hon.Wobo I. Stanley, said the opening trials will create opportunity for talented footballers in the State to play in Europe.
According to Stanley, who was an ex international, selected players will also the have opportunity to enhance their football career in Germany, Poland, Ukraine and Italy.
"My club Sticmaclloyd Fc, is affiliated to 433 football agency, Germany, Poland and Ukraine football academies, besides, we have also signed Memorandum of Understanding ( MoU) haven fulfilled their requirements to ensure that selected players have good contract" Hon. Stanley said.
He further, revealed that players that will go to Poland will combine both studies and football.
"Our foreign representatives have already sent their coaches to do the selection" he stated.
Stanley uses the forum to advice youth in the State to come and show their talents.
"We are sure players that will participate in the trials that selection will be purely on merits. Players who did not make it this time can make it next time" he added.
By: Tonye Orabere