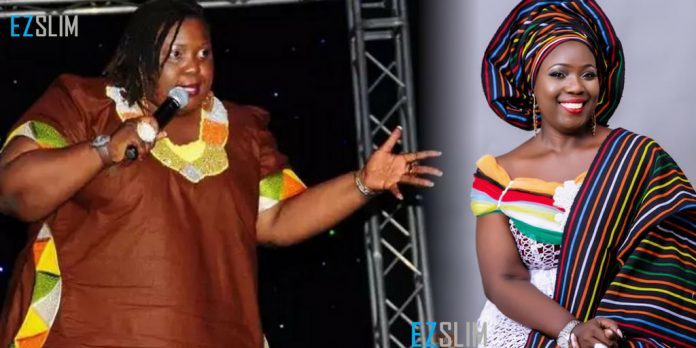 Have you seen Lepacious Bose lately? The actress, comedienne and healthy living advocate is trending all over social media because of her new look. Yes, Lepacious Bose is working hard at becoming a real lepa babe with the help of EZ Slim and a healthy lifestyle. If you are on a weight loss journey, about to start your weight loss journey or just want to develop a healthier lifestyle, then this article is for you.
Herbal Pro presents 7 simple daily routines that can help you lose weight and achieve a healthier life.
Drink a glass of water (sometimes with lemon) every morning. Start your day with a glass of water. Drinking water first thing in the morning helps cleanse your system and kickstart your metabolism. If you are on a weight loss journey, take a capsule of EZ Slim 30 minutes after your first glass of water. Remember to take your EZ Slim with plain water.
Eat breakfast. Breakfast is a very important part of your day. Breakfast provides us with energy and nutrients. A good breakfast should contain more protein, a good source of cholesterol and a considerable amount of carbohydrate.
Stay active. Stay active as much as you can. It could be a run round your neighborhood on some days, other times some minutes of cardio exercises, skipping, or yoga. Whatever it is, make out time to sweat for at least 30 minutes every day.
Eat mindfully. Snacking all day or not paying attention to how much you eat is harmful. Make smart choices when it comes to eating or snacking. You can nosh on: a basket of fresh fruit, baggies of sliced veggies, raw nuts or even a piece of dark chocolate in between meals. Skip the sugar and alcohol altogether.
Drink 2-3 liters of water daily. Water is filling and has zero calories. Cold water increases metabolism as well as keeps your body hydrated. You can also make your water tastier by infusing fruits into it thereby curbing your craving for soda and sugary drinks.
Keep busy. Have you noticed you eat more when you are idle? Ensure you have activities lined up daily so you stay busy and also keep the cravings away.
Avoid late-night munching. Due to busy schedules, some people consume the bulk of their calories late at night. This singular act can neutralize all your effort at weight loss and keeping fit. Try not to eat after 7.00 in the evening and always eat a light dinner. You will feel lighter and sleep better.
Find more tips on best weight loss practices on the HERBAL PRO BLOG
Lose More Weight for LESS this June in the EZ Slim Anniversary Price Slash. Buy EZ Slim for 9,000 naira instead of 15,000 naira. You can order online at www.herbalpro.com or call 08186108888 or contact us on Whatsapp +234 8183078888 to place your order.
What is EZ Slim?
EZ Slim is a revolutionary new herbal product that is extremely effective in helping you manage your weight. The magic of EZ Slim is that the founders have managed to develop a product that combines all the functions of other herbal remedies into one easy-to-swallow capsule.
How can you lose weight with EZ Slim and maintain your weight loss?
EZ Slim is a more than just a weight loss capsule. It is a wellness plan. EZ Slim combines herbs and other natural extracts to help you not only lose weight, but also encourages you to live a healthy lifestyle. This is important if you intend to keep the weight off. For example, EZ Slim helps you fight sugar and soda cravings, encourages good eating habits and also ensures you drink the required amount of water.
How does EZ Slim work?
EZ Slim works in three stages.
Stage 1: EZ Slim works by first putting your body through a period of detoxification.
Stage 2: Boost your metabolism to make sure that fat is being burnt quicker.
Stage 3: Weight Loss! By virtue of the above two stages, weight loss is often apparent within the first 5 days.
EZ Slim comes with a set of instructions that would guide you on how to get the best results while using EZ Slim.
 How do I use EZ Slim?
Using EZ Slim is simple. EZ Slim comes with a set of instructions in the box and we advise customers to read the information on the box as well as the instructions. In summary customers take one EZ Slim capsule in the morning before breakfast and drink 2-3 litres of water throughout the day. It must be said, however, by adopting a healthier lifestyle, one can improve and maintain the effects of EZ Slim. You can also watch this video to learn more about how to use EZ Slim and learn more about healthy living on the HerbalPro Blog
Be your own boss. Become an EZ Distributor.
Do you want to help others lose weight and live a healthier lifestyle, while at the same time make money? With EZ Slim this vision can become a reality. The EZ-Distributor scheme can help you become your own boss through the sale of EZ Slim. EZ Slim is the only weight loss product presently that guarantees its distributors mouth-watering income and benefits. If you are interested in becoming a distributor you can call, visit the Herbal Pro office or register online by clicking HERE. Herbal Pro will ensure that a member of its sales team gets back in touch with you within 24 hours.
Contact Herbal Pro on Whatsapp number +234 8183078888, call us on 08186108888 or send us a DM on Facebook or EZSlimNG on Instagram. You can also visit our office at 25b Ladoke Akintola Street GRA Ikeja, Lagos. We look forward to helping you achieve your slimming goals.