Prevail On FG To Clean-Up Ogoniland, Wike Tells UN …Receives Barako,Nwiebara Boundary Report …Warns Communities Against Threats To Peace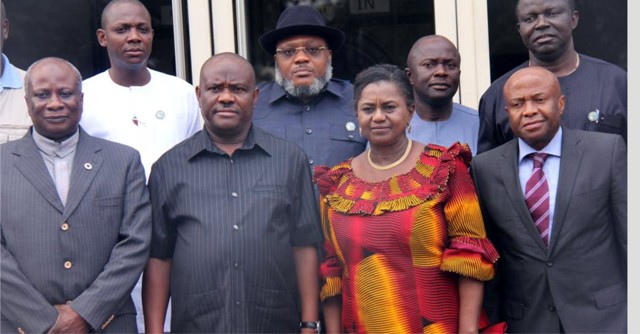 Rivers State Governor, Chief Nyesom Wike has called on the leadership of the United Nations to prevail on the Federal Government  to implement the clean up  of Ogoni-land, which was flagged off, last year.
Speaking at  Government House, Port Harcourt yesterday, when  he granted audience  to the United Nations Resident/Humanitarian Coordinator, Mr Edward Kallon, the governor regretted that nothing has so far been done on the Ogoni clean up.
He said that large scale environmental pollution in different parts of the state leads to  environmental degradation, which negatively  affects the sources of livelihood  of the people.
He said the clean up of Ogoni land should not be politicised, as it dwells directly on the development of the area.
The governor said, "yesterday in the Senate, somebody said that the Federal Government has not done anything as far as Ogoni clean up is concerned. When we were saying it, they said we were playing  politics.  But now, it has dawned on them that nothing is being done.  So, we urge you to intervene.
"Part of the problem we are having today is because of the lack of attention by the Federal Government when it  has to do with Rivers State.  We will  provide you with helicopter to see what we are talking about.  Don't only read it on papers. You will really pity us. "
Speaking further, Wike said, "the Federal Government has taken our oil and our environment has been degraded.  Nothing seems to be done.
"We urge you on your own part as the United Nations to impress on the Federal Government that this clean up is very serious.  Let it not be a political issue. We should not play politics with the lives of the people".
The governor also called on the United Nations to partner with the Rivers State Government  in the area of commercial agriculture.
He said because of the volatile nature of oil prices, investments in  commercial agriculture will help create jobs for unemployed youths.
Wike urged the United Nations  to provide a link for investors  in  commercial agriculture to come to the state, adding that his administration  will provide incentives  such as access to land and certificate of occupancy.
While soliciting for partnership  in the area of environmental sanitation, Wike declared that his administration places premium on the implementation of the Sustainable Development Goals.
He informed the United Nations  that his administration has improved security through the diligent implementation of the state amnesty programme.
Wike said that the state government  was working with relevant agencies to improve  human rights and decongest the prisons.
Earlier, the United Nations Resident/Humanitarian Coordinator, Mr Edward Kallon, had lauded the Rivers State Governor, Chief Nyesom Wike for his infrastructural  development, which has improved  the living condition of the people.
He said the United Nations  will continue to mobilise support for the development of Rivers State.  He assured that the United Nations will partner with the Rivers State Government in the area of agriculture as a tool of employment generation and empowerment.
The UN chief added that partnership will be developed  with the Rivers State Government in the areas of Sustainable Development Goals, improvement of security, environmental sanitation, promotion of human rights and prisons decongestion.
Meanwhile, the Rivers State Government has advised the people of Barako and Nwebiara in Gokana Local Government Area, Rivers State, to sheathe their swords and maintain the peace at all times.
The deputy governor stated this while receiving the summary/recap of report on Barako/Nwebiara boundary demarcation in her office in Port Harcourt, yesterday.
Banigo frowned at a situation where people take laws into their hands and destroy lives and properties because of land disputes, stressing that there are better options to resolve issues no matter how thorny they are.
"We must eschew violence because violence begets violence," she said.
This, according to her, underscores the reason for the setting up of the Barako/Nwebara Boundary Dispute Technical Committee made up of critical stakeholders to wade into the matter.
She expressed satisfaction with the work done by the committee, noting that the report will be forwarded to the State Chief Executive, Chief Nyesom Wike, for his approval and necessary action.
Also speaking, the Secretary of the Technical Committee, Engr Gloria Dans, who spoke through Mrs. Mercy Agetue, said the committee employed peace resolution processes such as negotiation and caucusing in hearing parties, and thanked the Chairman of the Rivers State Boundary Commission, Dr. Ipalibo Harry Banigo, for the opportunity to serve.
Earlier, the Surveyor General of the state, Noel Chikezie Elenwo, said issues of boundary disputes were not only peculiar to Rivers State alone, noting that the State Boundary Commission headed by the deputy governor is working within the confines  of the law in addressing  issues related to boundary disputes in the state.
He commended the efforts of the Wike-led administration in tackling boundary disputes, while advising members of the public to desist from employing the services of quacks in the survey profession.
It would be recalled that the Barako and Nwebiara communities in Gokana Local Government Area of the state have been locked up in a long battle over a piece of land for more than 80 years.
Justice Mary Odili Saved My Political Career -Wike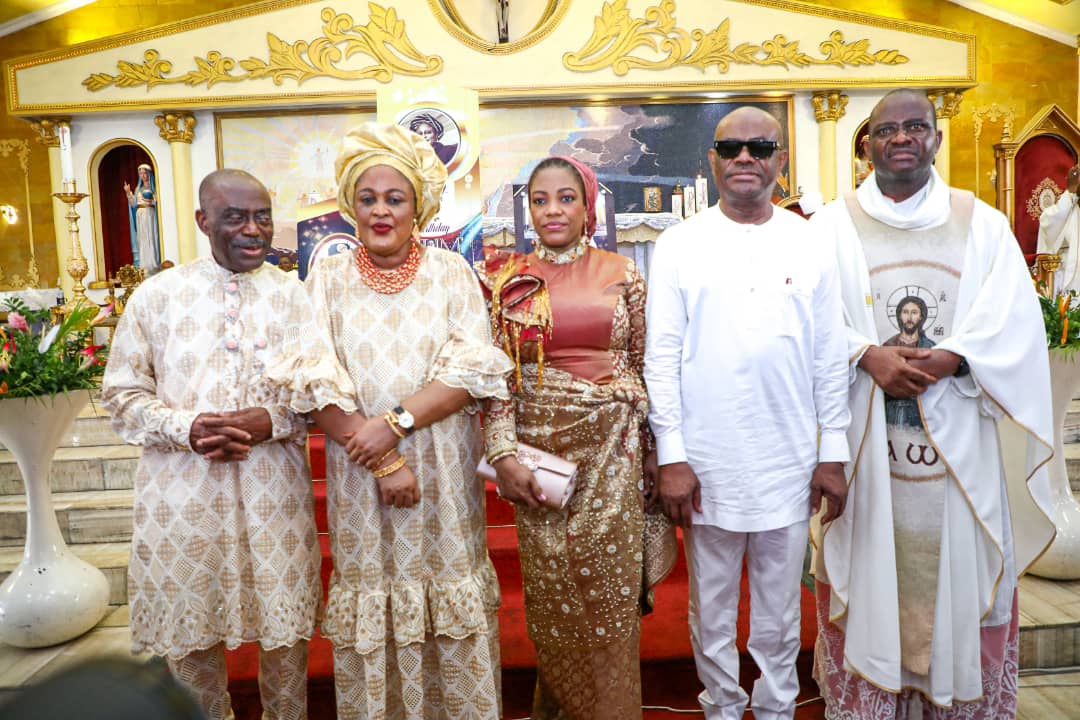 Rivers State Governor, Chief Nyesom Wike has said that he would remain grateful to Justice Mary Odili for her timely intervention that saved his political career in 2004.
Wike revealed this at the 70th birthday and retirement thanksgiving mass of Justice Mary Odili as Justice of the Supreme Court, held at Our Lady of the Holy Rosary Chaplaincy, Catholic Institute of West Africa (CIWA) in Port Harcourt, yesterday.
The Rivers State governor recalled how he cried to Justice Mary Odili when he got hint that his name was not included among those cleared to contest either as first term or second term chairmen of local government councils in the state
According to Wike, Justice Mary Odili listened to him, and took the complaint to her husband, Dr Peter Odili, who was the governor of Rivers State then.
Wike explained that the manner Justice Mary Odili presented the matter got her husband acting on it immediately.
He said, first, Dr Peter Odili invited the then Rivers State Peoples Democratic Party Chairman, Prince Uche Secondus, to confirm the observation, and thereafter, put a call across to the then National Secretary of the PDP, Chief Vincent Ogbulafor.
"In 2004, that time her husband was the governor, so, she was going to Bori Camp for women empowerment scheme. I was to run for second tenure as chairman of my local government (Obio-Akpor).
"Now, they were having lunch with her husband and the state party chairman then, Prince Uche Secondus. And, I was told that my name had been removed in the list. So, I ran down to Government House.
"She had finished her own lunch, left her husband and was entering the vehicle. I said 'mummy I'm finished'. She asked: what happened? I said they've removed my name.
"She ran back straight to her husband and informed him. Her husband asked who removed his name. At that time, Secondus had left. The husband then called the security at the gate; they stopped Secondus, and ask him to come back."
He further added: "That was how I went back as second term chairman. For me, I can't talk about my growth without mentioning her. If she was not around that day, to see the governor, you know is not an easy thing. Her being around that particular day saved my career in politics. And so, that was how I grew from there to become what I am today."
Wike noted a vital lesson of life he learnt from Justice Odili, which is the determination to build the capacity to be successful in one's career while not ignoring giving requisite attention to the family.
For Justice Mary Odili, Wike stated that there was a good balance she maintained that made her to succeed both in her career as a legal practitioner, a mother and wife in the family.
Wike said Justice Mary Odili had remained an embodiment of care and compassion because without relenting she treated everybody with dignity that they deserved.
"I have seen somebody who is very compassionate, and very caring. The moment you're around her husband, she takes care of you. She sees you as her husband's person and so she will always relate with you. Some of us are direct beneficiaries of the care through our relationship with the husband."
Wike commended Justice Mary Odili for the 44 years of meritorious public service, which he described as no mean feat.
In his homily, the Chaplain of the Chaplaincy at CIWA, Monsignor Pius Kii, exhorted on the physical and eternal benefits Christians derive when they love God, one another and their enemies.
Kii emphasised that living a life of love demonstrates faithful discipleship, obedience to God, and secures daily victory in life's endeavours.
Giving her speech, Justice Mary Odili described the joy she felt as unspeakable and a thing of honour to have Wike, as a sitting governor, doing a vote of thanks in her honour.
According to her, she and her spouse, Dr. Peter Odili have lots of things to always thank God, and will remain grateful to him because he gave them countless triumphs despite the challenges that they have encountered.
"The good Lord knows that Peter and I don't know how to properly thank God. Our journey in life has been such that the good Lord has always been there. There have been challenges, no doubt, but the good Lord did not promise us that we will not have challenges, tribulations or difficulties. But the good Lord has always stood by us and made us prevail in all those trials and tribulations."
Gunmen Kill Two Police Officers, Three Civilians, Injure Others In Bayelsa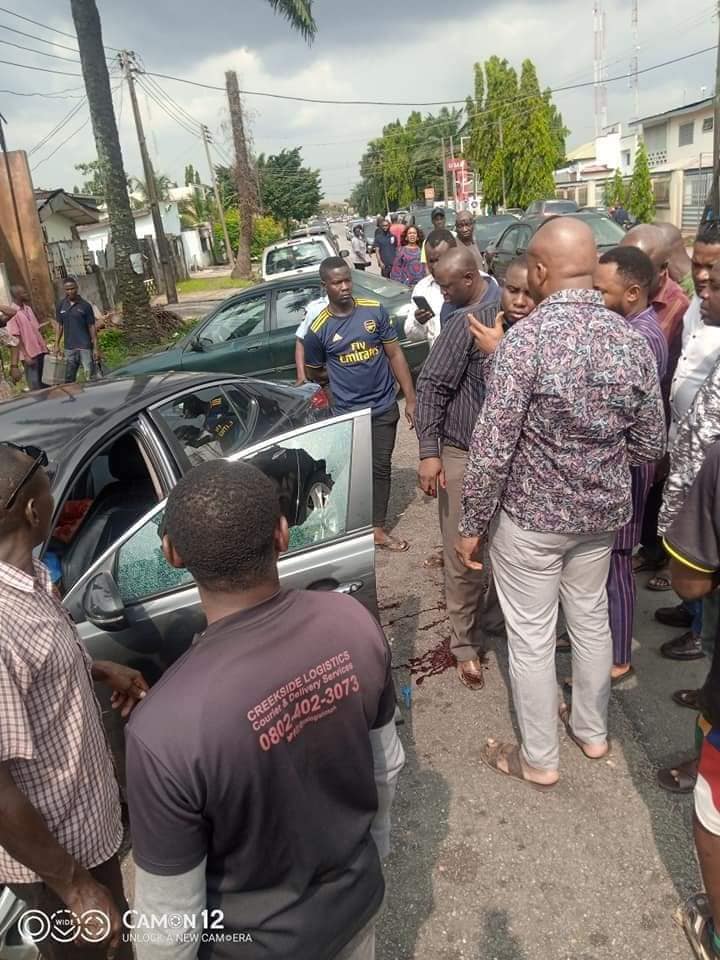 Gunmen, on Saturday morning, attacked and killed two policemen, three civilians, and left several others injured in Ogbia Local Government Area of Bayelsa State.
It was gathered that a vehicle conveying the police officers and some civilians were attacked by yet to be identified gunmen while coming from a colleague's burial.
In a statement, signed and sent to newsmen, yesterday, through the State's Police Public Relations Officer, SP Asinim Butswat, he stated that "On May14, 2022, at about 0745 hours, gunmen ambushed policemen serving at Rivers State Command, at Idema- Otuabagi Road, Ogbia Local Government Area, Bayelsa State, while returning from burial of a colleague, late ASP Gilbert Sampson, at Imago Kugbo, Rivers State."
The statement continued that, "the suspected gunmen opened fire at the vehicle conveying the police officers and other civilians. In the process PC Asuo Osuani 'm' and Special Constabulary Odeoye Sampson 'm', Mr Terry Lucky 'm', Jennifer Adejo 'f' and Asueroh Tobins 'f' were fatally shot and later died, while Inspector Urere Edwin, Rejoice Sampson 'f' and Reward Sampson 'f' sustained bullets injuries and are responding to treatment".
He said the Commissioner of Police, Bayelsa State Command, Ben Nebolisa Okolo, had ordered a manhunt for the gunmen who perpetrated the dastardly act.
Police Hold Medical Screening For 10,000 New Recruits, 'Morrow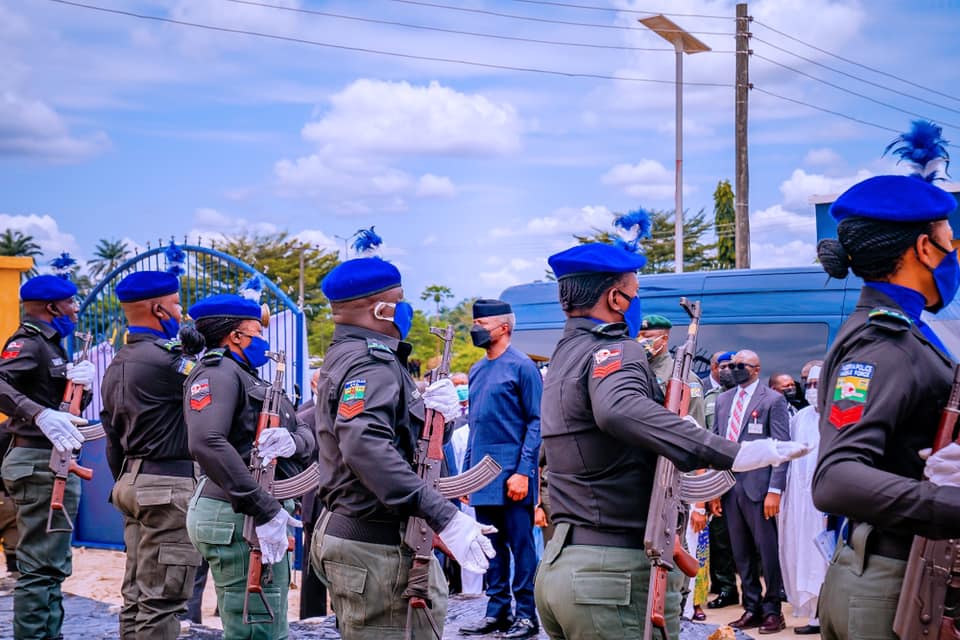 The Rivers State Police Command has concluded plans to begin medical screening of successful candidates for recruitment into the force as constables.
The successful candidates are expected to form part of the 10, 000 new constables approved by the police authorities to be recruited to boost manpower requirements for enhanced policing in the country.
A statement signed in Port Harcourt, yesterday, by the Ag, Police Public Relations Officer, Rivers State Police Command, DSP Grace Iringe-Koko, said that the screening exercise would run for four days from May 17 through May 20.
The statement read, "The Rivers State Police Command wishes to inform the general public, particularly indigenes of the state, who were successful in the recently conducted Computer Based Test (CBT) which took place on April 20, 2022 at Archdeacon Brown Education Centre Woji, Port Harcourt in the ongoing 2021 police recruitment exercise, that the next stage of the exercise which is the medical screening for successful candidates is slated to hold from Tuesday, May 17 to Thursday, May 20, 2022.
"Venue: Police Clinic Yenaqoa, Bayelsa State. Time: 0800hrs daily.
"Candidates who participated in the recruitment screening CBT are to check their application status on the recruitment portal, www.policerecruitment.gov.ngand print out their medical screening slip bearing their respective date and time of the screening, if qualified.
"Consequently, qualified candidates are mandated to come along with the medical screening slip, NIN Slip and must appear in white T-shirt on white shorts at the venue of the exercise.
"The Commissioner of Police, Friday Eboka, has congratulated qualified candidates of this penultimate stage of the recruitment process, while wishing them success in the screening exercise.
"He further warns them to conduct themselves in an orderly manner to avoid acts capable of undermine the exercise, noting that the exercise is absolutely free as directed by the Police High Command.
"They are also enjoined to call 08100004507 for further enquiries", the statement added.