Herbal Pro Combats Obesity in Nigeria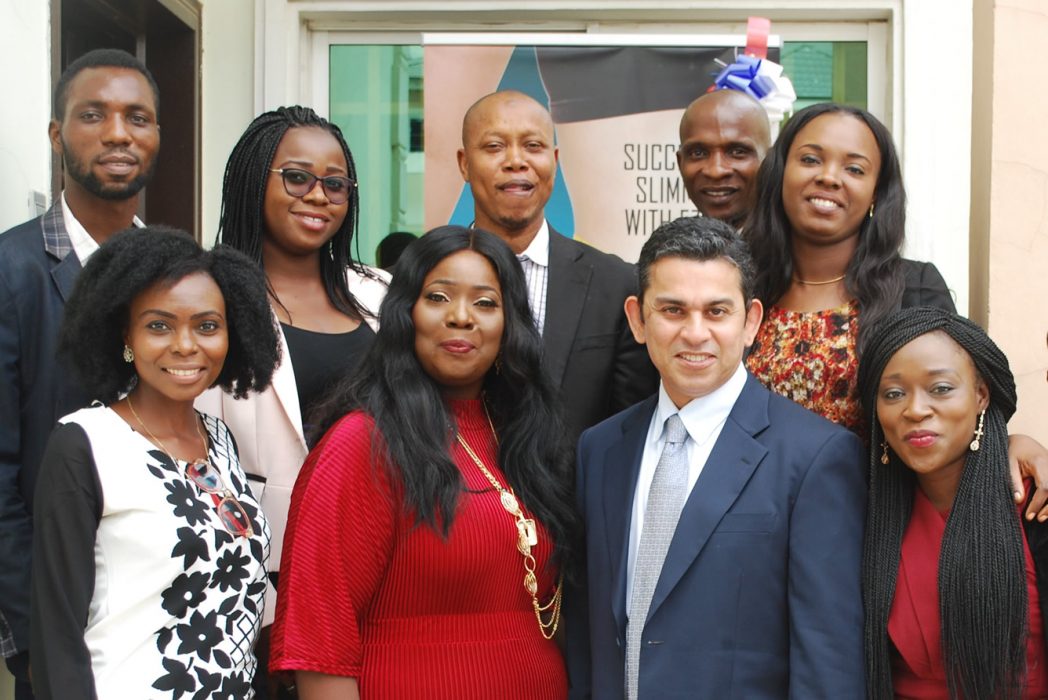 Unveils Nigeria's First Online Health and Wellness Newsletter at the Anniversary of Its Flagship Product EZ Slim.
Herbal Pro, an herbal solution company that focuses on providing prevention and improvements to the most prevalent illnesses and diseases through herbal products is set on improving the health of Nigerians by providing easy access to health-related information via Nigeria's first online health and wellness newsletter.
This was announced by the Managing Director, Mr Kishore Uttamchandani at a press conference during the anniversary of Herbal Pro's flagship product, EZ Slim at Ikeja, Lagos.
A previous study by Herbal Pro Limited showed that 89% of people suffering from high blood pressure, cardiovascular diseases and diabetes are either overweight or obese. The study also observed that people within the proper BMI (Body Mass Index) tend to manage and recover faster than those who are overweight.
According to Mr Kishore, a previous research by Herbal Pro pointed to the lack of insight about healthy living as one of the causes of obesity in Nigeria and the introduction of the online newsletter is aimed at providing information and advice on how to improve health through healthy living.
He said "there has been a significant increase in the level of internet usage in Nigeria. The internet is a key avenue for researching and passing on information. Being a company that is into health and wellness, we would like to use the newsletter as another avenue to educate, inform and advise Nigerians on how best to live a healthy life. We believe that a healthy lifestyle goes a long way to reducing cases of illnesses."
He also stated that subscribing to the newsletter is free. All you need to do is contact Herbal Pro via the phone numbers on the Herbal Pro website or via EZSlimNG social media handles.
Also at the event was comedienne and EZ Slim's brand ambassador, Lepacious Bose. Speaking with newsmen at the event, Lepacious Bose emphasized the importance of weight loss and healthy living. She said "Being obese or overweight exposes us to a lot of health-related issues. I advise every Nigerian to take healthy living seriously"
Herbal Pro also announced new initiatives such as the introduction of other herbal remedies aimed at improving health and wellness and a contact centre where people can speak with nutritionists, health and wellness coaches for free.
-Okwum Uchechukwu
Establish More Psychiatric Facilities, Expert Urges Govt
The Executive Secretary, Association of Resident Doctors, Federal Neuro-Psychiatric Hospital, Yaba, Dr Michael Osingun, has urged the governments at all levels to establish more psychiatric hospitals in Nigeria.
Osingun made the call in an interview with newsmen yesterday in Lagos.
He also decried "the poor state of the few existing psychiatric hospitals in the country", saying that most states in the country did not have a functional psychiatric hospital.
He said the establishment of more psychiatric hospitals was necessary due to the increasing cases of mental illness which seemed to overwhelm available mental health facilities.
The psychiatrist attributed the rising cases of mental illness to drug abuse, stress, economic downturn, unemployment, inadequate finances, depression and effects of the COVID-19 pandemic.
According to him, mental health services are barely accessible outside the state capitals, adding that there is also an urgent need to establish mental healthcare facilities at the grassroots level.
He noted that most mental health cases happened in rural communities where there were no mental healthcare facilities/psychiatric hospitals.
"That is why people will resort to taking the victims to prayer houses where the situation will be allowed to get complicated," he said.
Osingun said there were only about 10 psychiatric hospitals across the country adding that more should be established while existing facilities should be equipped with adequate human and material resources.
"Mental health needs to be given the seriousness it deserves by government, individuals and non-governmental organisations.
"Let the government subsidise the treatment of mental illness, establish more psychiatric hospitals to enable more mental patients to access treatment.
"This will go a long way to increase access to mental healthcare and prevent mental cases from degenerating and making them difficult to treat or manage," he said.
The psychiatrist said that the devastating effects of insurgent attacks, insecurity, economic hardships and other crises across the country had left several people in need of psychiatric evaluation.
He explained that although victims of those crises were often affected psychologically, little or no attention was given to providing them with health care to serve their needs.
He identified lack of political support, inadequate management, over-burdened health services and resistance from policymakers and health workers as some of the factors affecting the development of a good mental healthcare system in Nigeria.
He, therefore, urged the governments at all levels to prioritise the welfare of the citizens by ensuring that the basic necessities of life were made available and affordable.
"Mental health is as important as physical health. Mental health is the base of all health. For one to have health, he/she must be mentally stable. So, there's no health without mental health.
"But you find out that agencies of government and international organisations focus more on catering for the physical needs of the people rather than mental needs," Osingun said.
He also alleged that although Nigeria had a mental health policy the policy was not being implemented adding that such a policy should be reviewed and implemented.
'Family Planning Reduces Maternal Death By 30%'
The Association for the Advancement of Family Planning in Nigeria, says family planning has the potential of reducing maternal death by 30 per cent.
Chairman, Technical Management Committee of the association, Dr Ejike Oji, stated this in an interview with newsmen in Abuja yesterday.
Oji explained that family planning was the greatest fundamental investment for mothers and children.
"If you are able to space your children, you as a mother will be healthier and the children will be healthier too.
"The frequency of visiting hospitals will reduce and if you are working class person, you will have enough time for productivity," he said.
Oji, who reiterated the importance of family planning for families, said it was available in all primary health centres.
According to him, family planning services are free and have been made available by primary health centres provision fund.
"In each of the primary health centres in the rural areas, there is a family planning service which is free.
"Unless the community or rural area has no primary health centre, then family planning service may not be available," Oji said.
The medical practitioner called on women to avail themselves of services of family planning for a secured future.
According to reports, Nigeria's Contraceptives Prevalence Rate is 12 per cent according to the 2018 National Demographic and Health Survey.
Six Effective Home Remedies For Low Blood Pressure
Many people do not know that low blood pressure is dangerous, perhaps more fatal than high blood pressure. An optimal blood pressure reading is less than 120mm Hg and above 80 mm Hg.  The first number indicates the systolic pressure or the pressure in the arteries when the heart beats and fills them with blood. The second number represents the diastolic pressure which is the pressure in the arteries when the heart rests between beats. Low blood pressure or hypotension may cause inadequate blood flow to the heart, brain, and other vital organs. A sudden drop in blood pressure often occurs when someone suddenly rises from a lying down or sitting position. This is called postural hypo-tension and may cause light-headedness and dizziness. There are some home remedies for low blood pressure that you can employ in order to deal with the symptoms of erratic blood pressure. But if you've been feeling the following symptoms for a while, consult your doctor and get your blood pressure measured: fatigue, light-headedness, dizziness, nausea, clammy skin, loss of consciousness, blurry vision.
Once your doctor confirms that your blood pressure is low, follow his advice and take medication if required. A healthy low blood pressure diet is important for low blood pressure treatment. Along with that, here's more homely help. Your diet plays a crucial role in maintaining your blood pressure.
. Eat small portions frequently: Healthy snacking sessions in-between the major meals of the day to avoid long gaps. Eating small portions several times of the day helps in preventing the sudden drop in blood pressure that one may experience after meals. So, if you are eating three full meals a day, it would be better to rather have them distributed in to five small meals a day. This one's a great home remedy for also people who have diabetes.
. Have adequate salt: Excess salt is bad, but on the other hand it is required by your body in moderate quantities. According to the World Health Organisation, your daily diet must contain at one teaspoon of added salt besides what you derive from natural fruits and vegetables. In summers or if you exercise daily, keep some lime water with a pinch of salt handy. Salt works like an instant pick-me-up. Make sure you do not have too much salt too that may lead to problems like water retention along with high blood pressure.
. Drink more fluids: Drink at least two to three litres of water every day. Besides this, include drinks like coconut water, in your low blood pressure diet. These will give you the necessary electrolytes required to maintain the fluids in your body. Dehydration is a common cause of low blood pressure. Pomegranate juice is rich in antioxidants called polyphenols and may help you lower your blood pressure. One of the best ways to fight dehydration is water; so, do not forget to load up on enough water for the day.
. Caffeine helps: Caffeinated beverages like tea or coffee may help boost your blood pressure temporarily.  When your blood pressure dips suddenly, a cup of coffee or tea can get your circulation going. It causes short, but dramatic increase in your blood pressure. Although nobody knows why this happens, it is believed to help you improve your blood pressure.
. Scent Leaves:  "A home remedy from our granny's treasure trove. Chew five to six tulsi leaves every morning," suggests Dr Rupali. Tulsi leaves have high levels of potassium, magnesium and vitamin c which can help in regulating your blood pressure. It is also loaded with an antioxidant called Eugenol which keeps the blood pressure under control and lowers cholesterol levels.
. Almond Milk: Soak 5 to 6 almonds overnight, peel them in the morning, make a paste and boil them into a drink. Drink this every day to prevent your blood pressure from falling. There is no cholesterol or saturated fat in almond milk. In fact, it is rich in healthy fats like Omega-3 fatty acids. Include this milk in your low blood pressure diet; basically, you can add it to your cereals, smoothies, et and enjoy the goodness of the almond milk.
By: Kevin Nengia
Adapted from NDTV Food online