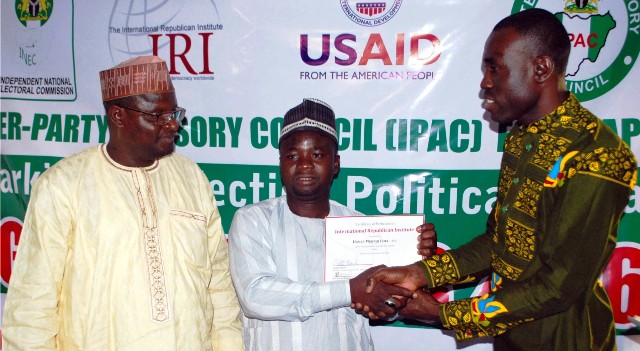 Ekiti
Ikole Local Government Council in Ekiti  State  is to embark on the retraining of food vendors and handlers, as part of the efforts to promote hygienic culinary practices and the people's wellbeing.
Director, Environment and Sanitation in the council,  Mr Tunde Famuyisan, made this known last  Thursday in an interview with newsmen in Ikole-Ekiti.
According to him, the exercise is aimed at ensuring that those handling meals, particularly food vendors, are free of communicable diseases.
"It is a global practice that food handlers are subjected to routine medical examination to confirm that they are free of any communicable disease.
FCT
The Special Envoy for Human Rights of the Australian Prime Minster, Mr Dario Morosini,  has expressed his country's commitment to support Nigeria's quest to tackle insecurity and fight against corruption.
A statement by the Foreign Affairs Spokesperson, Dr Clement Aduku, last Thursday in Abuja quoted Morosini as saying this when he visited the ministry.
The Special Envoy was received by the Ministry's Permanent Secretary, Amb. Sola Enikanolaiye.
Morosini said his country would lend a helping hand to the Nigerian government in its efforts to diversify the economy.
He said that he was in Nigeria as part of his country's efforts to galvanise support for a strong global commitment toward sustaining the human rights of all citizens.
Jigawa
A 14-year-old physically-challenged girl in Shuwarin, Kiyawa Local Government Area of Jigawa State, Na'ima Hamza, has so far received 20 wheelchairs and three sewing machines as gifts from donors.
The latest donors are two philanthropists, Mr Chidi Okereke and Aliyu Ibrahim Gebi, who donated eight wheelchairs and N20, 000 to her.
The girl drew public attention on May 20, when she wept profusely after failing to get a wheelchair donated by the National Youths Service Corps (NYSC).
Zainab Shuaibu, who represented the donors, presented the items and the cash gift of N20, 000 to the girl last Thursday in Shuwarin.
According to her, two of the wheelchairs were donated by Gebi, an Abuja based businessman.
Kaduna
Kaduna State Government, with support from the United Nations Children's Fund (UNICEF), last  Thursday launched the state's Adolescent and Young People (AYP) HIV intervention plan.
The intervention is aimed at curbing the prevalence of HIV scourge among adolescents and young people in the state.
HIV/AIDS specialist with UNICEF in Kaduna State, Dr Idris Baba, said that the intervention was developed for seven local government areas including Chikun, Lere, Kagarko, Birnin Gwari, Jema'a and Jaba.
Baba said, "The effort is to increase comprehensive HIV service delivery for AYPs living with HIV, increase condom use, HIV prevention, reproductive and sexual health education.
Kano
The United Nations Children's Fund [UNICEF], last Thursday solicited the support of the Emir of Kano State, Alhaji Muhammadu Sanusi II in addressing issues related to child protection, survival and development in Nigeria.
The newly appointed UNICEF Country Representative, Mr Mohamed Malick-Fall, made the appeal when he paid a courtesy visit on the emir at his Palace in Kano.
"We believe that as someone who has the influence, you can help us to address a number of issues that children are confronted with which are related to child protection, survival and development.
Katsina
The Nigeria Immigration Service (NIS) has rescued eight persons suspected to be victims of human trafficking in Katsina State.
The State Comptroller, NIS, Mr Rabiu Muhammad, disclosed this at a news briefing in Katsina State on Mongay.
He said that the victims were rescued at Babban-mutum border following a tip-off.
Muhammad said that one of the victims, Ms Priscilla Inerials possessed forged travelling documents, while the remaining seven do not have any travelling documents.
Lagos
An Ikeja High Court has granted an embattled Judge of the Federal High Court, Justice Rita Ofili-Ajumogobia and Godwin Obla, a Senior Advocate of Nigeria (SAN), both facing trial over alleged corruption, permission to travel abroad.
On May 26, Ofili-Ajumogobia and Obla's defence counsel, in separate applications, had requested for the release of the duo's international passports, to enable them seek medical treatment overseas.
In a 17-paragraph affidavit in support of her application, Ofili-Ajumogobia,  claimed to be suffering from high blood pressure, hypertension, palpitations, and stress-related issues.
Niger
The Niger State Police Command last Thursday advised Muslims attending religious programmes in various mosques, to be security conscious.
"People attending religious functions should be conscious of happenings around them. They must all be watchful and observe their environment," the Commissioner, Alhaji Muazu Zubairu, said in Minna.
He gave the advice in an interview with newsmen.
Zubairu said that the security challenges facing the country would be minimised if people were more alert, saying that more security consciousness at public functions would forestall many unpleasant occurrences.
Ogun
For the umpteenth time, Governor Ibikunle Amosun has assured the people of Ogun State that ongoing multi-billion projrcts across the state would be completed before 2019.
Amonsun gave the assurance while inspecting Afon Bridge in Imeko-Afon and the 110km dual carriage way linking four council areas as part of activities marking this year's Democracy Day.
The governor said the road which would terminate at IIara, a border community between Nigeria and Benin Republic, when completed, would boost economic activities in the state.
Osun
Some doctors, under the aegis of the Nigerian Medical Association (NMA) in Osun State, last Thursday staged a peaceful protest in Osogbo against continued payment of half salaries by the state government.
The Tide reports  that the doctors dressed in their laboratory coats and branded shirts during the protest.
They marched from the Ladoke Akintola University Teaching Hospital (LAUTECH) Complex, Osogbo through the popular Olaiya Junction to other major streets in the state capital.
The doctors were armed with placards of various inscriptions and singing anti-government songs.
The state NMA chairman, Dr Tokunbo Olajumoke, told newsmen during the protest that there was no drug nor equipment in any of the state government-owned hospital.
Plateau
Former Minister of State (Foreign Affairs), Mr Bagudu Hirse, has urged the Federal Government to strengthen the institutions charged with fighting corruption to enable them rid Nigeria of the menace.
"Government must strengthen the institutions to enable them deliver on their mandate. Corruption constitutes a massive threat to Nigeria's growth, so we must deploy every arsenal to tackle it," he told newsmen.
Hirse, who spoke last Thursday in Jos, said that strong structures would sustain the fight long after the current dispensation had exited power.
He said that the ongoing anti-graft war was "a worthy venture", and declared that it was crucial to turning Nigeria's fortunes around, for the better.
"The country went into comatose because some greedy Nigerians stole monies that should be channeled into the health, education, agriculture and other sectors for the benefit of all.
Sokoto
The Sultan of Sokoto State, Alhaji Sa'ad Abubakar III, last Thursday inaugurated the Ultra-Modern Tauma Centre at the Sokoto State Specialist Hospital, Sokoto State.
The Sultan commended the state government for constructing the centre which would "radically change the face of healthcare delivery in the state for good".
Abubakar III further called on people of the state to take full advantage of the facilities.
"As leaders, we will continue to support government policies aimed at improving the lives of the people," he said.
Governor Aminu Tambuwal said the emergency operations complex was designed to provide 24-hour emergency services to patients free of charge.
Tambuwal said that the centre was established to broaden access to quality healthcare to the citizenry.
London School Of Public Relations Launched In Nigeria
After months in the making, the London School of PR (LSPR) Nigeria has been launched and will be offering a variety of courses including Fundamentals of Public Relations, diploma programmes, and other shorter courses focusing on brand building, reputation and risk management.
The courses, to be delivered by World-class trainers from Europe, the United States and Nigeria, are being offered at a specially discounted price for all starter courses. LSPR Nigeria is a partner company to the London School of PR in the UK.
The school has been delivering world-class training in the UK and globally since 1993, recognised in academia and the PR industry as one of the finest training establishments.
The school was founded by Professor John Dalton, biologist, communications specialist and UK business leader.
"I and my team in London are delighted that this initiative has finally come to fruition. We believe the school will be very successful in Nigeria given the position of the country in terms of its GDP, economic growth and educated workforce.
"We already have a successful operation in Ghana and expect our Nigerian business will be equally fortunate", Dalton commented.
LSPR Nigeria is headed by entrepreneur Charles Edosomwan, who has led advertising and digital marketing company Teksight Edge for the past 8 years using data and technology to drive brand engagement and customer acquisition.
He said: "I am excited to be leading LSPR in Nigeria and I am looking forward to delivering our first courses next month. We have a team of excellent trainers who are experienced in both the virtual and the traditional classroom environments.
"The PR Landscape in Nigeria suffers from competency and standard issues especially with regards to professionalism and barrier to entry. We have the support of local business leaders and academia to ensure that professionals and business people in Nigeria can have access to world class training."
10 Rescued As Soldiers Battle Bandits In Kaduna
Bandits yesterday morning invaded Unguwar Musa Tudun Wada Kudansa in Maraban Rido, Chikun Local Government Area of Kaduna State.
A resident of the community, who spoke to The Tide source morning, said the bandits were resisted by the security personnel who quickly intervened.
He said before their arrival, bandits had already captured 10 residents to be taken to their den.
He added that, as soon as soldiers arrived at the scene, they engaged the bandits in a fierce battle that lasted for three hours.
According to him, the kidnapped victims were rescued while several residents fled as the gun battle raged on.
The Village Head of the community, Joseph Sauri Garba, who confirmed the incident yesterday, said the gun duel between the bandits and the soldiers lasted three hours.
Kaduna Police Command Spokesperson, ASP Jalige Mohammed, did not respond to calls, and text messages sent to him
Benue, UNICEF Partner To Provide 2,000 Boreholes To Eight LGAs
Benue State Government in collaboration with the United Nations Children's Fund, UNICEF, has provided over two thousand boreholes to communities in eight local government areas of the state.
Outgoing UNICEF Chief Field Officer in Nigeria, Ibrahim Conteh, who disclosed this on Tuesday, January 18, 2022 at the Benue Peoples House during a farewell visit to the Governor, said the feat was achieved in a period of four years.
Conteh stated that the intervention was to ensure that the most deprived communities have access to safe drinking water which he said could save the people, especially children and women from contracting water borne diseases.
The UNICEF Chief Field Officer who is moving to Afghanistan stated that the UN Agency has gone a step further to connect the boreholes to primary health care centres and primary schools in the communities and assured that they would also undertake rehabilitation of the boreholes.
According to Dr Conteh, UNICEF has also expended about one million dollars to provide temporary learning centres in IDPs across the state as well as partnered the ministry of education to ensure that children were enrolled in schools.
He commended Governor Samuel Ortom for always providing the needed counterpart funding to make the work of UNICEF easier as well as consistently feeding the IDPs to ensure that children living in the camps are not malnourished.
Governor Samuel Ortom expressed appreciation to UNICEF for assisting the state through various interventions and assured that apart from the counterpart funding, the government would ensure that facilities provided by the UN Agency are well managed.
The Governor lamented unequal treatment of IDPs in Benue State as compared to what happens in the North Eastern part of Nigeria, stressing that the development was against justice, fairness and equity.
Governor Ortom prayed God to grant the UNICEF Chief Field Officer success in his new assignment in Afghanistan where he is redeployed to help intervene in humanitarian crisis.
Local government areas where the boreholes are cited include Konshisha, Katsina Ala, Guma, Tarka, Buruku, Ogbadibo, Oju and Obi.